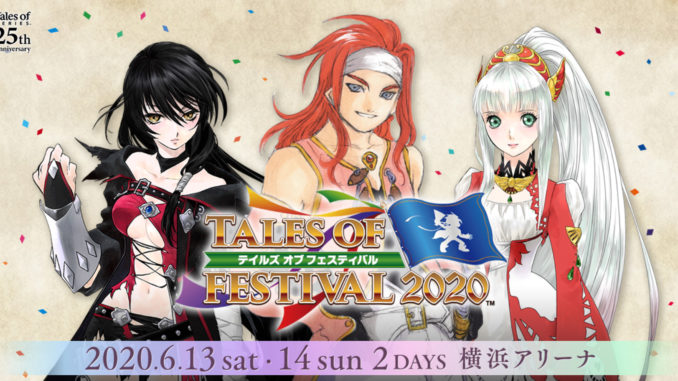 No Tales of Festival this year, for everyone's health and safety.
In light of health concerns from the continuing threat of the novel coronavirus (COVID-19) pandemic, Tales of Festival 2020 has been postponed to next year, Bandai Namco Entertainment Japan announced today. The full message, which can be found on the official website, is translated below:
TALES OF FESTIVAL 2020
Information about postponement
May 14, 2020
BANDAI NAMCO Entertainment, Inc.
Thank you for your continued support of BANDAI NAMCO Entertainment.
This is with regards to TALES OF FESTIVAL 2020, which was scheduled to be held on June 13 and June 14, 2020 (Saturday and Sunday). Given the current situation of the Coronavirus pandemic, we would like to give top priority to the health and safety of everyone, thus the event will be postponed. We have decided to reschedule the event to March 6 and 7, 2021 (Saturday and Sunday).
Details for those who have already purchased tickets and official hotel plans will be announced at a later date. Please keep your ticket with you until further details are announced. (Excluding ticket fees and official hotel plan fees, all expenses arranged by the customer in relation to their participation for the event such as transportation and own accommodation are shouldered by the customer. We apologize, but we cannot compensate for this.)
For now, general ticket sales have also been discontinued.
We apologize for any inconvenience this may cause our customers, and we appreciate your understanding.
For now, it is unsure if the tickets bought for the June Tales of Festival will be carried over for the March 2021 one or if customers will just get a full-on refund. It is also still unclear if there would be a clear distinction for a Tales of Festival 2020 and 2021. Regardless, this is all in the interest of everyone's safety. There is currently also no news yet on what will happen to those who pre-ordered merchandise for the Festival recently.
With this regard, the postponement of Tales of Festival 2020 does not necessarily mean the postponement of news for upcoming games. We've seen Bandai Namco announce games or new information in other means before, and with the increasing popularity of online events and gaming announcements, this doesn't seem far off.
Bandai Namco already did announce the possibility of the event being cancelled or postponed last month, given the continuing threat of the COVID-19 pandemic. We hope everyone is safe during these trying times, and for the benefit of everyone, please stay home.