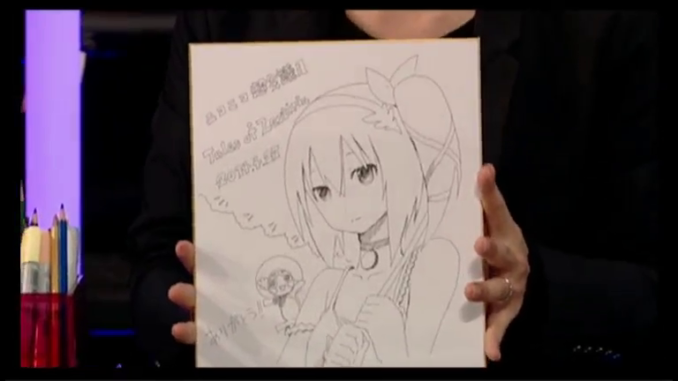 Day 2 of the Zestiria stream at Nico Nico Douga Chokaigi 3 is over, and it was more of the same of what we've learned yesterday. Once again, any news regarding translations will be added by a745 when she has the time.
The show started similarly to how it did yesterday with its overview of the three games covered and their booths. After the 15 minute beginning, the Zestiria portion started at the next hour with the host, Hideo Baba, Ryohei Kimura (Slay's VA), Ai Kayano (Alicia's VA), and Miyu Matsuki (Lyla's VA). They showed the trailer and discussed the Fusionistic Chain-LMBS again. They talked more about the backstory (which was covered before), and introduced the characters indivdiually with the voice cast. They then did the viewer vote activity with Miyu Matsuki but instead did it with a scene for Slay & Lyla and for Slay & Alicia.
Next up, Minoru Iwamoto (Edna's and Radiant Mythology designer) went on stage, talked about Edna and character design with Baba and did a 15 minute live drawing of Edna on stage. Thereafter, the voice cast went back on stage and all of them went over ten fan suggestions for future Tales merchandise. Out of the ten of them, four were chosen to vote for. The choices and results were:
1. Sorcerer's Ring (47.6%)
2. Edna's umbrella with Normin (23.4%)
3. Hugging doll (17.2%)
4. Teepo backpack (11.7%)
Hopefully that means we might get one someday (I wouldn't mind seeing it in a future CE.). At the end of that, Baba announced that they'll hold Tales of Zestiria monthly conferences at Nico Nico Douga starting at June 20th. They did a plug for Tales of the World: Reve Unita and the stream ended. Not as eventful as Day 1, but it was a nice way to interact with the fans.
For more information about Day 1, check out our previous news post.