Here's what happened at the Tales of Orchestra 2017 Concert feat. Tales of Zestiria: the X in Tokyo, Japan.
Report & pictures c/o Shinichi Yamoto from 4Gamer.net
Today was the 2017 show of Tales of Orchestra, and this year's show focused on music from Tales of Zestiria: The X. The event featured performances by the Tokyo Philharmonic Orchestra conducted by Hirofumi Kurita with Nami Nakagawa performing vocals, as well as piano solos by Motoi Sakuraba and Go Shiina and anime theme songs performed by fhána and Minami. The theme of the concert was a retrospective on the story of Sorey and friends, MCed by Noriko Shitaya, the voice of Lailah.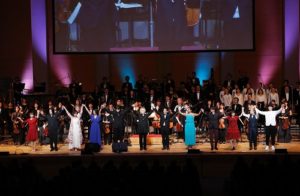 Full set list:
Sorey's Theme -Shepherd-
Legend of the Shepherd

From Episode 1: Capital of Seraphim

The Sacred Blade Festival

From Episode 3: The Sacred Blade Festival

Dawn of Chaos

From Episode 5: Dawn of Chaos & Episode 6: Velvet Crowe
Performed by Motoi Sakuraba on piano

Theme of Velvet

From Episode 5: Dawn of Chaos & Episode 6: Velvet Crowe

Illuminate

Season 2 opening theme
Performed by fhána

calling

Season 1 ending theme
Performed by Minami

Song of the Wind

Season 1 opening theme
Choir arrangement*

Rising Up

From Episode 20: Purification

Two Brought Together By Wind

From Episode 23: Be Like The Wind

Journey's End

From Episode 25: The Legend
Performed by Go Shiina on piano
Encore:
Zaveid the Wanderer

From Episode 8: Rayfalke Spiritcrest

White Light

Tales of Zestiria game theme song

Innosense
Tales of Zestiria: The X Ending

From Episode 25: The Legend
* The vocals of the "choir arrangement" of the first season opening were actually performed by the 5000-person audience in the concert hall, accompanied by the orchestra. Their singing was recorded live for the CD.
The Tales of Orchestra Concert 2017 feat. Tales of Zestiria: The X concert album CD will go on sale January 31st, 2018, for ¥3200. You can now pre-order the CD at CDJapan.
A limited time Orchestra cafe event will be held in the Akihabara Kotobukiya from February 3rd to 11th.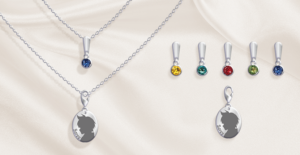 A The X-themed dual chain crystal necklace can be pre-ordered for a limited time for ¥13000 at Bandai-Namco's online shop. Orders are open until December 19th.
Tales of Zestiria the X
The
Tales of Zestiria the X anime
(read as "the Cross") is a TV series adaptation of Tales of Zestiria that was first announced during Tales of Festival 2015 as the "Tales of 20th Anniversary Animation". The animation is done by ufotable. The first season aired during Summer 2016, with a second season confirmed for 2017. Its tagline is "
The Journeys of the Shepherd go beyond Zestiria,
" and shows hints of connections with
Tales of Berseria
.