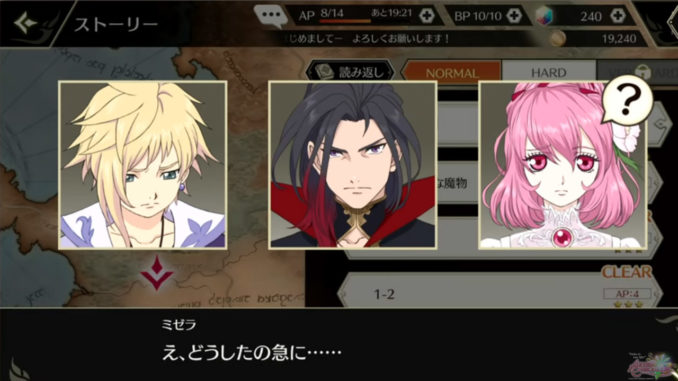 With the silence in Tales of Crestoria's news lately, the official game Twitter has announced that we won't be expecting any new information until Tales of Festival 2019.
Looks like we'll have to wait for Tales of Festival 2019 until we can expect anything new from Tales of Crestoria. Announced on their official Japanese Twitter:
ご無沙汰しております。
「テイルズ オブ クレストリア」は、みなさまにベストな状態でお届けできるよう目下クオリティアップを重ねており、次回の新情報は6月のイベント「テイルズ オブ フェスティバル」にて公開予定です。
終演後本アカウントなどでもお知らせしますのでご期待ください。#テイクレ

— 【公式】テイルズ オブ クレストリア情報局【事前登録受付中】 (@to_crestoria) April 19, 2019
Which roughly translates to:
Greetings. Tales of Crestoria is currently undergoing development so that we may deliver the game in its best possible condition, hence the next expected update of information will be during Tales of Festival 2019. We will also be updating this account during that time, so please look forward to it.
A follow-up message was also Tweeted, thanking fans for their patience.
(久々の投稿に緊張してしまいましたが早速反応してくださったみなさまありがとうございます…!着々と開発進んでおり、早く色々とお見せしたいのですが、やっぱり喜んでいただきたいので中途半端にお届けするわけにはいかず、まずはテイフェスに向けてしっかり準備しますので引き続きお願いします!)

— 【公式】テイルズ オブ クレストリア情報局【事前登録受付中】 (@to_crestoria) April 19, 2019
We were nervous at first, but we appreciate everyone who gave responses right away! The game is still steadily developing, and though we want to show everyone all the game's features, we wouldn't want to give everyone a half-finished product. So let us wait for Tales Fes!
So at least we're sure we're getting Tales of Crestoria news for Tales of Festival, but I do wonder about the new mothership game that they teased at the very end of last year's Festival...
Tales of Crestoria

Tales of Crestoria
is a mobile title dedicated for smartphones that is an entirely new story and doesn't focus on previous Tales of titles. The game features Kanata Hjuger, who is in a world where everyone is required to wear Vision Orbs so that judgement and crimes are determined at Vision Central. Guilty verdicts brands these parties with a crest, where the Executioner will hunt these branded criminals to pass sentence, and Kanata finds himself pronounced guilty, confessing that he "protected someone important" to him.