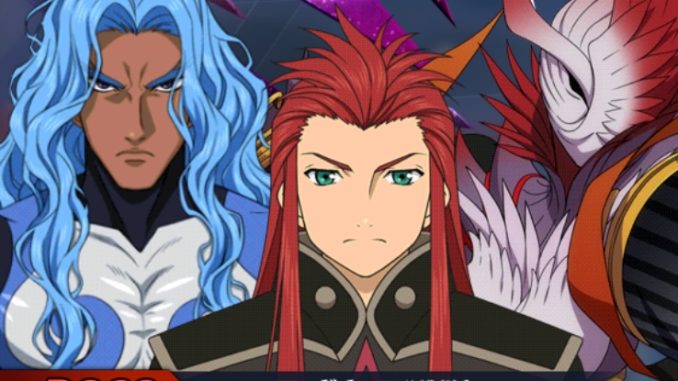 This mini-event is really "mini" in duration! From July 19 (14:00 JST) to July 23 (13:59 JST)!

The rewards aren't "mini" at all though, so get ready to fight Asch (Tales of the Abyss), Gefion (Tales of the Rays) and Barbatos (Tales of Destiny 2)!
The event is being hold to promote Tales of the Rays Theater, which will be officially streamed on Nico Nico Douga for 24 hours, from July 20 (8 PM JST) to July 21 (8 PM JST), as previously announced here.

The Capture Battle consists in 3 stages of boss battles against Asch, Gefion and Barbatos. Each stage gives a certain amount of Subjugation points, points from all players add up to the Total Subjugation Points.
•The amount of Subjugation Points received in each stage will be increased depending on your character's Bonus and perfomance in battle.
All characters have higher Bonus for this event!
After the Tales of the Rays Theater 24-hour Stream, a Guest Show with Haruka Terui (Mileena Weiss), Chihiro Suzuki (Luke fon Fabre) and Jun Fukuyama (Kyle Dunamis) will be hold. On July 21 from 9 PM JST to 10 PM JST!
Then, the guests will try to beat the event bosses! And that's where the event objective comes in!

Once achieved certain tiers of Total Subjugation Points, our guests will have access to better gear to face off the bosses! The final one being 200,000,000 pts.
(At the time i'm writing this post players already reached all tiers, and the Tales of the Rays Official Twitter made a post showing the gear the guests will use in their attempts!)
【お知らせ】
こんばんは。運営です。
期日を待たずに2億ポイント達成。オーバーキルおめでとうございます。
みなさんをみくびっておりました申し訳ございません。
キャストさん使用の"運営公認最強装備"の一部をご紹介です。
耐久生放送は30分後、20時~です。面白すぎにご注意ください。#ザレイズ pic.twitter.com/Xyem2yXV1h

— 【公式】テイルズ オブ ザ レイズ (@talesof_therays) July 20, 2018
Each successful win they get will grant all players some rewards!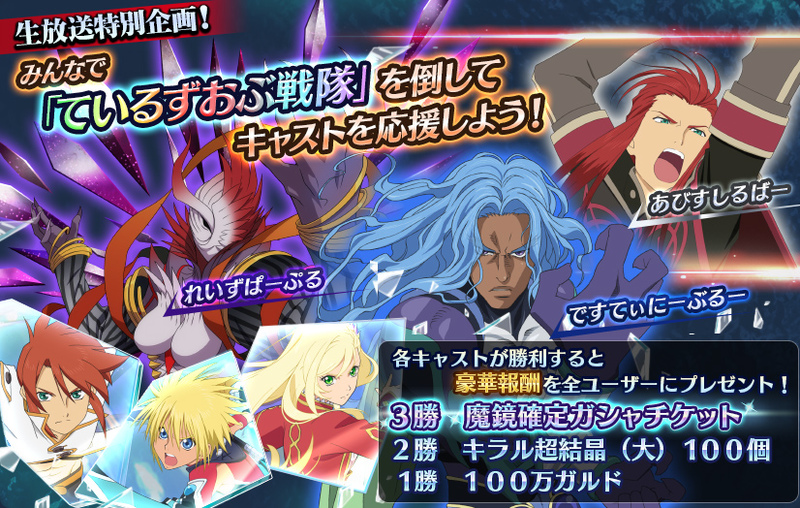 ♦ 1 Win: 100, 000, 000 gald.
♦ 2 Wins: 100 Super Chiral Crystals: Large.
♦ 3 Wins: 1 Mirrage Ticket.
Wish luck to our guests!

The gacha banner associated with the event will be available until July 23 (23:59 JST) and contains 8 characters: Ix, Mileena, Kyle, Lloyd, Yuri, Asbel, Milla and Velvet.
There is a rate-up for all Mirrages, Mirrage Gear and 4-star weapons!
Tales of the Rays

Tales of the Rays
is a Tales mobile game for the iOS and Android featuring characters designed by Hidenori Matsuraba and a new ADF-LMBS (Advanced Flick Linear Motion Battle System). The game tells the story of hero Ix Nieves and heroine Mileena Weiss in the world of Tir Na Nog. Characters from the previous Tales titles appear in this game. The game initially had an English version, but was short-lived and now currently runs exclusively in Japan.