Were you one of the lucky Chosen?
Thank you to all who joined our recent Tales of Symphonia Remastered Giveaway Raffle! We're giving away three copies of the Tales of Symphonia Remastered Chosen Edition, and three copies of the Tales of Symphonia Remastered Regular Edition, for a total of six winners! Here they are!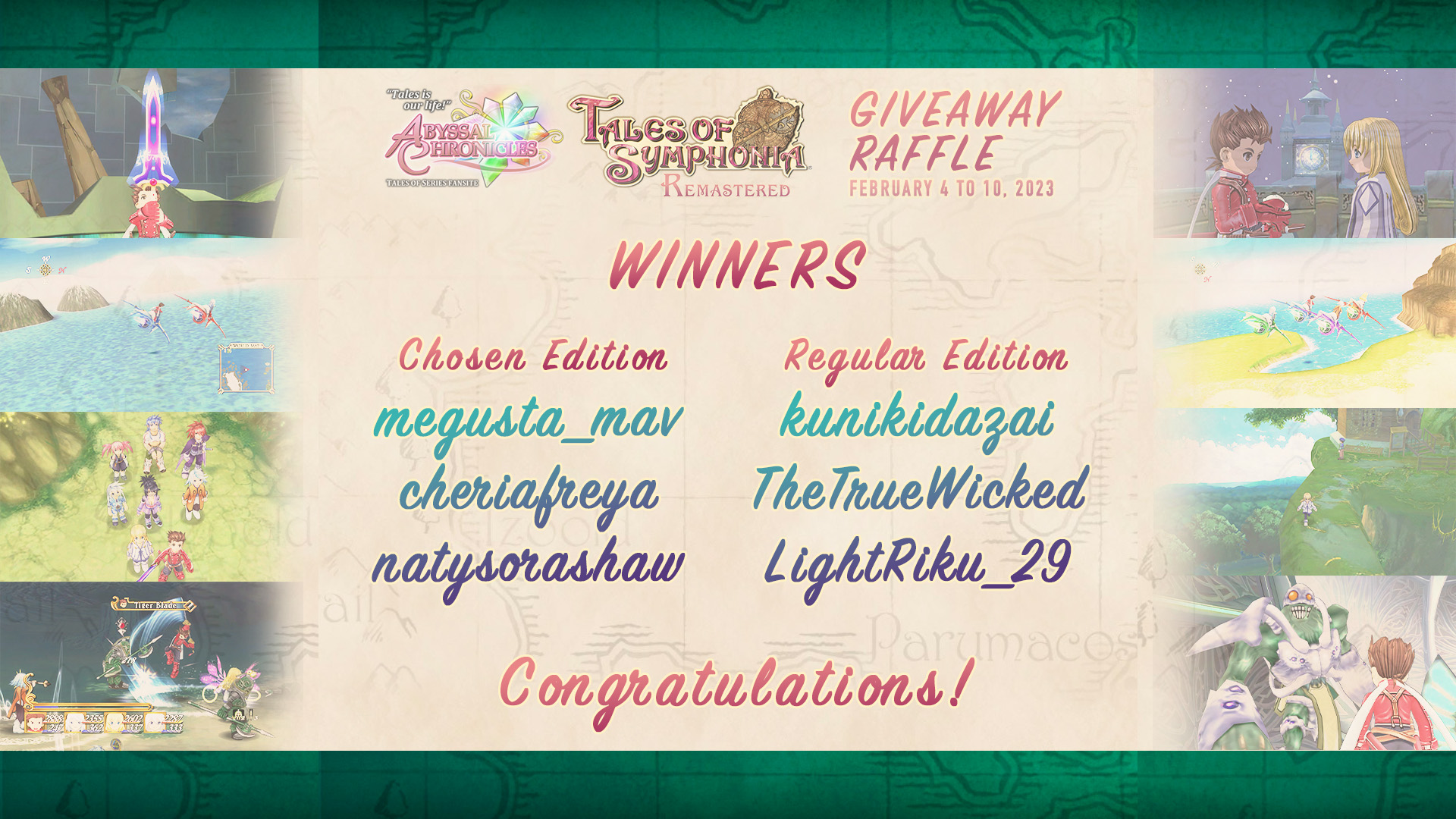 We've sent e-mails to all the winners! Please reply within 24 hours to ensure your win, or we will have to choose another winner!
Please see the following reminders for the winners:
Winners should be willing to give their full name, address and phone number for shipping purposes. We will not accept having items shipped to a friend because you "plan to split the prize". HOWEVER, in the event that for some reason, shipments to your country are closed due to the pandemic, you may give an alternative address of a relative or friend who will accept on your behalf. (We will need proof regarding the shipment restrictions to your country, in this case.)
Your country may charge you customs duties for the prizes, depending on the country. AC will NOT be responsible for any customs duties that may be charged.
The prizes will be shipped out hopefully upon release, but we cannot guarantee pre-order bonuses. We also cannot guarantee release day same day delivery.
Due to the ongoing COVID-19 pandemic, winners may experience delays in shipping out of their prizes, some of which we might not be able to control. We apologize for the inconvenience.
Though we will as much as possible try to give you the prize with the same game region (R1, R2, R3) that you prefer, this will ultimately depend on the availability with shops and the Bandai Namco Store. You may receive a copy of the game from a different region if, for example, the specific edition is not readily available in your country, or if the store cannot ship to your country.
Thank you once again to all our contestants!
You can still pre-order Tales of Symphonia Remastered at the following shops!
Chosen Edition
Regular Edition
Tales of Symphonia

Tales of Symphonia
is the fifth mothership title of the series and the only title to be released for the Nintendo GameCube. It was then later ported to the PlayStation 2. It has a direct sequel escort title in the form of
Tales of Symphonia: Dawn of the New World
, and the two were later ported to the PlayStation 3 as a single release in the form of
Tales of Symphonia Chronicles
. The game is a distant prequel to
Tales of Phantasia
.