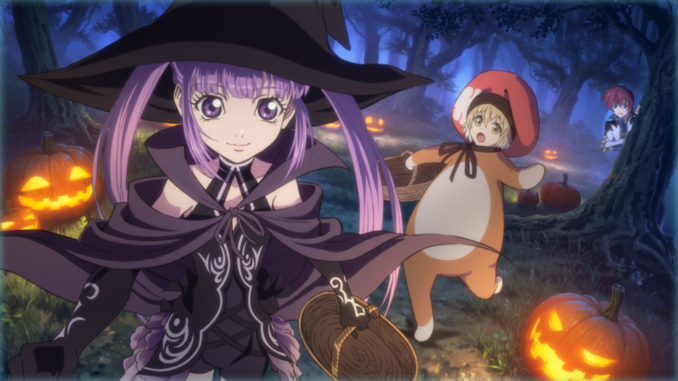 From October 5 (14:00 JST) to October 22 (14:59 JST).


Clear event stages to recruit Judas (Tales of Destiny 2) and Kongwai (Tales of Innocence R)!
Complete quests to get Assorted Sweets and Halloween Lollipop, that can be exchanged for various items at the event shop.

Quests for this reissue consists in:
- Doing "JUST" attacks
- Using Mirrage Artes
- Completing Subjugation Orders X times
- Completing X hours of Orders
The event shop will be available until October 31 (14:59 JST).
The gacha banner associated with the event is available until October 24 (13:59 JST) and contains 5 characters: Judas, Kongwai, Sophie, Reala and Kyle. With no rate-ups and no new items.
Note that summoning with Mirrogems can grant you extra event currencies and a summon ticket.
---
To celebrate this year's Tales of Orchestra, there is a special gacha banner available until October 25 (14:59 JST) that contains 8 characters: Lloyd, Colette, Yuri, Estelle, Emil, Marta, Kor and Kohaku.
There is a rate-up for Mirrage Gears, and an even greater rate-up for Emil's new Mirrage Gear.
Tales of the Rays

Tales of the Rays
is a Tales mobile game for the iOS and Android featuring characters designed by Hidenori Matsuraba and a new ADF-LMBS (Advanced Flick Linear Motion Battle System). The game tells the story of hero Ix Nieves and heroine Mileena Weiss in the world of Tir Na Nog. Characters from the previous Tales titles appear in this game. The game initially had an English version, but was short-lived and now currently runs exclusively in Japan.