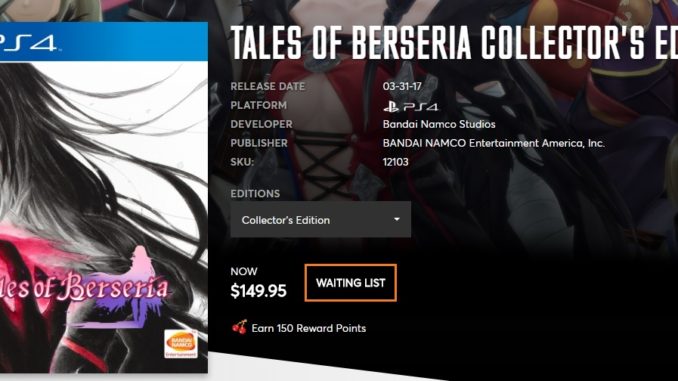 It hasn't even been 24 hours yet, but you'll find that you can no longer pre-order Tales of Berseria's US Collector's Edition anywhere.
As of writing, all major retailers that had pre-orders open for Tales of Berseria's US Collector's Edition, namely the official Bandai Namco Store, Amazon US, GameStop, no longer have open slots left for it.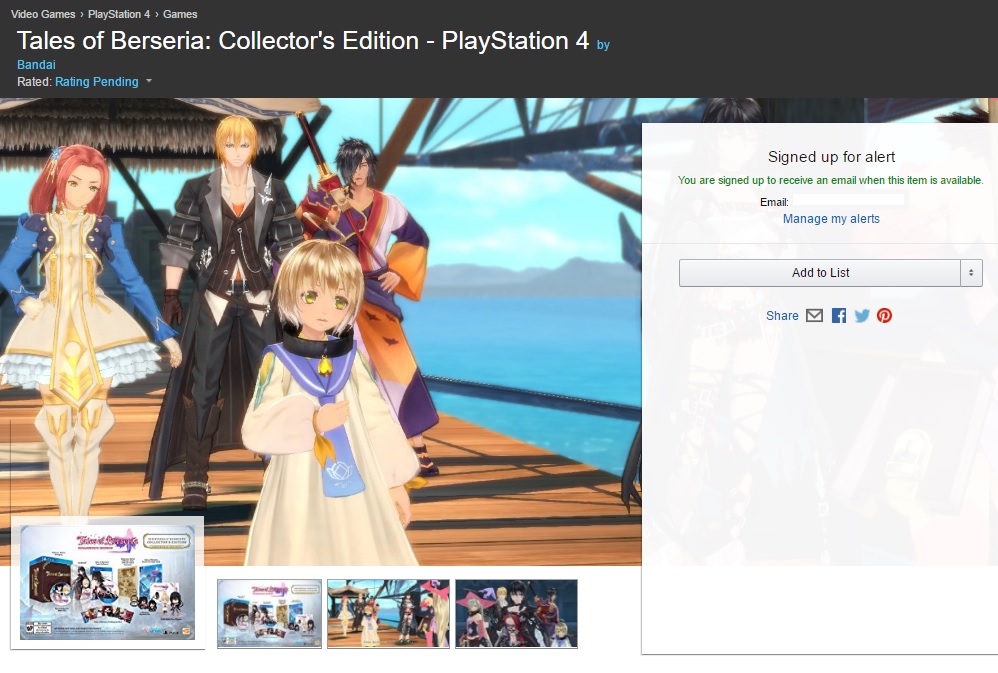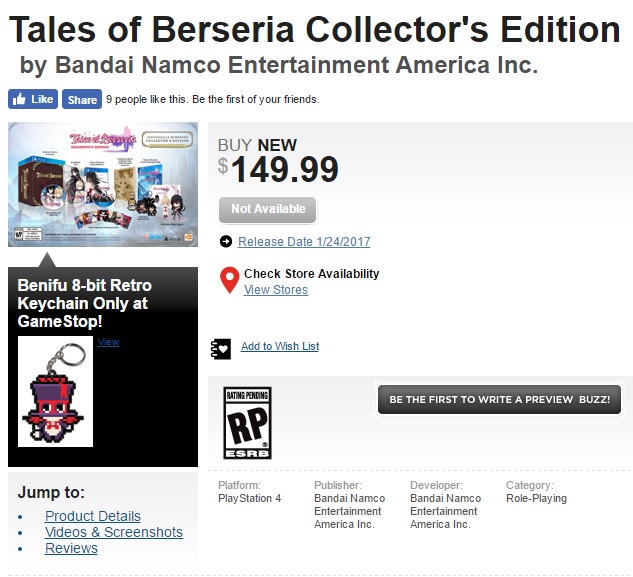 This is possibly the fastest a Tales Collector's Edition in the West had sold out, as far as I can remember. Take note though that compared to the older Collector's Editions which we had, Tales of Berseria for some reason will only have a limited 10,000 units made. However, previous Collector's Editions, which had around 15,000-20,000 units made, sold out at least a week or two, or at least a few days, after they were listed.
This, of course, also includes Canada's allotted units yet. From what I know, North America and Canada will have that 10,000 units as a collective. And so far, only Amazon Canada has it listed, and its slots are all gone as of now, too. (UPDATE: It's live! Get it!) EBGames Canada doesn't seem to have it listed just yet.
To those who missed our previous post, Tales of Berseria will be released on January 24, 2017 in North America and January 27, 2017 in Europe. The newly revealed Tales of Berseria Collector's Edition for North America, priced at $149.99, includes the following:
Exclusive Tales of Berseria SteelBook case
Velvet and Laphicet Chibi Kyun Chara figures
Exclusive 8-Bit retro keychain set
Special Selection Music CD
Hardcover prequel novel "A Witch's Tale: A World Full of Daemons"
Set of Tales of Berseria trading cards
Tales of Berseria starter strategy guide artbook
Pre-orders for the US Collector's Edition were open at the following shops:
*For those who want to play the waiting game of waiting-until-someone-cancels-their-own-order-so-we-can-jump-and-get-theirs with us.
We've reached out with Bandai Namco US if they'll be planning to increase their 10,000 units limit. We've yet to hear back, though. *crosses fingers* At present, they have no plans to increase their stocks. With the high demand though, hopefully, they'll change their minds at one point.
Tales of Berseria

Tales of Berseria
is the latest mothership title of the Tales of Series which was first announced during 
Tales of Festival 2015
. The game was released for both the PS3 and PS4 on August 18, 2016 in Japan, January 24, 2017 in North America and January 27, 2017 in Europe for the PS4 and PC. The game features a female protagonist named Velvet and a theme of pirates and ships. It's also confirmed as a distant prequel to
Tales of Zestiria
.