A lot of fans dreaded that this may happen soon, and true enough, an official announcement has confirmed Tales of Crestoria's closure.
After an extended maintenance today, the official in-game announcements (see below), official website, and the official Tales of Crestoria Twitter have announced that Tales of Crestoria will be shutting down. This is for both the Japanese and the Global versions.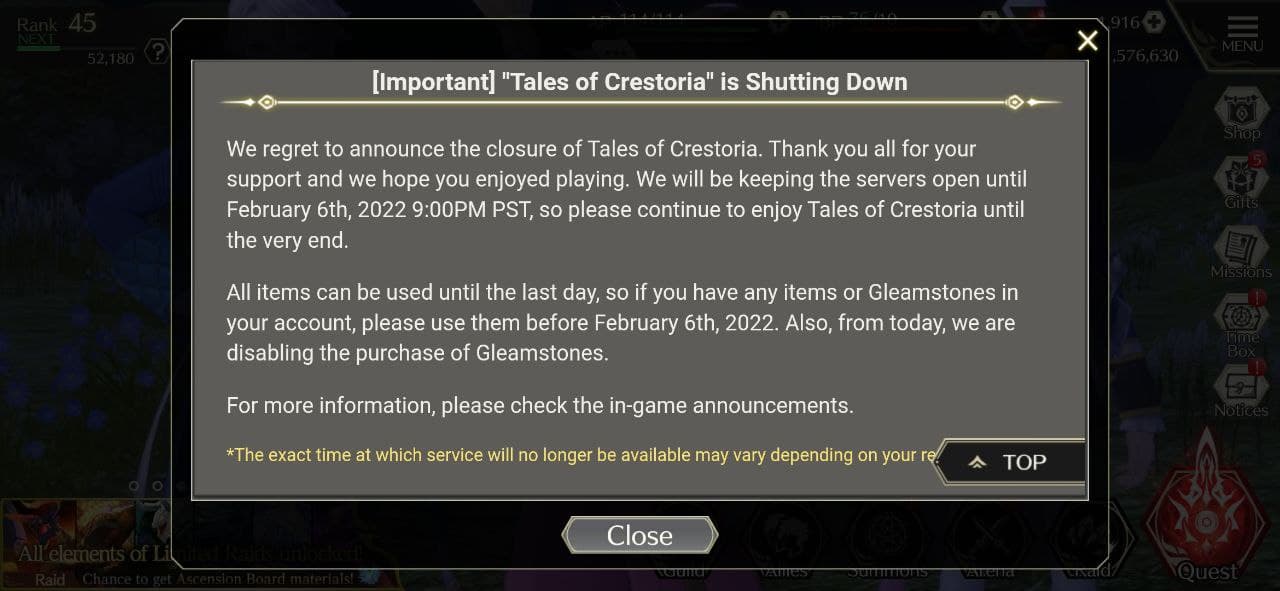 Servers will remain open until February 6, 2022 at 9PM PST. All items can be used until the last day, so players are encouraged to use them up before the said date.
Prior to the service shutting down, the bi-weekly Tales of Crestoria manga that was being released on the game's social media channels will be released on a weekly basis going forward. The next issue is planned for Dec. 13th, 2021.
In a message from the game's development team, they apologize for not meeting the "expectations of the harsher criticisms that expected a higher quality for the game". The main story of Tales of Crestoria will not be progressing further in-game than the already released Chapter 10. However, the team is currently considering other mediums through which to bring the story to its fans. Rest assured that they are working towards bringing the adventures of Kanata and the gang to an all-new stage.
In addition, the team reminds that the original characters introduced in Tales of Crestoria will continue their journeys as full-fledged members of the Tales of Series. Through various stages such as the in-game cross-over events of other titles, the cast of Crestoria, we may still see the cast again.
Until the game's announced closure, the following updates will still be carried out:
Mon, Dec, 6, 2021, 11:00 PM PST
- Limit on attainable medals will be relaxed
- Exchange limits on certain items in exchanges will be relaxed or removed
Wed, Dec, 8, 2021, 12:00 PM PST
- Adventure Campaign Gel Present Login Bonus will begin - this is a login bonus campaign that gives out Grape and Strawberry Gels.
Unfortunately, previously announced supposed upcoming updates, such as auto AI improvements, new character conversations, etcetera, will most likely no longer be added. You can check out the full developer message here.
Sadly, fans have been speculating recently that the game would be shutting down soon, given poor downloads and sales worldwide, as well as the lack of the usual updates on summons.
Tales of Crestoria

Tales of Crestoria
is an upcoming mobile title dedicated for smartphones that is an entirely new story and doesn't focus on previous Tales of titles. The game features Kanata Hjuger, a young man branded as a Transgressor because of the crimeof "protecting someone important" to him. The game will be released for iOS and Android on 2020.
Info Page | News | Gallery | Official Website (JP) | Official Website (EN)