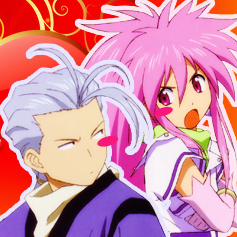 Ahh, February: the month when the ever so romantic Valentine's Day (a.k.a. Singles Awareness Day *shot*) wheels around. It's the time for intimate dates, hearts, chocolate, roses and love!
And so, AC would like to celebrate this momentous occasion with our Tales of a Date Contest! The winner will win a copy of Tales of Graces F (US Version)!
The idea of this contest is originally by Aeneid. Thank you so much to her for letting AC apply it in this contest!
This mechanics are simple:
All you have to do is submit a photo of yourself dining with your favorite Tales of Series character, as if the two of you are on a Valentine's Day date.
By "with a Tales of Series character", please make sure it is from official sources (i.e. official concept art, cutscene screenshots or paused scenes, anime, etc.), and not from fanart or cosplay photos. (EDIT: Dating plushies/figures are OK, too, as long as they're official Tales of Series merchandise).
To the confused as to what I mean, below is a sample, courtesy also of Aeneid:
Also, your face doesn't have to be visible in the photo. It can be like the one above, or you can block your face in some way if you don't want to show it.
Get as creative as you can get: make it fun and/or hilarious. The winning entry will be chosen solely by me. Simply speaking, the entry that I find most interesting will win. I know that's kind of vague, so here's what I'm looking for:
Relevance to Valentine's Day (i.e. Romantic)
Also, Photoshop is highly discouraged for this contest, but if you need to use it for minor changes, then go ahead. Just don't overdo it. I do have the right to reject a submission if the edits on it are just too much, though.
This contest is open to everyone, even AC site staff (except the main admins, of course).
Submit your entries via e-mail with the subject "AC's Tales of a Date Contest Submission" to a745@abyssalchronicles.com together with a preferred nickname/username for yourself. Deadline of submissions is onFebruary 15, 2012 at 12:00 midnight New York City Time (that would be 1pm in the afternoon of February 15 in the Philippines).
The winner will be announced on February 16, 2012 at 10:00 am New York City Time (Feb 16, 11pm Philippines Time).
The prize for the single winner is one copy of Tales of Graces F (US version). Said prize will be purchased by us from Play-Asia and be sent to the winner's address. Needless to say, one main requirement of joining the contest is that Play-Asia is able to ship the prize to your country/address. We'll solely be using Play-Asia since they are now able to ship Sony products to Europe again (just in case the winner is from Europe). It is however still your responsibility to check if PA can indeed ship the prize to your place.
We're able to give out these contests because of your continued support, and you can expect more in the future as long as you continue to support us. The best way of supporting us is buying stuff from Play-Asia using ourAffiliate Link. Rest assured that everything we get from there goes back to you in the form of contests, and more. In fact, the funds for this contest were from all the people who ordered Tales of Innocence R via our Affiliate Link, so thank you very much to all of you!
If you have any questions, please post them as a comment below, thanks!
UPDATES: (Frequently Asked Questions):
1.) If I'm a boy, do I strictly have to date a Tales girl, or vice versa?
- Nope. If you prefer someone the same gender as you, feel free to do so.
2.) Are figures/plushies allowed?
- Sure, as long as they're official Tales of merchandise.
3.) Can I only date one character?
- Yes, only one.
4.) How about those that are not part of the main protagonists? (i.e. villains, NPCs, etc.)
- Sure.