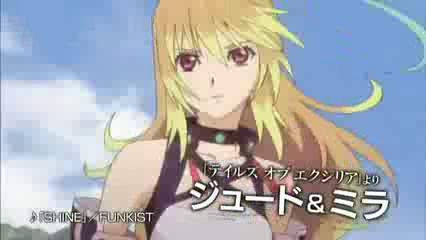 Tales of the Heroes: Twin Brave's first commercial is now up online, showing off Jude and Milla from Tales of Xillia's Mystic Arte cut-ins.
The commercial focuses on the Xillia, Graces and Vesperia partners and also reveals Jude and Milla's Mystic Arte/Hi-Ougi cut-ins. The game's opening theme, SHINE by Funkist, is also in the commercial along with some new scenes from the anime opening.
Tales of the Heroes: Twin Brave will be out for the PSP in Japan on February 23, 2012. Play-Asia now has pre-orders open for both the regular version and the premium box. The first demo is also now available either from the PlayStation Network or the game's official site, with a second demo set to come out on February 9, 2012.