I'd like to thank everyone on behalf of AC for helping us at our time of need during the Malware attack earlier this year.
We've managed to install Sucuri protection much sooner than expected, and it was thanks to all of you. Words alone can't express how humbled we are by all of your support.
I'm sure there are some of you who are aware of recent inactivity we've had on the site and social media. I'd like to say that I--along with the rest of the staff--will be working hard to be a bit more active throughout the following months not just for news, but other features for the site as well. I'm personally hoping we can get some features starting up by the end of the summer.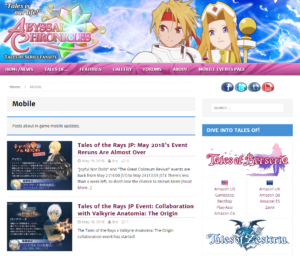 With that said, we've updated the Mobile Events Page due to the recent closure of both localized apps, so instead that page will aim focus on the apps that are still ongoing in Japan: Tales of the Rays & Tales of Asteria. This gives me the opportunity to officially welcome 8ro to the Abyssal Chronicles staff as one of our Mobile Events Reporters! 8ro helped me with the Mobile Events Page for the localized version of Tales of the Rays, and will be lending his diligence and hard work to the Japanese version of the game. Let's give him a warm welcome!
Since we have Tales of the Rays covered, we are looking for someone who can cover the Tales of Asteria events for that page as well. If anyone reading this would like to become our Mobile News Reporter for Tales of Asteria, please send us an e-mail at contactus@abyssalchronicles.com, and/or mention me directly on Twitter @PanbanRichard. I'm more likely to see the latter faster than the former, but choose whichever method works best for you.
05/21/18 UPDATE: We'd like to give a warm AC welcome to Mura for agreeing to help out with the Tales of Asteria in-game event coverage for the site! Not only that, but he's also agreed to do some Tales of Merch coverage as well, so stay tuned for that! Welcome to the team, Mura!
Once again, we're hoping to push some more content to expand this site, so stay tuned for that and as always, thank you for supporting Abyssal Chronicles all throughout the year. Here's hoping for some fun and excitement when Tales of Festival 2018 rolls in next month!