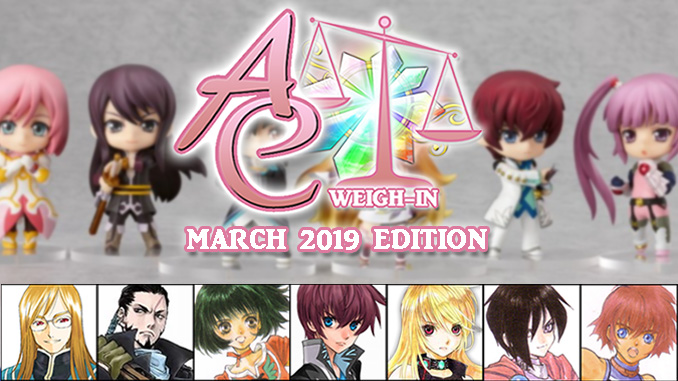 This month's weigh-in involves merchandise--from what we own to what we'd like to see!
For this edition of AC Weigh-In, we have:
Do you collect official Tales merchandise? If so, what kind?
| | |
| --- | --- |
| DimensionSlip | Yes! I go especially hard on Jade merchandise, but will also pick up Abyss-related and Xillia-related merchandise that catch my eye. Rollo is another bias. While I will collect any and every Jade merchandise out there, I do have a bias for merchandise I can use (i.e. bags, shirts, clothes), versus the ones for display or show (i.e. can badges, acrylics, rubber straps). |
| Kurani17 | I have a few of Alter's Tales figures, as well as the small figures that came with the Symphonia Chronicles special edition. |
| Amy | Yes! I collect Tales figurines of all sizes and brands. I only bother with characters I like though. I even have a few custom-made ones from an Etsy artist because it made me sad that some of my favorites never got official figurines. |
| lessiehanamoray | Oh boy, I collect so much. Some figures, charms, buttons, that sort of things. I really like collecting the clear file folders, since they're a cheap way to get art and great to have voice actors to sign. |
| Mura | Mostly keychains, figures, and straps. Sometimes trading poster collections in case if any of the VAs make it out to a con, I have something for them to sign. |
| 8ro | Nope, but really want to! |
| Flamzeron | I do! Most of my Tales merch was from pre-order bonuses and collector's editions, but I also have a fair amount of figures as well, specifically the Ichiban Kuji ones, as well as the Leon mini-Nendoroid they made once and a small one of Luke, though I don't remember the brand. I've also got most of the officially English released Tales manga, as well as volume one of the Tales of Eternia manga in Japanese, which I actually won during a contest that was held at my old university's anime. I'm also trying to get the rest of Zestiria the X on DVD, as I only have the first season. I'm thinking of just getting the "Complete Series" Blu-Ray that was released back in December. I've also got the Abyss artbook and a whole rack's worth of Tales of My Shuffle cards. The most unique piec ein my collection would probably be the Tales of Eternia Desktop Accesories, which was another contest price on an old Tales message board. The only other noteworthy things would be my Symphonia merch collection, which includes a Lloyd plush, a group throw pillow, a set of playing cards, and a T-shirt. These are all from GE Entertainment, who had an official license for Tales merch in North America for a time. |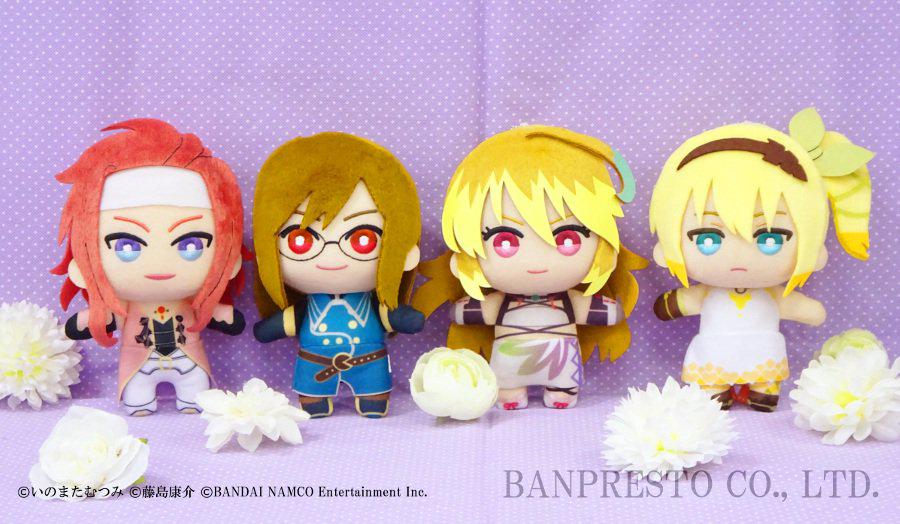 What is your favorite official Tales merchandise and why?
| | |
| --- | --- |
| DimensionSlip | I really like the Jade-inspired bag by Super Groupies. Not only does it nail the colors and related symbols of the character very well, but it's also very functional in my day to day life. It's getting a lot of use, to say the least of it. Second runner up are the Kotobukiya rubber straps (especially the Jade one), as they are very durable. |
| Kurani17 | I'm actually really looking forward to the True Knight costume figure of Yuri from Alter that's coming out later. |
| Amy | My all-time favorite would have to be my Kotobukiya 1/8 scale Colette figure. I love the figure's pose because Colette l looks so happy as she twirls around, but you just know there's no way she's going to keep her balance, haha! |
| lessiehanamoray | That I own, or in general? I think my favorite I own is the official suitcase they release a while back. It is perfect carry on size, fairly subtle, but distinctive enough to make other Tales fans excited. In general, I guess I like the sort of merch you can wear or use. It's like a signal to other fans. |
| Mura | Milla coffee mug. I fill it up with Maxwell House coffee every now and then. (Get it?! Maxwell?! The coffee brand, but also Milla's last name?!) Aside from that, I have a Velvet Crowe pass-card case. It's nothing fancy, but I picked it up at the Tales Fest pop up store when I visited Japan in June 2017. |
| 8ro | Leon stuff. All of them. In particular, that chocon-to-friends plushie. |
| Flamzeron | I would say my favorite is my collection of Tales of My Shuffle cards. As for why... I'm not sure. I just think they're cool! There weren't too many card games based on the Tales series to my knowledge, and this one went away after a while, but they're nice cards to look at when the mood hits me. |
Which character would you like to see a scale figure of, and in what pose?
| | |
| --- | --- |
| DimensionSlip | Definitely Jade in action. Spear drawn or casting--either works. An Alter scale figure would be THE dream. |
| Kurani17 | I'd like to see a figure of Sheena from Symphonia in her summoning pose, or Eugene from Rebirth holding his spear. |
| Amy | I would love to see a Farah scale figure. It bothers me that Eternia hardly got any figures, just a keychain set and a small chibi figurine of Meredy. I'd like to see Farah smiling in a tasteful battle-ready pose. |
| lessiehanamoray | Richard. Mystic Arte posing to go with my Asbel and Cheria. Sophie would also be amazing. |
| Mura | I'm sure many share the same opinion on this, but Judith from Tales of Vesperia. The Alter line already has most of the cast. Some even 2.... (YURI!) |
| 8ro | Please give Phillia some love. That scene in Destiny's OP with her raising her swordian would make a pretty neat figure. *wink wink* |
| Flamzeron | I'd love to see a figure of Reid. I feel like Tales of Eternia doesn't get hardly any figures. It's quite a crime, indeed. As for the pose, probably the most iconic one to pick would be his pose in the Japanese box art of the game, where he has his sword held up from the handle upside down. Not the most dynamic pose, but it would still look good, I think. |
Is there any particular merchandise you'd like to see made? If yes, what might it be?
| | |
| --- | --- |
| DimensionSlip | Right now, a Jade scale figure is definitely high up the list, though I wouldn't say no to a Nendoroid either. |
| Kurani17 | I know it takes a long time to make, but there are lots of characters I'd love to see Alter make figures of someday. |
| Amy | Yes, I really want plushes of Lippy and Noishe! |
| lessiehanamoray | Hmm. That they don't already make? I guess I'd just really like to see more of the manga and side stories getting compiled and published in English? Like, merch is great, but content is better. |
| Mura | I feel like many companies have covered a wide variety of merchandise already. More character-specific hard phone cases I suppose. |
| 8ro | *please read previous answer*. Aside that, i'd love plushies of some less popular characters. Gimme plushies. All of them. |
| Flamzeron | Articulated action figures. Scale figures are okay, but I'm an action figure kind of guy at heart. I could see S. H. Figuarts making a few nice Tales action figures and I would definitely buy them! Even if it's of a character I'm not particularly fond of, I'd still want to support the product so that maybe, one day, they would make a figure of a character I really like. Such as Reid or Kratos. |
Any suggestions for next month, or anything that you want to respond to? Feel free to share them in the comments below~
Image Credits: