Update: The deadline for entries was met on January 9th, 2017 at 12 PM EST (-5 GMT). As announced on our social media pages, any further entries sent in 5 minutes after this time stamp will not be accepted. The answers will be revealed within the week as we go through the entries, and the winners of the contest will be announced after we've organized all of the entries. We thank you for your patience.
With Tales of Berseria almost released and in celebration of our recent 10th anniversary, it's time for our usual contest! This time, the stakes are even HIGHER!
Last October 20th, Abyssal Chronicles celebrated its 10th anniversary. In line of this event and with Tales of Berseria almost out, we upped our prizes immensely.
Welcome to Abyssal Chronicles 10th Anniversary Contest! And here are our prizes at stake for this one big competition!
Grand Prize: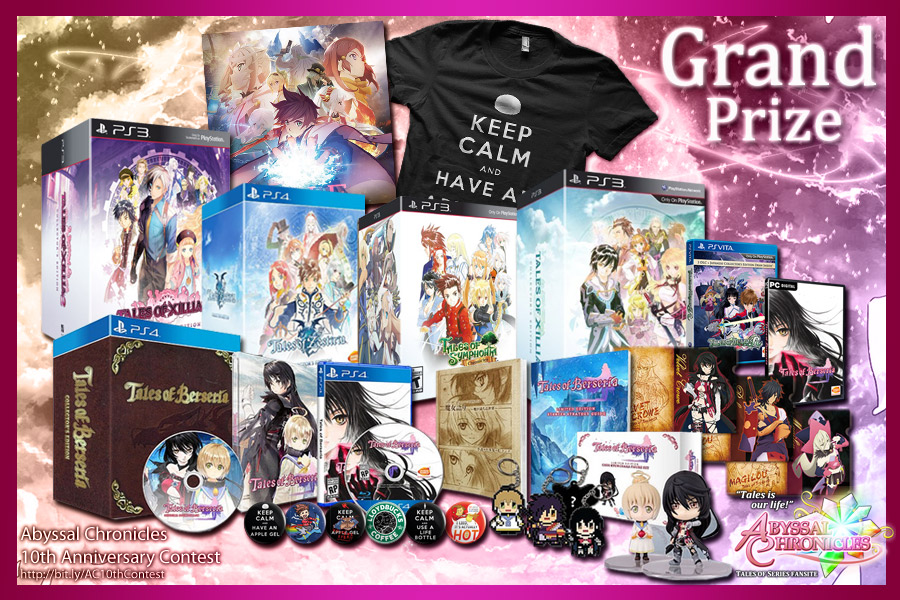 1st Runner Up
2nd Runner Up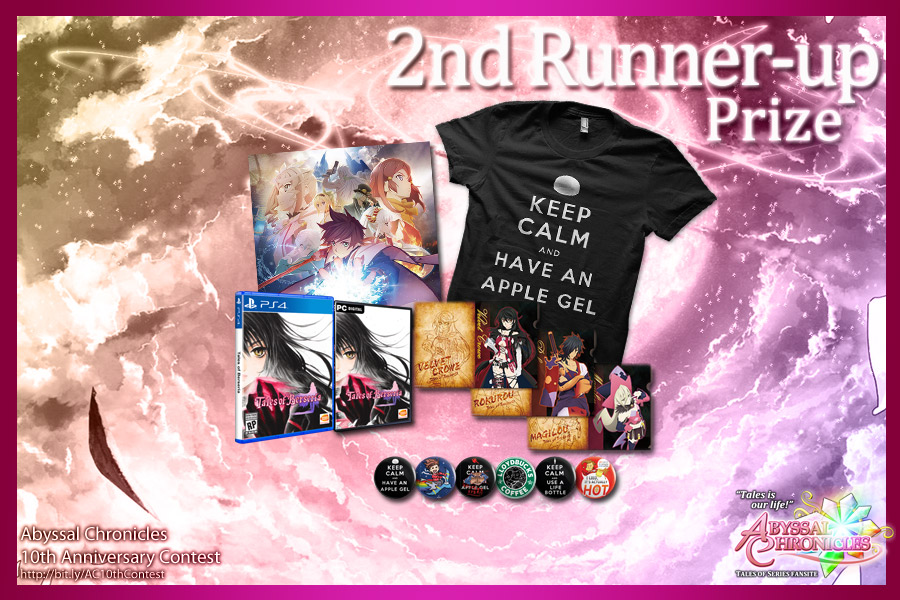 3rd Runner Up:
4th Runner Up: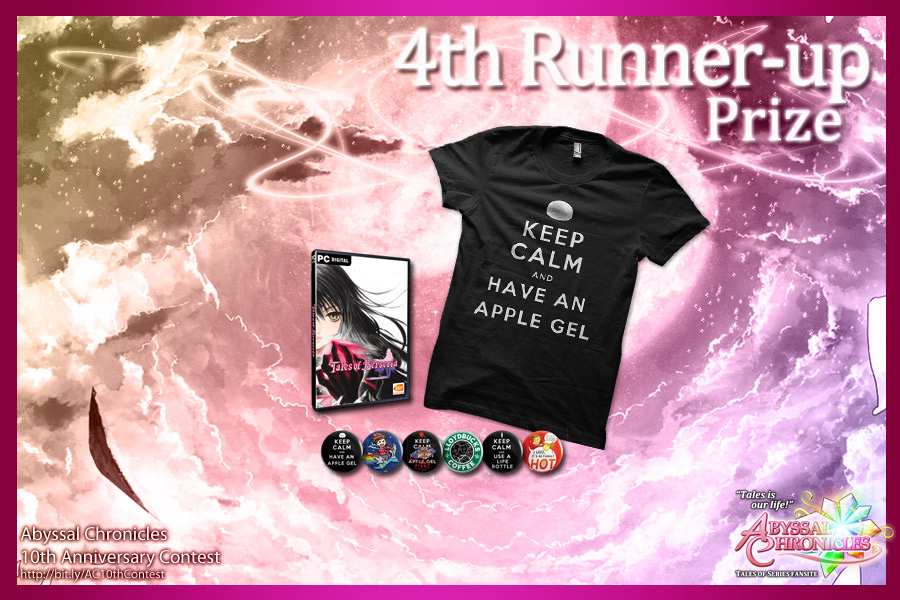 Take a look at that grand prize! This is literally the biggest prize we've ever presented. This wouldn't be possible without the help of Bandai Namco! Thanks to the US branch for providing one of the Berseria Collector's Editions, and to the Europe branch for providing all the Tales of Berseria Steam codes! And let's not forget, that grand prize wouldn't be possible without our very own PanbanRichard, who has been saving up all these collector's specifically for this moment! He's also our prize manager for this contest. We love you, man!
And of course, this huge level of prizes means a somewhat harder level of a contest! Since this is the 10th anniversary for AC and since we are sort of running out of ideas lol, we decided to compile together the mechanics from our previous contests and forge them into one huge contest!
The 10th anniversary contest will consist of 3 parts:  Characters, Melodies and Hunt. Completing each part will grant you a specific number of points.
Characters
This part of the contest is similar to how Tales of Colors worked before, but with a bit of a harder (or easier?) twist.
What you see above are accessories characters wear from their official artwork. There are a total of 15 accessories. Your task is to guess which character the item is from and which game they are from. Note that the parts are Photoshopped only from official (drawn) artwork or their status artworks from their main games (i.e. never from escort titles). Guessing the character right is worth one point and guessing the game is worth another point, so each item can get you 2 points. Guess them all right (character and game they're from) and you can earn the full 30 points.
Melodies
Most of you who joined our Tales of Melodies Tales of Zestiria contest will be familiar with this. For this part of the contest, we have a medley of Tales BGMs. Your task is to guess what specific songs are in there. Giving the game where it's from and the song title will give you the full 2 points. Giving the game where the song is from is worth one point and giving the song title is worth another point. There are 15 songs within the medley, and guessing right in all parts will grant you a full 30 points. It is NOT a requirement to name them in order.
Note that we are quite lenient with the list of answers. For example, we allow spelling mistakes and we allow varying names between the localized and the Japanese versions. With regards to the game names, people don't have to mention if the song is from a remake/re-imagination exclusive or whatnot, so don't worry too much.
All songs featured in the medley are from Mothership titles only. As a bit of a hint, there is only one Tales of Berseria song in the medley. You'll need to open your ears to identify the track.
Hunt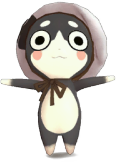 The Hunt part will have you guys looking for 3 hidden words within the website that will form an easy to guess phrase. You will be given a single clue to find the first word, and the next clue to find the second word will be with that first word, and so on. You will know that you've found the proper clue once you find a Normin randomly out of place on the page. The 3 words will then form a phrase which is the only thing you need to submit for this part of the contest.
The first clue to where the first word is... "The light to Velvet's darkness."
Again, once you figure out what part of the website the clue is referring to, you'll know you've found it if you see a random Normin out of place on said page. Just click it, and it'll lead you to a new page containing one of the three words of the phrase and the clue to find the next word. Note that all Normin that link to the 3 words are ALL WITHIN THE ABYSSAL CHRONICLES MAIN WEBSITE. Not in the gallery, not in the forums, not in the social networks.
All you need to give is the phrase the three words will form, in order of finding them, and that alone will give you a full 40 points. You don't have to tell me where you found the words. In fact, you can even guess. Just note that guessing wrong will mean 0 points. And you're free to give the phrase to a friend for him/her to submit as their entry, but remember that you're giving them a better chance at the contest without much effort ;).
Complete all three contest parts and the highest possible score is 100! Like in the previous contests, the top 5 winners will be chosen from the highest ranking points, or chosen from random should there be multiple people who get perfect.
But don't be discouraged! Again, we will have additional Tales of Berseria Steam codes to give away, which will be reserved to be raffled from any of the participants regardless of score, not counting of course the main 5 winners.
Again, this contest is open WORLDWIDE! Submit your answers to contests@abyssalchronicles.com with the subject/heading as "AC's 10th Anniversary Contest Entry" in the format below (copy paste it):
Desired Username/Handle Name:
Country:
Characters
1.
2.
3.
4.
5.
6.
7.
8.
9.
10.
11.
12.
13.
14.
15.
Melodies
1.
2.
3.
4.
5.
6.
7.
8.
9.
10.
11.
12.
13.
14.
15.
Hunt
"Phrase here"
Sample entry below:
Desired Username/Handle Name:
a745
Country:
Philippines
Characters
Anise Tatlin – Tales of the Abyss
Velvet Crowe – Tales of Berseria
… and so on
Melodies
Tales of Phantasia – Fighting of the Spirit
Tales of Vesperia – Fury Sparks
… and so on
Hunt
"Blah Blah Blah"
The contest will run from December 18, 2016 to January 9, 2017 at 12PM GMT -5. Winners will be announced the week following that.
Before you do jump in to figuring things out, please note a few house rules:
Do not attempt to submit multiple entries under multiple e-mails. We will know, and we will ban you from any of our future contests whatsoever. That said, all people noted to have cheated in our past contests with multiple email entries are automatically filtered out from this contest.
You may only submit one entry, and have only one chance of sending an entry. "Updating" or "amending" answers is a big no no.
Please refrain from giving out answers to others, even if it's family or friends whatnot. Though we know you're just trying to help, you're compromising the integrity of the contest.
Only one entry per household, sorry. Please just work with your family if all of your siblings for example also want to join.
Winners should be willing to give their full name, address and phone number for shipping purposes (does not apply for those who will get Steam codes only). We will not accept having items shipped to a friend because you "plan to split the prize" or something.
You are free to work with others offline or online via forums, Facebook, Reddit, Tumblr, etc. but like I said above, please do NOT blatantly just post the answers. Work with others, you can give hints, but don't give everything away!
And some points to take note of:
Steam codes might not include pre-order bonuses.
2nd and 3rd runner-up winners will get either a US or EU edition of Tales of Berseria for the PS4, depending on where they live. If they live outside of the US or EU jurisdiction, they are free to choose which region they want.
Depending on availability, we cannot guarantee pre-order bonuses for 2nd and 3rd runner-up winners.
Grand prize and 1st runner-up winners will get a US version PS4 Berseria Collector's Edition each - Grand Prize winner gets it from us from AC, 1st runner up winner will get it from Bandai Namco US. This is because the rest of the collector's editions of the other games is already with us - so that means we can just put them all together in a single package or two.
Shirt designs and sizes are limited and will be prioritized per prize tier (meaning grand prize winner gets first dibs, etc.).
Parts of prizes per tier may be shipped out from different locations. We apologize for the inconvenience.
Due to the nature of the accumulation of prizes, expect delivery at either the end of January to mid February 2017.
The contest is open to anyone in the world! But note that the Steam code will not work with Japan.
Any further questions, please ask in the comments! Thank you and good luck!
We would again like to thank Bandai Namco Entertainment America and Bandai Namco Entertainment Europe as well as US Community Specialist Dmitryi Khlynin and EU Community Manager Gaëtan Kimundi for helping us out with our huge contest!
That's all! Good luck to everyone! And again, all these contests are made possible from your continued support. Buying from Tokyo Otaku Mode, Amazon, CDJapan or Play-Asia through us helps fund all the contests for AC. Thank you to all who've been supporting us through the years!
Tales of Berseria

Tales of Berseria
is the latest mothership title of the Tales of Series which was first announced during 
Tales of Festival 2015
. The game was released for both the PS3 and PS4 on August 18, 2016 in Japan, January 24, 2017 in North America and January 27, 2017 in Europe for the PS4 and PC. The game features a female protagonist named Velvet and a theme of pirates and ships. It's also confirmed as a distant prequel to
Tales of Zestiria
.