Sorry for the delay, we now have the results for our AC 10th Anniversary & Tales of Berseria Contest! Special thanks to each and every one of you who participated! We've received 612 entries, and out of those entries, 437 of them got a perfect score!
Winners were chosen from the perfect score pool via lottery using Random.org.
But before we get to the winners, let's go through the answers (to jump right to the Winners List, click here! Wait, didn't get perfect? Wait, there might be something for you here!):
Part I: Characters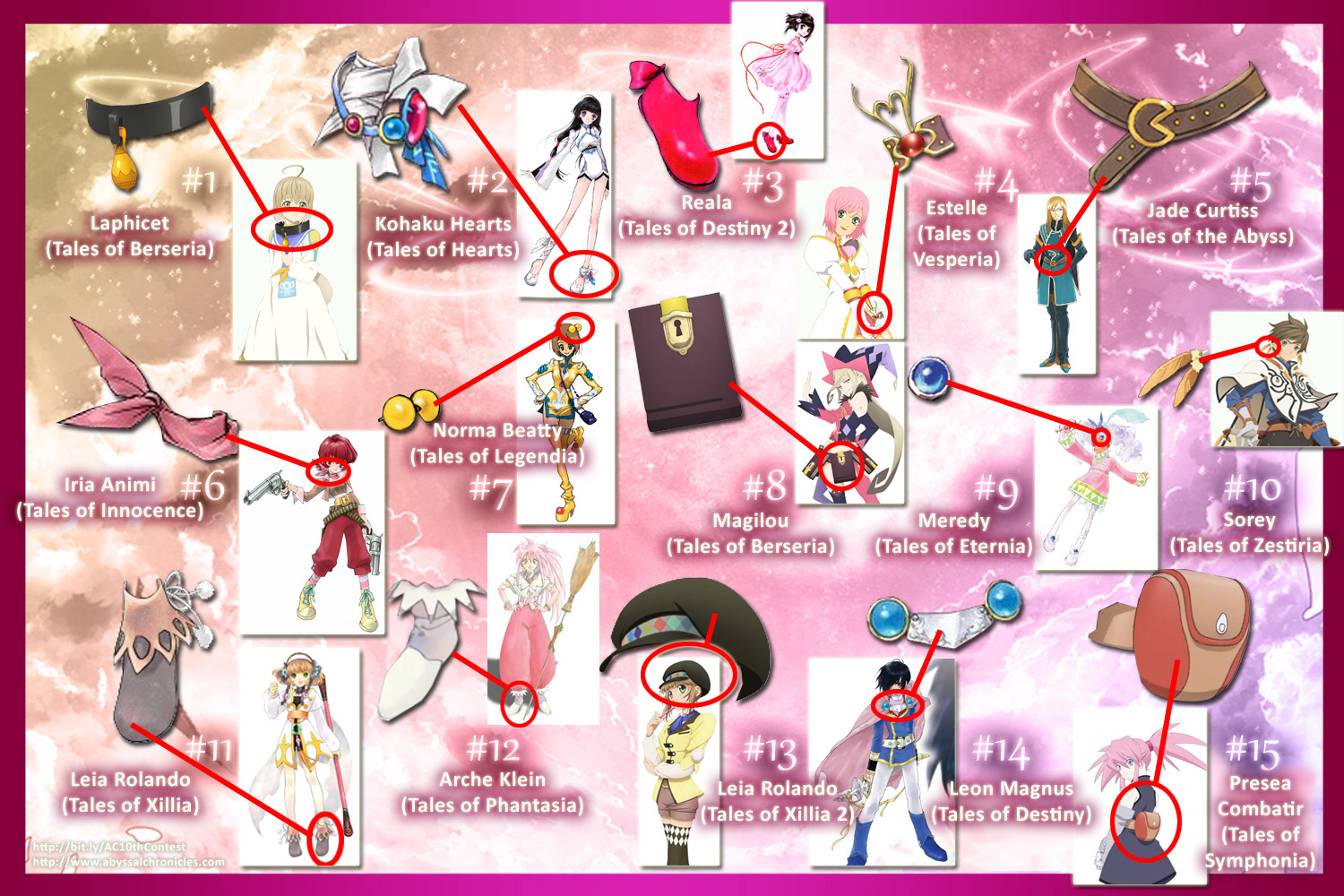 Laphicet - Tales of Berseria
Kohaku/Amber Hearts - Tales of Hearts
Reala - Tales of Destiny 2
Estelle - Tales of Vesperia
Jade Curtiss - Tales of the Abyss
Illia/Iria Animi - Tales of Innocence
Norma Beatty - Tales of Legendia
Magilou - Tales of Berseria
Meredy - Tales of Eternia
Sorey - Tales of Zestiria
Leia Rolando - Tales of Xillia
Arche Klein/Klaine - Tales of Phantasia
Leia Rolando - Tales of Xillia 2
Leon Magnus - Tales of Destiny
Presea Combatir - Tales of Symphonia
Part II: Melodies
Below is the list of songs that appear in the medley (along with their alternate titles), and a video that shows the songs' timing/appearances.
BURN - Tales of Berseria
The Law of Battle - Tales of Symphonia
Chance For a Big Reversal - Tales of Verseria
Fly! Anti Air! - Tales of Hearts (R)
*Other titles: Soar! Antiaircraft!!
A Resolution - Tales of Destiny 2
Dogfight - Tales of Rebirth
The Supreme King's Cage - Tales of Graces (f)
*Other titles: The Conqueror's Cage / Zhonecage Theme / Ex Dungeon Theme
Zaveid the Exile - Tales of Zestiria
*Other titles: Zaveid the Wanderer / Zaveid's Theme
Short Circuit - Tales of Legendia
Elle is Elle - Tales of Xillia 2
Silent Night - Tales of Destiny
Memory of the Music Box - Tales of Innocence (R)
Romance - Tales of Eternia
*Other titles: Flying
The One Protected by the Wind - Tales of Zestiria
*Other titles: Kaze ni Mamorareshi Mono
Their Steps, and the Present - Tales of Xillia
Part III: Scavenger Hunt
The full phrase was:
"We love gels!"
The first clue, "The Light to Velvet's darkness," pertains to Laphicet, who has been advertised as such in Tales of Berseria's paraphernalia. Going to our Tales of Berseria page will also show you this little snippet under the characters' tab:
Once you click it, you will be taken to Laphicet's own page on our website, where you'll find the first Normin!
Clicking on the Normin will take you to the first word of the phrase:
For the next clue, "The prize manager for this contest," it obviously pertains to a part of Abyssal Chronicles' staff. A quick look at our Staff page will show you:
This'll take you to the next word and the next clue:
And lastly, a fairly easy one, there's only one part in the website that shows the "Tales of..." text, and that's the menu! To those who didn't notice, some of our main menu items, even with drop down choices, can be clicked on their own:
And finally: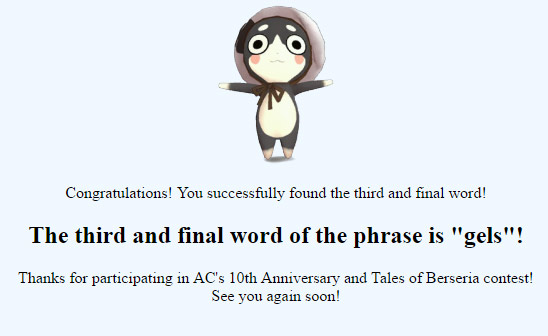 *We'll have the clue pages up for a week or so for those who want to check them out themselves.
And there you have it! Did you manage to get them all correct? A lot of you sure did! And now, for the winners! Drum roll, please!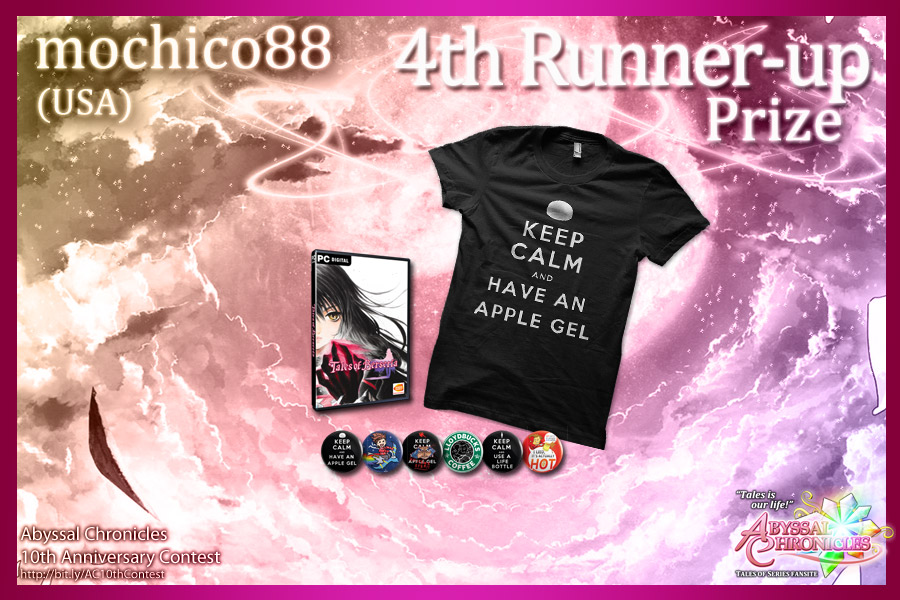 4th Runner Up goes to mochico88 from the USA! Congratulations!
3rd Runner Up goes to bdun912 from the USA! Congratulations!
2nd Runner Up goes to Xilukah from the Netherlands! Congratulations!
1st Runner Up goes to Ng Chong Sen from Malaysia!
And lastly... our Grand Prize Winner is GranteedEV from Canada! Congratulations!!!
For all winners: Send us an email at the contest e-mail: contests@abyssalchronicles.com OR reply to the e-mail which we will send a few hours from now, which includes your full name, delivery address and contact number for shipping purposes. Again, remember that due to the number of prizes and our personal lives, we will ship out items around mid-February.
Sad that you didn't make the cut? We still have 5 additional Tales of Berseria Steam codes to give away as part of our bonus prizes! Winners of this bonus did not need to have a perfect score, and were drawn from the entire pool of 612 entries:
Bonus winners just need to reply to our e-mail that they got our message. Steam codes will be sent to the same e-mails once available.
We would again like to thank Bandai Namco Entertainment America and Bandai Namco Entertainment Europe as well as US Community Specialist Dmitryi Khlynin and EU Community Manager Gaëtan Kimundi for helping us out with our huge contest!
That's all! Good luck to everyone! And again, all these contests are made possible from your continued support. Buying from Tokyo Otaku Mode, Amazon, CDJapan or Play-Asia through us helps fund all the contests for AC. Thank you to all who've been supporting us through the years!
Tales of Berseria

Tales of Berseria
is the latest mothership title of the Tales of Series which was first announced during 
Tales of Festival 2015
. The game was released for both the PS3 and PS4 on August 18, 2016 in Japan, January 24, 2017 in North America and January 27, 2017 in Europe for the PS4 and PC. The game features a female protagonist named Velvet and a theme of pirates and ships. It's also confirmed as a distant prequel to
Tales of Zestiria
.