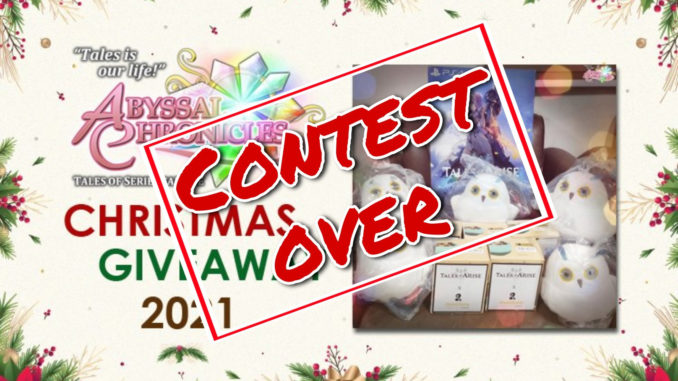 It's that time of the year, meaning another giveaway commences! And it's much easier than our last contest, don't worry!
In celebration of, of course, Christmas for this 2021...
As well as the Tales of Series 26th anniversary...
As well as Abyssal Chronicles' 15th anniversary back in October (lol what)...
It's time for another giveaway! Presenting Abyssal Chronicles' 2021 Christmas Giveaway!
We would like to thank Bandai Namco Entertainment UK for providing the prizes of the Hootle plushies and the tea kits!
The giveaway this time around is much easier and much less tedious than our previous contest (the AC Hootle Hunt). It's a giveaway, actually, not a contest, so it'll hopefully be much easier for everyone! And the contest is open WORLDWIDE! (Please make sure mailing to your country is currently active despite the pandemic) Entries are via the RaffleCopter widget below.
Is the widget above not working? Try the direct link here.
Note that you only need to do one of the assigned tasks in order to get one (1) entry, but doing the additional tasks will grant you an EXTRA entry for yourself. Meaning doing ALL options will give you a total of SEVEN (7) entries under your name, giving you more chances of winning!
Prizes
We will be choosing five (5) winners in total, with the winners to receive the following:
1 Winner

Tales of Arise Collector's Edition (PS4, UK Edition)
Hootle Plush
Tales of Arise x Mooboo Bobasha Tea Kit

1 Winner

Tales of Arise Regular Edition (Depending on player's region and choice of platform)
Hootle Plush
Tales of Arise x Mooboo Bobasha Tea Kit

3 Winners

Hootle Plush (1 each winner)
Tales of Arise x Mooboo Bobasha Tea Kit (1 each winner)
Guidelines
Please note of a few guidelines regarding this giveaway:
Do not attempt to submit multiple entries under multiple e-mails or accounts. We will know, and we will ban you from any of our future contests whatsoever. That said, all people noted to have cheated in our past contests with multiple email entries are automatically filtered out from this contest.
Only one entry per household, sorry. Please just work with your family if all of your siblings for example also want to join.
Winners should be willing to give their full name, address and phone number for shipping purposes. We will not accept having items shipped to a friend because you "plan to split the prize".
Parts of prizes per tier may be shipped out from different locations since our prizes are currently in two places in the globe. We apologize for the inconvenience.
Your country may charge you customs duties for the prizes, depending on the country. AC will NOT be responsible for any customs duties that may be charged.
Due to the ongoing COVID-19 pandemic, winners may experience delays in shipping out of their prizes, some of which we might not be able to control. We apologize for the inconvenience.
The contest is open WORLDWIDE! We however, cannot get Japanese versions of the games.
What's in the Mooboo Tea Kit? This was a limited boba tea kit from Mooboo UK. Each box comes with 5 packs of instant milk tea (assam) with 5 packs of boba, along with 5 straws and a Tales of Arise boba plastic cup.
The giveaway ends on December 26th, 12AM HK time. Winners will be announced within the day of December 26th. RaffleCopter uses or requests your email or social media prior to entering the giveaway, so MAKE SURE THEY ARE ACTIVE as we will be messaging winners through there!
Good luck and Merry Christmas!
Tales of Arise

Tales of Arise
is the latest mothership title (new classification: original title) of the Tales of Series which was first announced during 
Microsoft's Press Conference in E3 2019
. The game was released for the PS5, PS4, Xbox Series X, Xbox One and PC Digital via Steam on September 9, 2021 for Asia and Japan and September 10, 2021 for the rest of the world. The game features use of the Unreal Engine 4 and works on the theme of tradition versus evolution of the series.
Info Page | News | Gallery | Official Website (US) | Official Website (JP)