The collaboration between Tales of The Rays and Arc System Works' flagship fighting game franchise Guilty Gear that was announced recently is now live, bringing Guilty Gear characters and costumes to Tales! Read on to see what this event entails!
It's no secret that the Tales of series' trademark Linear Motion Battle System takes a lot of inspiration from Fighting Games. Characters from a well known Fighting Game like Guilty Gear fit right in- in fact, looking at gameplay could almost make you think you were watching Guilty Gear!
This event is split into two parts. The first part brings us Guilty Gear's longtime protagonist Sol Badguy, who not only has all the moves you'd expect him to have, but also a couple of core mechanics from Guilty Gear like Faultless Defense and, of course, Roman Cancel! You can check out this official preview of Sol's gameplay here:
◤豪快に相手をねじ伏せる超攻撃ストライカー◢#ソル =バッドガイの技をコンボでご紹介👊

もっと良いコンボがあるよ!という方は、
是非ご紹介ください♪ pic.twitter.com/34Eu1dNXBN

— 【公式】テイルズ オブ ザ レイズ (@talesof_therays) August 26, 2021
Of course, our beloved Tales characters get to dress up as Guilty Gear characters, and use their moves too! Here are the featured Tales characters and the Guilty Gear characters their costumes and Artes are based on.

Patty Fleur dresses up as Guilty Gear's Pirate Girl May! Mr. Dolphin is her Master Arte (Totsugeki!) while her Mirrage Arte is Overhead Kiss.
【お知らせ】
こんばんは。運営です
近日公開の『GUILTY GEAR-STRIVE-』コラボで活躍するパティのコラボ魔鏡&秘技をご紹介。
パティがコラボするのはメイ
海賊と快賊のコラボ魔鏡技はオーバーヘッド・キッス
巨大な錨で打ち上げた敵を蹴り飛ばし、
秘技ではイルカさんに乗って突撃!#ザレイズ#GGST pic.twitter.com/mpzyTg7jq8

— 【公式】テイルズ オブ ザ レイズ (@talesof_therays) August 30, 2021
Bruiser Khang shows off his muscle dressed as Guilty Gear's Potemkin! He gets Mega Fist, Gaiganter Kai and his own parody of Potemkin Buster: Kongman Buster!
https://twitter.com/talesof_therays/status/1431180938164195331
Alice dresses as the similarly sadistic I-no and gains the ability to use Antidepressant Scale and also the powerful Megalomania!
https://twitter.com/talesof_therays/status/1431543325845188610
Dist dresses as fellow mad doctor Faust, gaining his giant scalpel with which to use Thrust, Pull Back and Home Run! He also turns his chair into a wheelchair to recreate Dist's Bone-Crushing Excitement.
https://twitter.com/talesof_therays/status/1431905713819951107
That's all for part 1's character, though if you missed the announcement, Part 2 will introduce Ramlethal, and have Shizel dressed as Zato-1, Muzet dressed as Millia Rage, Jay dressed as Chipp Zanuff and Magilou dressed as Jack-O. We'll get previews of their Artes and costumes closer to release. In the meantime, here's all the relevant information for part 1 of the event, starting with a timetable to keep track of! Note that there are 11 Free Pulls on Sol's Gacha Banner, so take advantage of it!
| | | |
| --- | --- | --- |
| Guilty Gear -STRIVE-: Loop of Despair | Start Time | End Time |
| Event Quests | August 31st, 14:00 JST | September 10th, 10:59 JST |
| Guilty Gear Event Shop | August 31st, 14:00 JST | September 20th, 23:59 JST |
| Guilty Gear Gacha Banners | August 31st, 14:00 JST | September 20th, 10:59 JST |
| Guilty Gear Ticket Gacha | August 31st, 14:00 JST | September 20th, 23:59 JST |
| Guilty Gear Gacha Grade Shop | August 31st, 14:00 JST | September 20th, 23:59 JST |
Be sure to refer back to this if you're worried about how much time you'll have left. Remember, you can only get Guilty Gear characters and Guilty Gear Artes for Tales characters during the event period!
Before anything, you should use your free pulls. On your home screen you may notice this yellow alert icon on the bottom right- this takes you to the Gacha screen, which has the free pulls.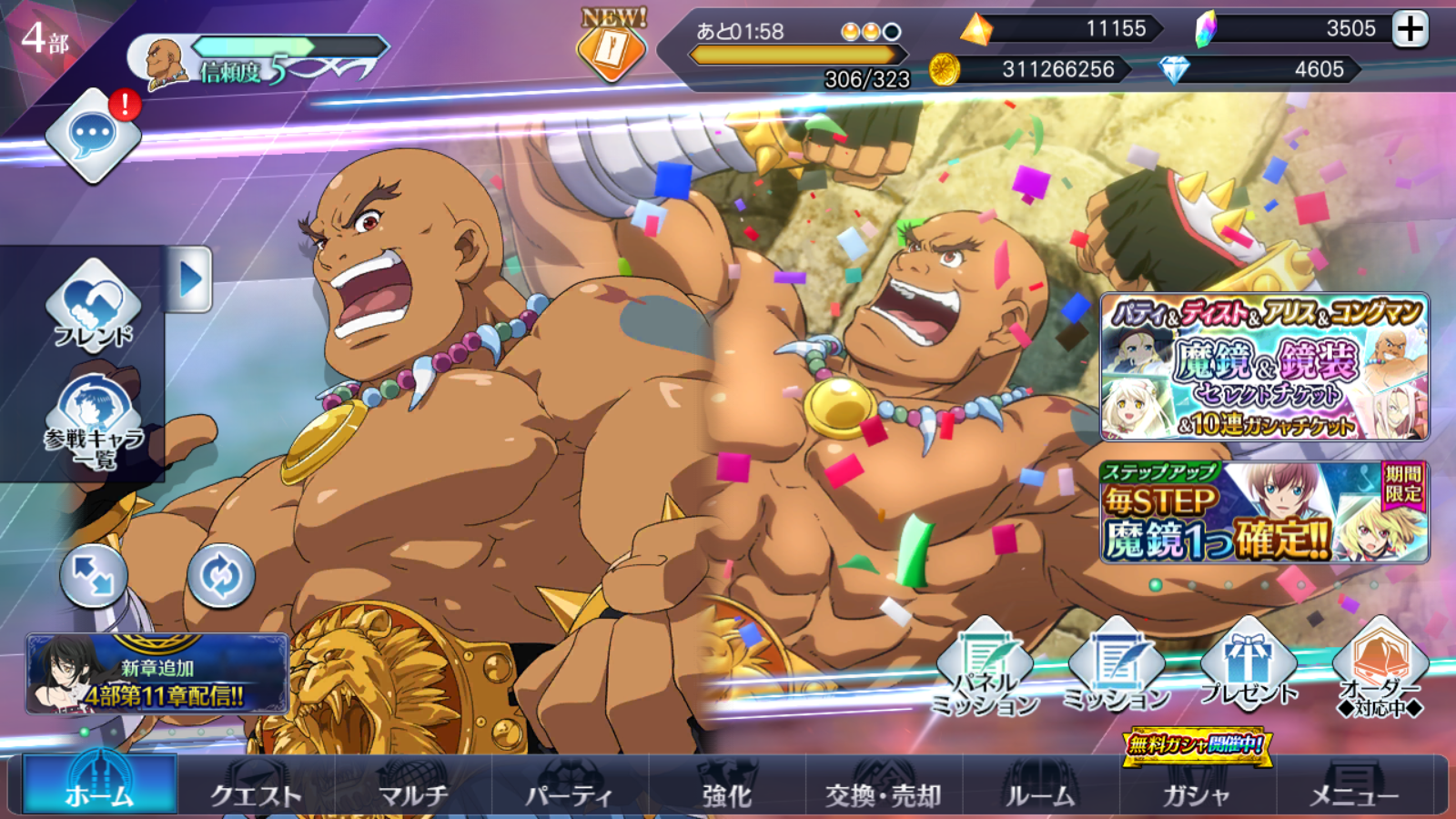 The free pulls are on Sol's banner. You may notice each button has an option for a 0 cost pull- simply press these buttons and select the option that costs 0 for free pulls.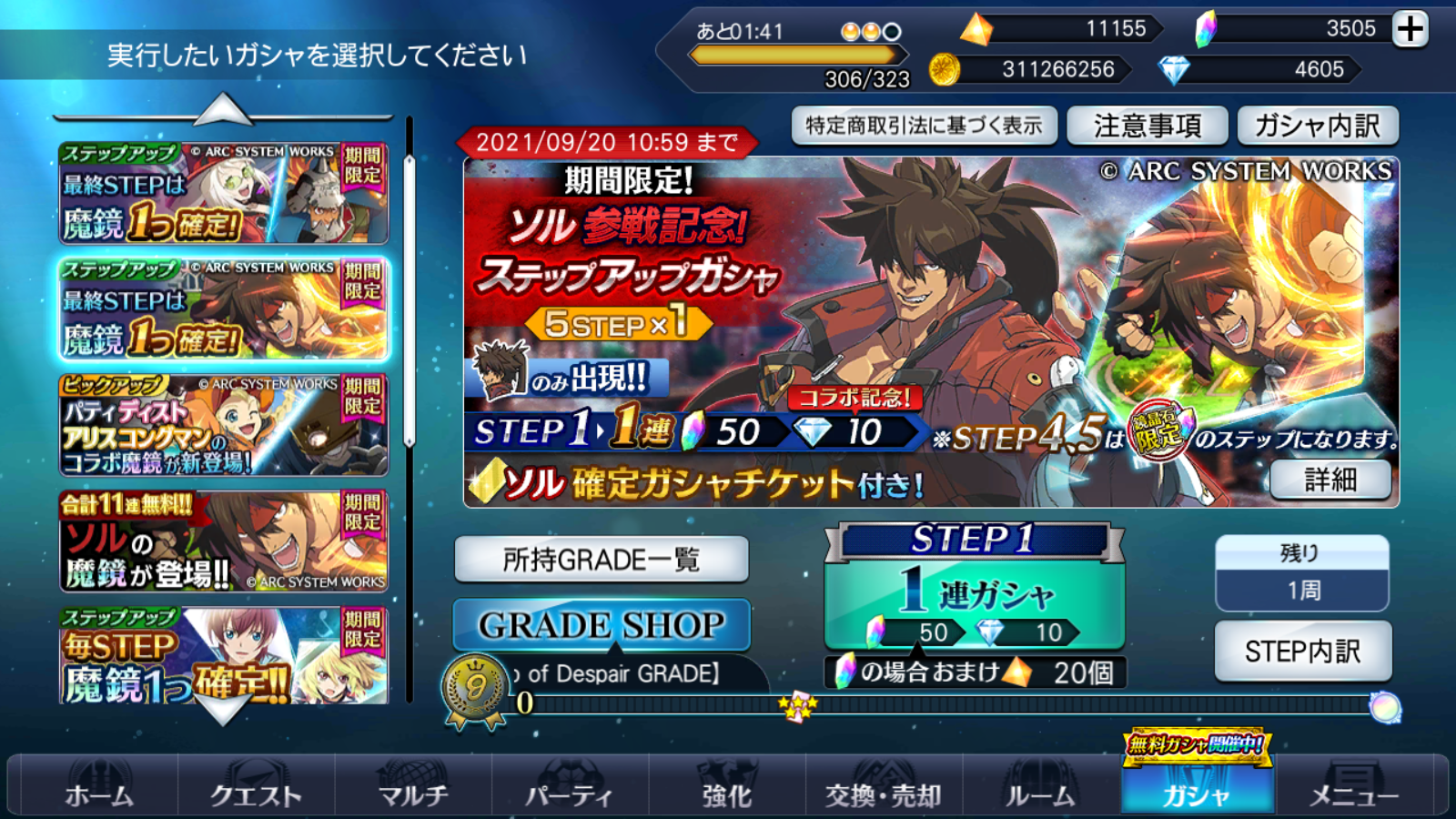 There's also a Dia Step Up for Sol. Step up banners are usually paid currency only, but they give a higher chance at Master and Mirrage Artes the more you pull on them. It's advised to take advantage of this too, especially since Grade is shared between all event related banners.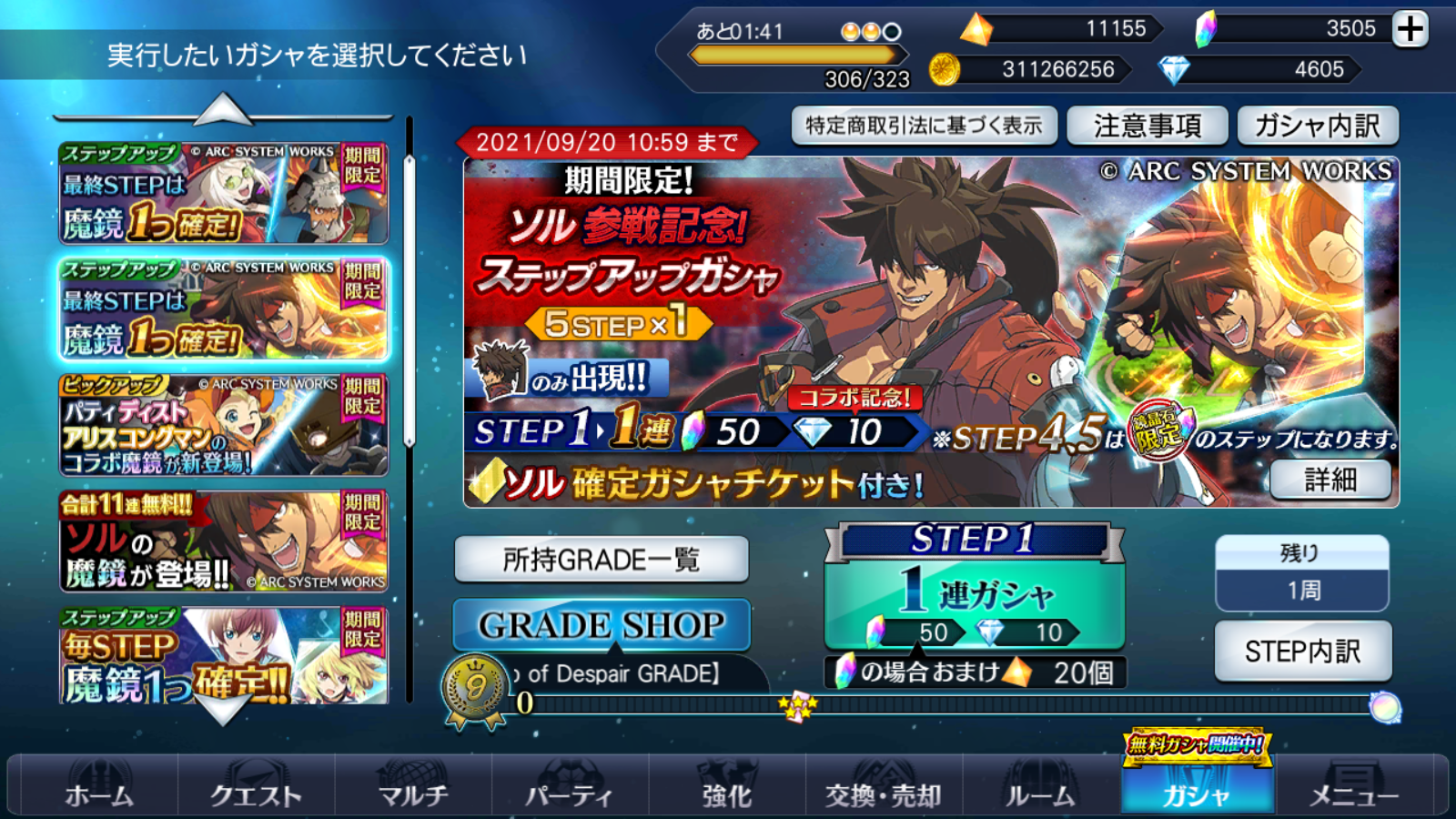 Let's move on to unlocking Sol and playing the event itself. In the quests tab, move to the event quests which are second near the top, and touch the Guilty Gear -STRIVE- Loop of Despair banner on the right to start the event.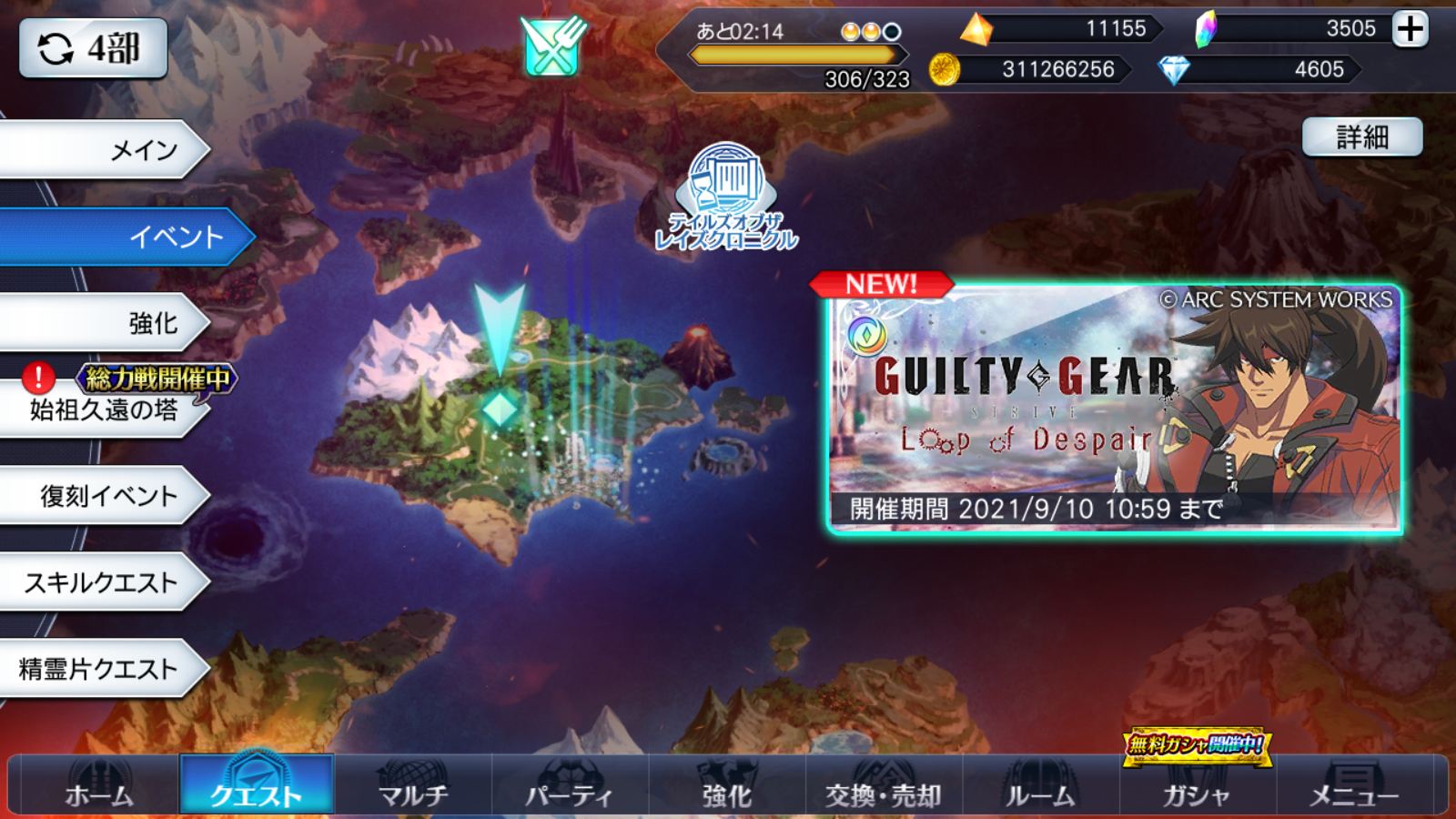 Simply touch the first quest and watch (or skip) the first cutscene to recruit Sol! He'll only have one Arte, but we'll get to that in a bit.

After completing the event story, you'll have access to three farming quests, the first costs 40 AP and the latter two cost 80 AP. These are what you want to play. The first 40 AP quest is the easiest one, while 80 AP is a little harder.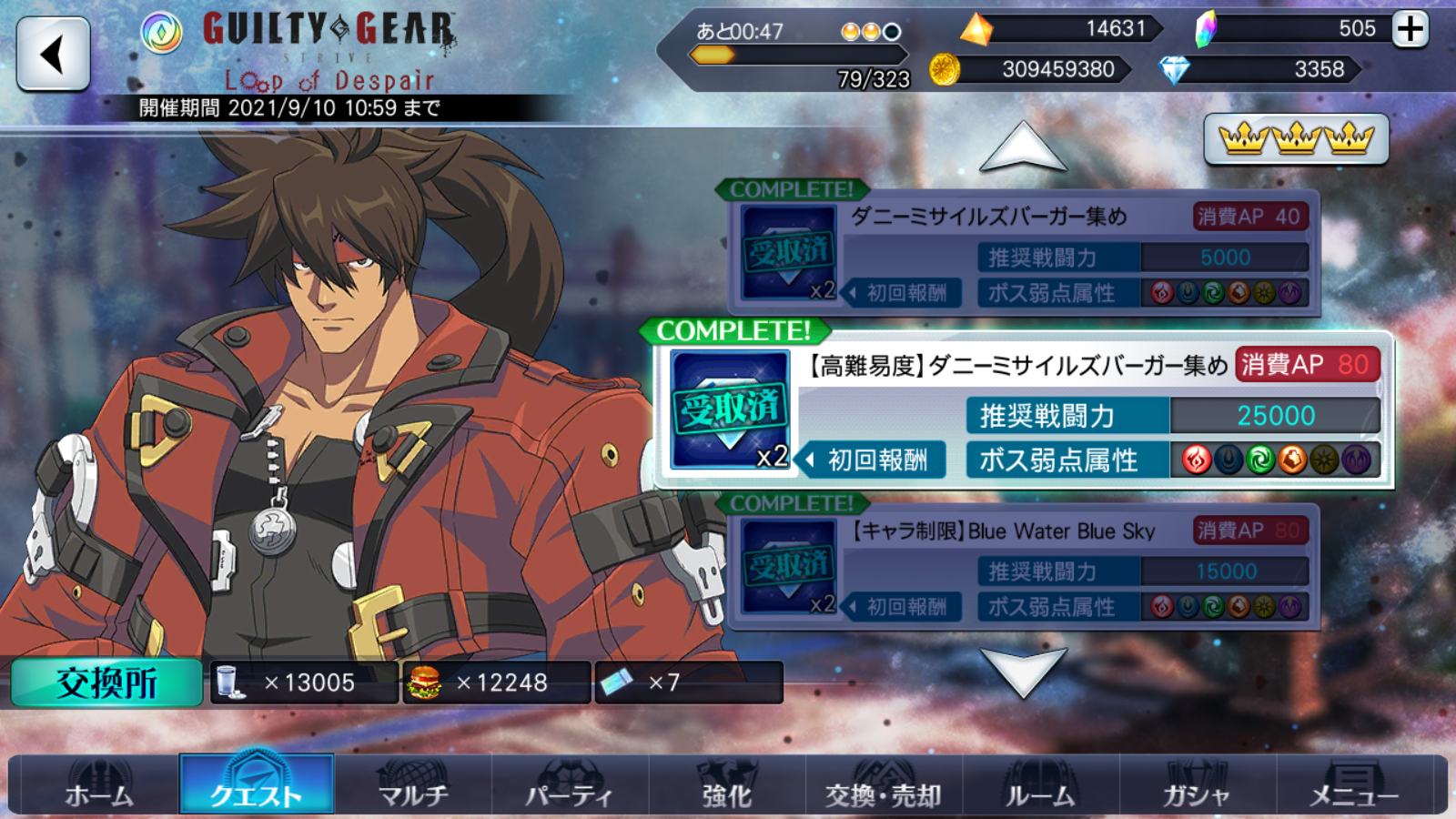 The third one, Blue Water Blue Sky, is special.

The only characters you can use in this quest are the featured characters: Sol, Patty, Bruiser, Dist and Alice. You'll have to make a separate team for this quest. But it has a higher rate of item drops, which is important for farming!

So what are you farming exactly? There's actually 3 things to farm, shown in this handy chart. You'll need to farm these if you want to get a full set of Artes for Sol without letting gacha decide your fate, and you'll get plenty of tickets for the Tales characters too!
| | |
| --- | --- |
| Currency Icon | How To Obtain/Purpose |
| | High Value Currency. Play Event with featured Guilty Gear or Tales characters on your team and as your Helper to obtain these from chests and battles in the farming quests. This is the currency you should aim for. |
| | Low Value Currency. Play Event using anyone except featured Guilty Gear or Tales characters on your team and as your Helper to obtain these from chests and battles in the farming quests.  |
| | Special Tickets. Simply play through farming quests repeatedly to stock up on these. |
Guilty Gear characters love their burgers! In order to use this currency, you must hit the Green Button on the bottom left of the event quest list.

You can also access the event shop (useful for last minute purchases after the event quests are gone) through the shop tab on the bottom menu. Simply press the button on the right here...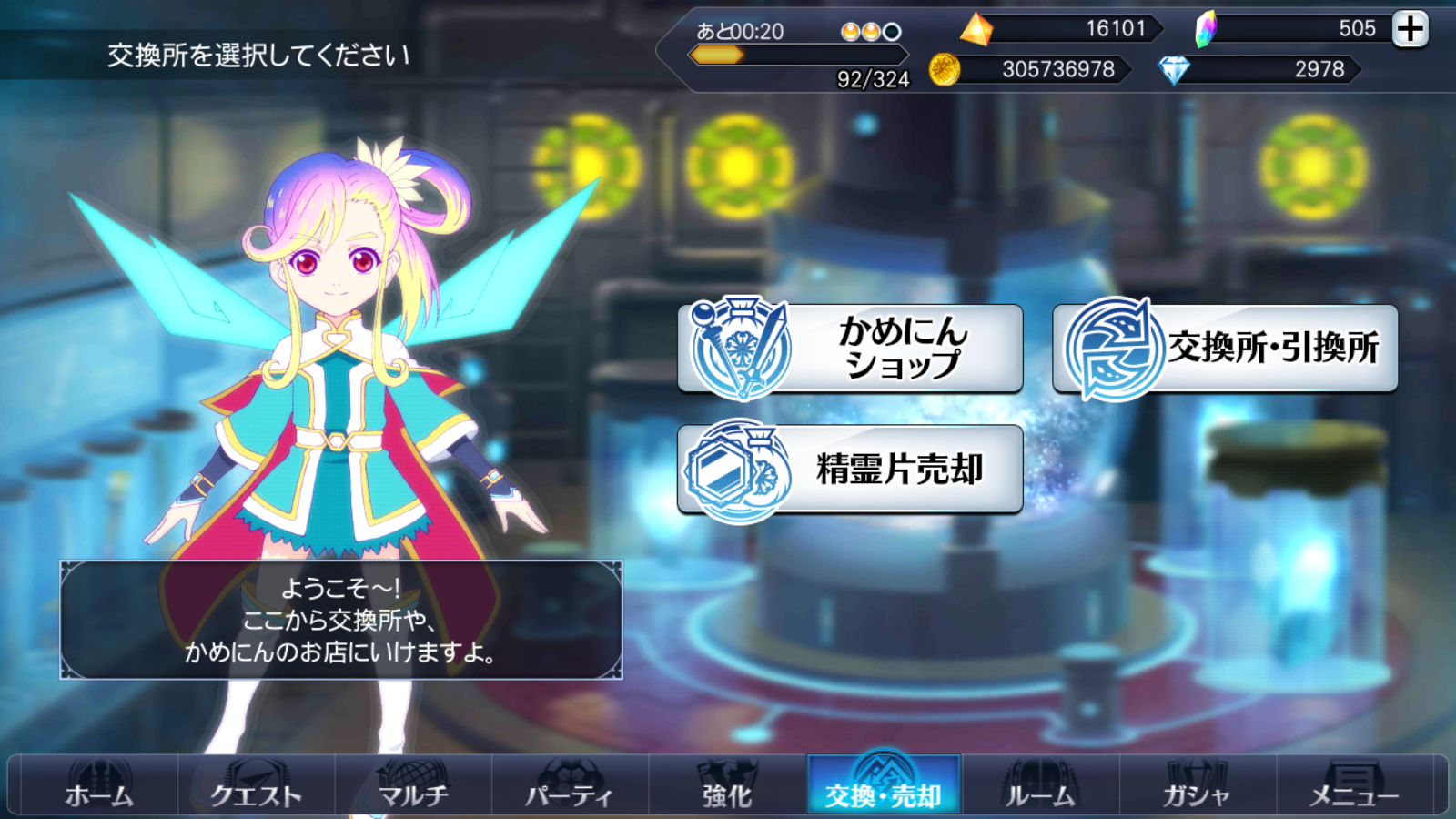 Then press the top left button here.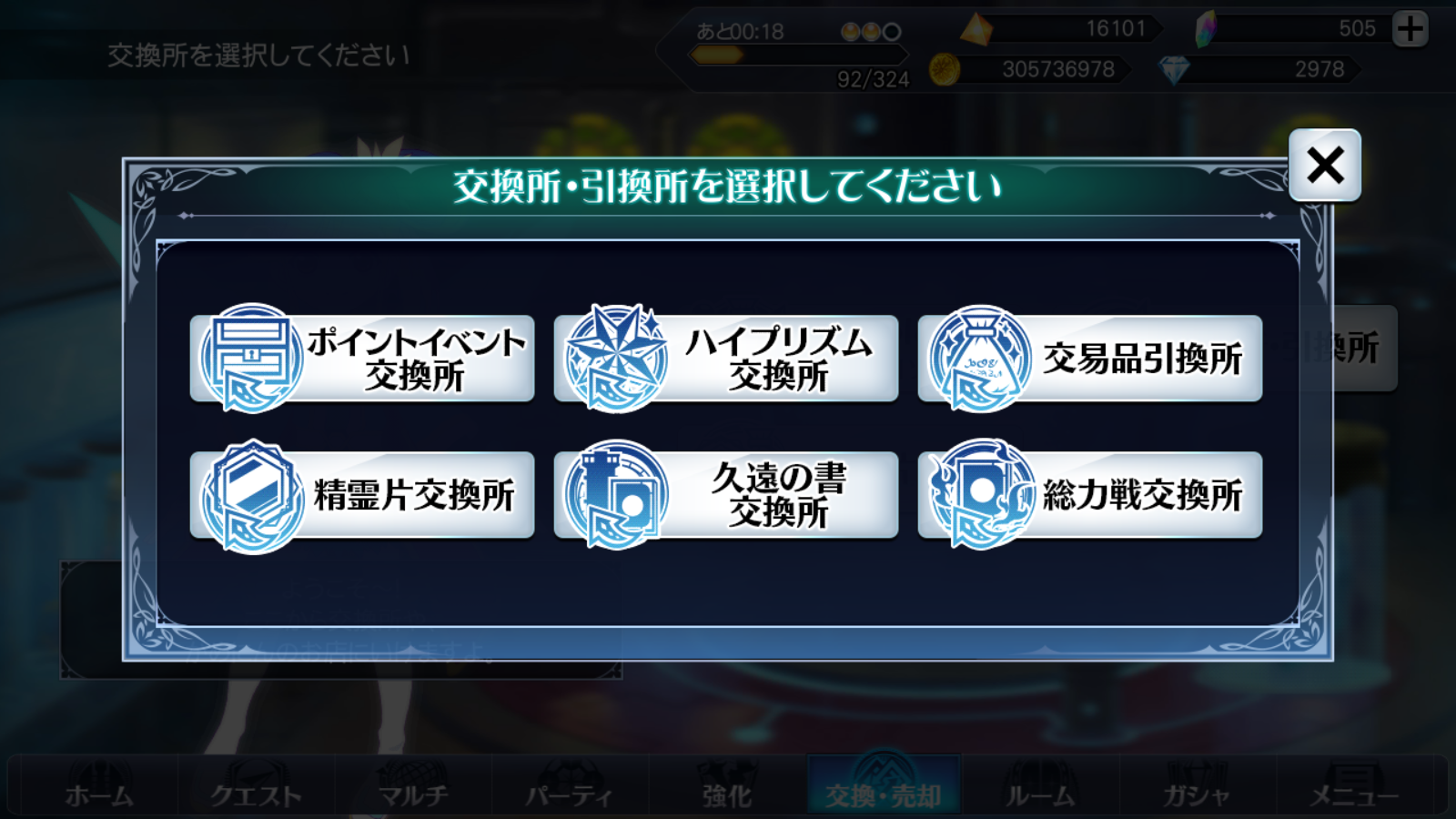 And you'll be taken to a list of shops- the Guilty Gear shops should be near the top, and quite obvious at that.

What should you buy using the currency you farmed? There's a few important things. First is Sol's Event Shop Arte, this is exclusive to this shop and is unavailable in the Gacha. It lets him use his iconic Volcanic Viper. There's also a mission that rewards dia if you obtain every copy of it in the shop, so be sure to grab it! Below it is also Guilty Gear exclusive enhancement material, which lets you unlock special properties on his Artes.

There's also Nexus Shards for Sol- these increase the maximum level once you hit the current cap. The smaller crystal increases the maximum to level 60 once Sol hits level 50, and the bigger one increases the cap to level 70 once he hits 60. There are dia rewards for increasing his level to 70 before the event is over!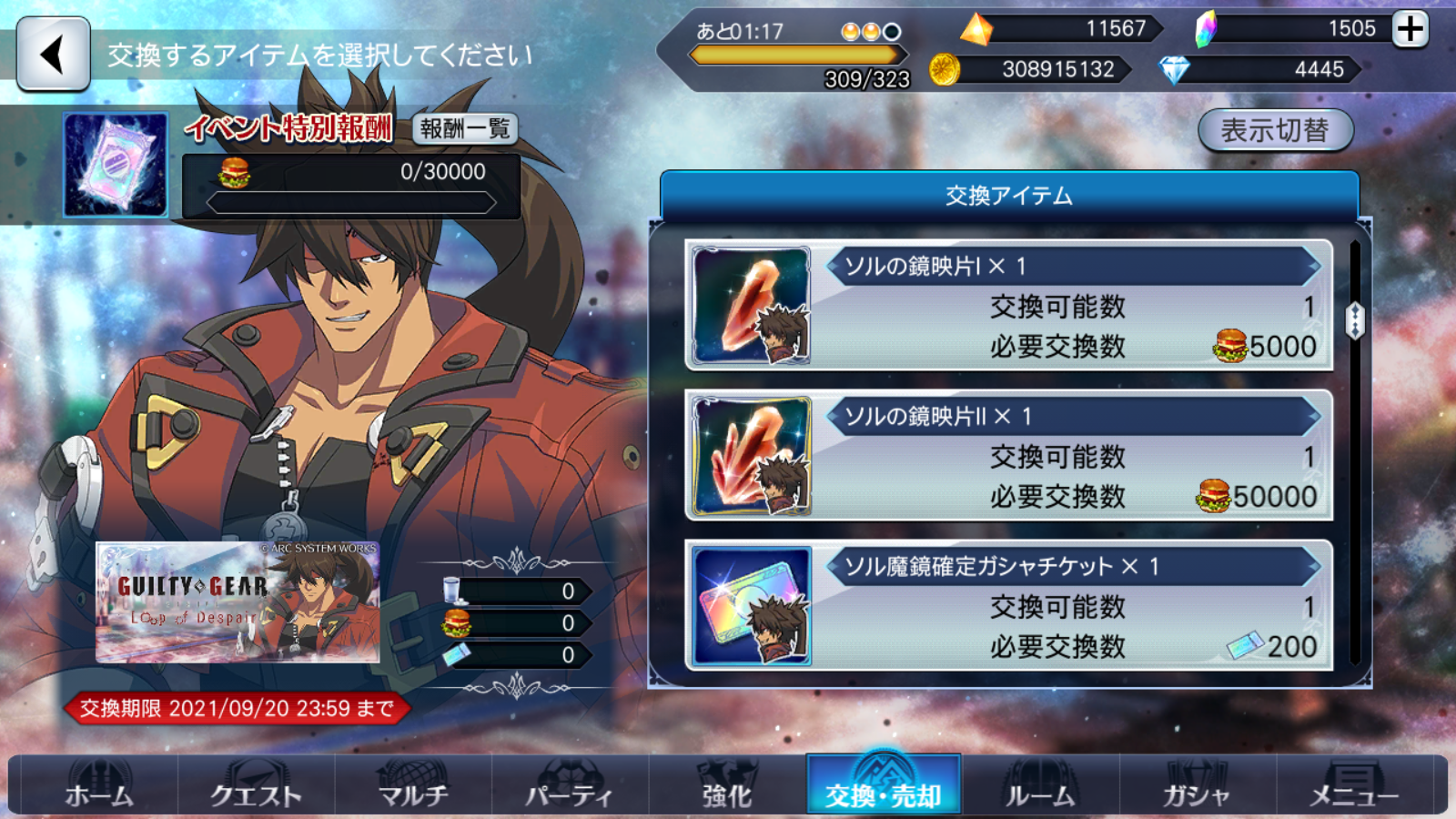 Below that are the options you want to farm the Special Ticket currency before. For 100 of them you get a ticket that guarantees Sol's 5* Master Arte, and for 200 you get a ticket that guarantees Sol's Mirrage Arte. You may need to spend dia refilling your AP to farm that many tickets, but it's a good deal since it's a complete guarantee, no randomness involved!

And finally of course, there's a plethora of gacha tickets for both Sol and featured Tales characters, giving you many free pulls. There's also rewards for spending enough in the shop, which you can see via the meter on the top left, so make sure you buy as many things as you can, while prioritizing what was listed here!

There's also a new panel of missions for even more rewards this event- including a ticket that guarantees a Gacha Mirrage Arte! You'll automatically be taken to it when you log in, but in case you can't find it, simply go to the home screen and touch the leftmost diamond shaped button on the bottom right.

Here's how the panel missions look, alongside a translation of everything you have to do to get all rewards. You can also touch each part of the panel to go directly to the thing you must do to complete the mission.

| | | |
| --- | --- | --- |
| Complete Chapter 1 Lost | Complete Chapter 10 Purpose | Use 5 Mirrage Artes |
| Defeat 10 Enemies | Complete 5 Quests With Sol On Your Team | Complete 15 Quests With Sol On Your Team |
| Use 200 AP | Collect one day's Log-In Bonus | Collect Log-In Bonuses for 7 days |
And that's about it for playing the event! Expect a slightly different format for part 2, while still being able to unlock Ramlethal's Artes simply by playing. Also, if you want to get the Guilty Gear Artes and costumes for the featured Tales characters, those are only available in their relevant gacha, which should incentivize getting those tickets more. Of course, since all banners share grade, it may be worth it to roll on banners until you have enough Grade to simply buy the Arte you want. Costumes come for free with a Collaboration Mirrage Arte, while 5* Master Artes only give you an Arte.
We normally have Arte and costume previews down here, however the gameplay videos released already gave a good look at how each character looks and plays. Instead, we'll leave you with a look at Sol's alternate costume you unlock by acquiring his Mirrage Arte: his second alternate color from Guilty Gear -STRIVE-! You can also mix and match his colors between his regular and alternate costume with his regular and alternate costume's weapon.

That's it for now. It may seem like a lot- but it's not hard. Play through the quests and practice your Sol Badguy combos in Tales' own LMBS! We'll see you soon, updating this article and releasing a new article when part two of this event drops.

Tales of the Rays

Tales of the Rays
is a Tales mobile game for the iOS and Android featuring characters designed by Hidenori Matsuraba and a new ADF-LMBS (Advanced Flick Linear Motion Battle System). The game tells the story of hero Ix Nieves and heroine Mileena Weiss in the world of Tir Na Nog. Characters from the previous Tales titles appear in this game. The game initially had an English version, but was short-lived and now currently runs exclusively in Japan.