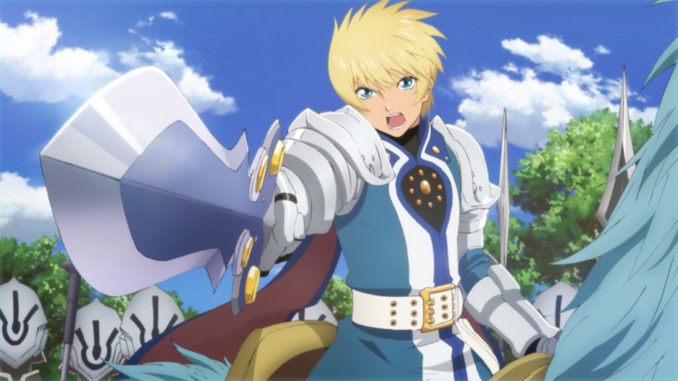 The Mirrage Prison arc reaches the climax with its final chapter『The End and Beginning of the Righteous Knight』

Mirrage Prison's last chapter is here! Clear all chapter stages to recruit Flynn Scifo, from Tales of Vesperia! But that's not all, just like the first arc finale, the true final chapter can be unlocked by beating all bosses from the current mini-event!


Players will face a Drake, Richter and Barbatos in this Final Chapter Capture Battle to unlock the conclusive final stages of Mirrage Prison's story!
Once reached 100% on all 3 bosses, the Final Chapter will be unlocked for all players.
※ By the time of this report, all bosses were already defeated and the Final Chapter is out! But you can still play the event stages to get rewards and the event-exclusive Trade Item.
Like any other Capture Battle event, you can earn a bunch of rewards by gathering points from the event stages.
But beware! This mini-event will only be available until December 31 (4:59 JST).
---
There are two different gacha and one special banner associated with this chapter.


A regular banner containing Flynn, Yuri, Rita and Estelle is available from December 25 (14:00 JST) to January 25 (16:59 JST).
There is a rate-up for Flynn's items (except his Mirrage Gear).
10x summons guarantees a Flynn Summon Ticket and 25x Spirro Jewels.

A Step-Up banner containing Flynn, Yuri, Rita and Estelle is also available, from December 25 (14:00 JST) to January 07 (16:59 JST).
Step 1 costs 100 mirrogems and guarantees 5x Spirro Jewels
Step 2 costs 300 mirrogems and guarantees a Flynn Summon Ticket.
Step 3 costs 600 mirrogems and guarantees a 4-star weapon or higher and 10x Spirro Jewels.
Step 4 costs 800 mirrogems and guarantees a 5-star Mirror Gear or higher and a Flynn Summon Tickets.
Step 5 costs 1000 mirrogems and guarantees a Mirrage and 15x Spirro Jewels
Ticket Summons will be available until January 31 (16:59 JST).
And, exclusive to this event:
A Special banner that contains various items like Flynn Summon Tickets, Chiral Crystals, a Ticket that can be exchanged for Nexus Shard II of any character (except collaboration characters) and more.
You can summon on this banner by using the Trade Item that can be acquired in the Final Chapter Capture Battle mini-event.


You can acess the special trade shop for Nexus Shard II tickets on the Shop•Sells menu.

Tales of the Rays

Tales of the Rays
is a Tales mobile game for the iOS and Android featuring characters designed by Hidenori Matsuraba and a new ADF-LMBS (Advanced Flick Linear Motion Battle System). The game tells the story of hero Ix Nieves and heroine Mileena Weiss in the world of Tir Na Nog. Characters from the previous Tales titles appear in this game. The game initially had an English version, but was short-lived and now currently runs exclusively in Japan.