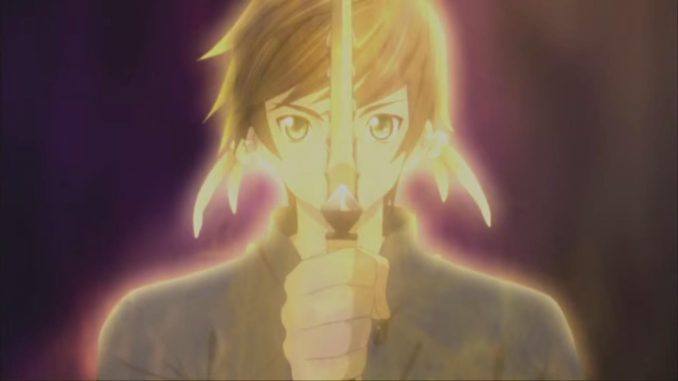 A long introduction to Tales of Zestiria was shown during the airing of the anime special. Check it out.

The teaser shows us a bit of what happens after Sorey and Mikleo leave their village - they venture into the capital of Hyland - Lady Lake.
The video also introduces the Tales of Series in general - when it started, its real-time battle system.
As the 20th anniversary title, Zestiria introduces 4 character designers - Mutsumi Inomata (Destiny, Graces), Kosuke Fujishima (Abyss, Vesperia), Daigo Okumura (Symphonia: Dawn of the New World, Xillia 2) and Minoru Iwamoto (Radiant Mythology).
Ufotable is also in charge of the game's opening and in-game animated cutscenes. Of course, they were also in charge of the anime special. Speaking of the anime special, the Japanese copies of the game automatically come with the anime episode in the form of a hybrid disk.
Various keywords should be understood in the story of Tales of Zestiria:
Seraphim (Tenzoku) - beings not visible or perceived by humans and revered as gods or spirits. They have sacred powers.
The Celestial Records - a book that tells of the legends of the humans and the Seraphim
The Shepherd - a being that forms a contract with the Seraphim. The Seraphim may use his body as their vessel, and in return, the Seraphim grants the Shepherd their powers. The trailer mentions that Sorey was born for that role.
The video then introduces the characters one by one. The last parts of the video shows snippets of the game opening, though without the opening song. If you want to listen to a bit of the opening song, "White Light" by Superfly, check out the recently released commercial below:
Tales of Zestiria will be released in Japan on January 22, 2015, and in North America and Europe sometime in the future. Pre-orders are now available at the following shops: