Famitsu has released sample pictures of their upcoming Tales of Berseria Famitsu DX Edition Pack for Japan.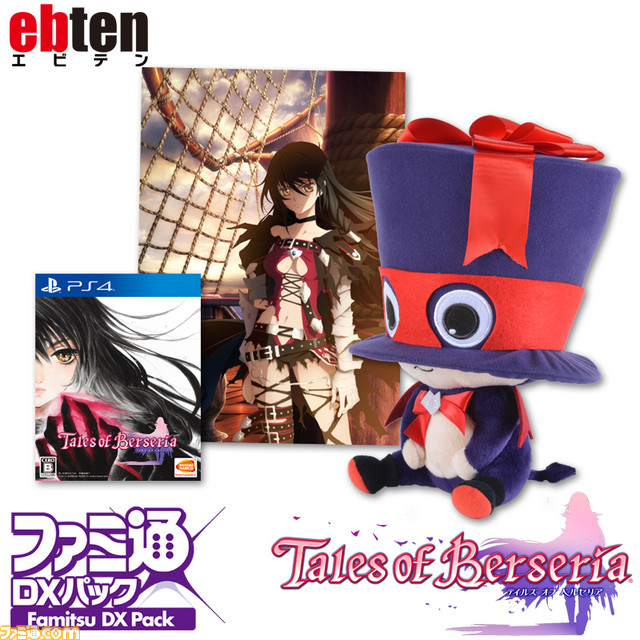 The Tales of Berseria Famitsu DX Pack includes the game (PS4 or PS3 versions), plus the following items:
A 21cm plush of Bienfu.
Two A3-sized posters by ufotable (one illustration features an image of Velvet used in Weekly Famitsu before, and one featuring new art exclusive to the bundle).
A set of 6 acrylic key chains.
And a set of 6 visual clear folders.
The official retail price of the entire bundle is 12,800 Yen.
The following international shops offer the Famitsu DX Pack:
(Personal hint: Though this isn't set in stone, and you can follow my advice at your own risk, but if you're planning to get a special bundle, you might as well get the Famitsu DX one. From history, the West branches of Bamco usually bring over what the Lalabit Market bundle has for the localized collector's edition, so you just might end up with double stuff or double chibi kyun chara figures like I did if you get the Lalabit Market one. That's just me, though. Again, follow at your own risk!)
If you're able to tolerate a little bit of a workaround, you can try buying directly from the shops via a proxy or a middleman. Companies like this exist, which will buy the item for you directly from the shops and then ship it to you once available. This of course comes with a small fee, but will usually be cheaper as compared to buying from other shops (or at least, from Play-Asia).
For proxies, I personally recommend FromJapan. I use them for all my Japan purchases and never had a problem whatsoever. What you do is you provide them the shop direct links above and they'll pre-order the item for you.
Tales of Berseria

Tales of Berseria
is the latest mothership title of the Tales of Series which was first announced during 
Tales of Festival 2015
. The game was released for both the PS3 and PS4 on August 18, 2016 in Japan, January 24, 2017 in North America and January 27, 2017 in Europe for the PS4 and PC. The game features a female protagonist named Velvet and a theme of pirates and ships. It's also confirmed as a distant prequel to
Tales of Zestiria
.