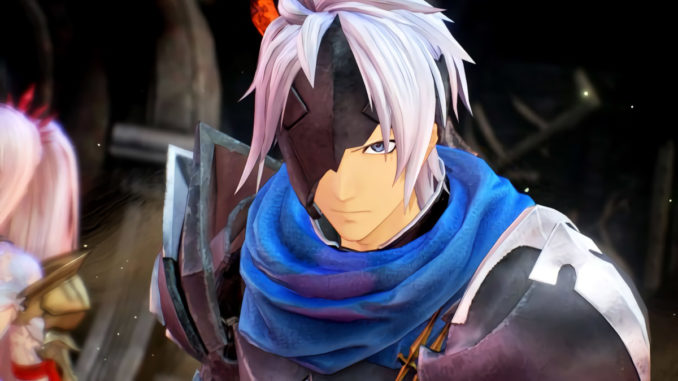 It's almost time for E3 and Tales of Festival 2019, and the rumors are already leaking in. Can this hopefully be real...?
With E3 and Tales of Festival just around the corner, there have apparently been "E3 leaks" floating around the internet, as declared by a few people on Twitter. One of the leaks comes from this thread in 4Chan, showcasing a man in bulky armor and what seems to be greatly upgraded graphics. The data was allegedly mined from the Bandai Namco website.
The alleged name of the game is "Tales of Arise", and the game's alleged logo was also leaked on 4Chan:
Metadata allegedly points to the game being for PlayStation 4, Xbox One and PC. The game info was leaked online, as well:
Challenge the Fate That Binds You
On the planet Dahna, reverence has always been given to Rena, the planet in the sky, as a land of the righteous and divine. Stories handed down for generations became truth and masked reality for the people of Dahna.
For 300 years, Rena has ruled over Dahna, pillaging the planet of its resources and stripping people of their dignity and freedom.
Our tale begins with two people, born on different worlds, each looking to change their fate and create a new future.
Featuring a new cast of characters, updated combat, and classic Tales of gameplay mechanics, experience the next chapter in the world-famous Tale of series, Tales of Arise.
The Next Chapter
Experience the next chapter in the Tales of series, brought to life in stunning HD powered by Unreal Engine 4.
A New Tale Awaits
Dynamic Action RPG featuring an updated battle system that retains classic Tales of gameplay.
Stunning Visuals
High quality animation created by ufotable.
Again, with E3 just next week, there are a LOT of alleged "leaks" that will be popping up online. While some of these may be real, a good number of these will be fake. For now, please take this rumor with a grain of salt UNTIL we get outright confirmation during E3 or Tales of Festival itself.
(Personally, the screenshots give the feel of Monster Hunter)
Thanks for the heads up, @sistaofpeace1!
Tales of Arise
is now available at the following shops (
Note: Please keep in mind that we may receive a commission when you click on our links and make a purchase. This, however, has no bearing on our reviews and comparisons.
):

 North America:

 Europe:
Tales of Arise

Tales of Arise
is the latest mothership title (new classification: original title) of the Tales of Series which was first announced during 
Microsoft's Press Conference in E3 2019
. The game was released for the PS5, PS4, Xbox Series X, Xbox One and PC Digital via Steam on September 9, 2021 for Asia and Japan and September 10, 2021 for the rest of the world. The game features use of the Unreal Engine 4 and works on the theme of tradition versus evolution of the series.
Info Page | News | Gallery | Official Website (US) | Official Website (JP)