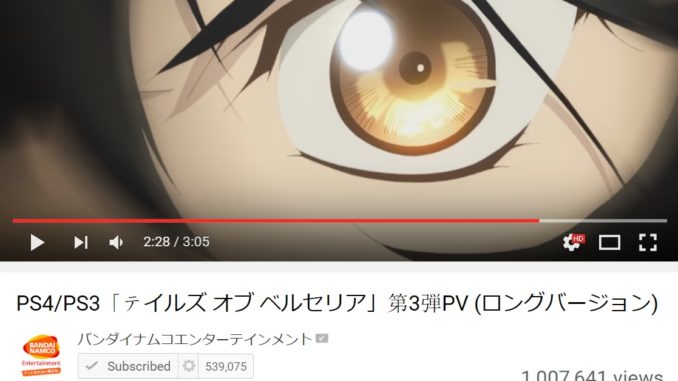 Congratulations to Bandai Namco for having the 3rd trailer of Tales of Berseria reach a million views on YouTube!
The long version of Tales of Berseria's third trailer has reached 1,000,000+ views on YouTube as of the time of writing this article.
But why bother making a post? Because this hasn't happened in, like, a long time, probably? Well, at the very least it hasn't happened since Tales of Xillia or Tales of Graces f. I can't account for Vesperia's time because the trailers are no longer on Bandai Namco's YouTube channel (or were they even there to begin with? I can't seem to recall), but as of the moment, Tales of Berseria's 3rd trailer (long version) currently has the highest view count for any Tales trailer on YouTube. So congratulations, Bandai Namco!
This doesn't even count the views of the same trailer from the North American and European Bamco channels, which roughly have 98,000 and 37,000 views respectively. To see the trailer in English, you can view it at their channels below:
Hopefully the game itself will be as successful as how their promotion's going so far.
Tales of Berseria

Tales of Berseria
is the latest mothership title of the Tales of Series which was first announced during 
Tales of Festival 2015
. The game was released for both the PS3 and PS4 on August 18, 2016 in Japan, January 24, 2017 in North America and January 27, 2017 in Europe for the PS4 and PC. The game features a female protagonist named Velvet and a theme of pirates and ships. It's also confirmed as a distant prequel to
Tales of Zestiria
.