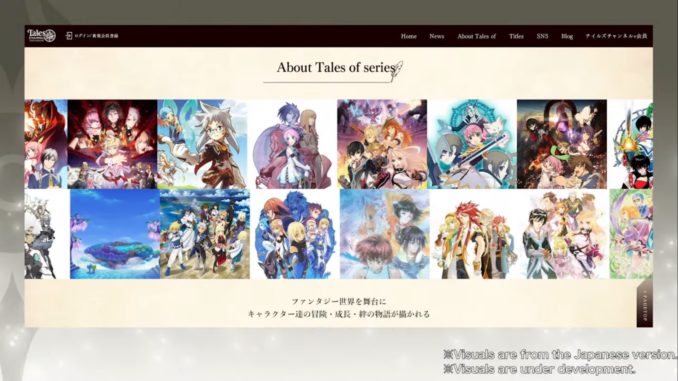 Japan's official Tales portal finally gets an English version.
Announced during Tales of Crestoria's 1 Million Downloads Livestream, the Japan official Tales of Series web portal, Tales Channel Plus, will be getting an English version.
For those unfamiliar with it, Tales Channel Plus is the official website portal for the Tales of Series in Japan. It was first released as Tales Channel, and eventually got revamped multiple times and renamed to Tales Channel Plus.
The latest renewal with a sleek format and game and character summaries was shown during the announcement of an English version, so we're hoping it will be that version that will be available. Tales Channel Plus also features monthly wallpapers, character icons for your profile and other activities, but it is unclear at this time if all the features will make it in the English version.
The English version of Tales Channel Plus will be released sometime next month. English updates will be given via the Tales of Crestoria social media channels (Twitter, Facebook)
Tales of Crestoria

Tales of Crestoria
is an upcoming mobile title dedicated for smartphones that is an entirely new story and doesn't focus on previous Tales of titles. The game features Kanata Hjuger, a young man branded as a Transgressor because of the crimeof "protecting someone important" to him. The game will be released for iOS and Android on 2020.
Info Page | News | Gallery | Official Website (JP) | Official Website (EN)