Once again, Tales of Festival will be selling merchandise exclusive to those that'll be attending the event live at the Yokohama Arena. Here's what you can find:
Goods by Ensky:
Tales of Berseria: KATZ Chocolate Box Set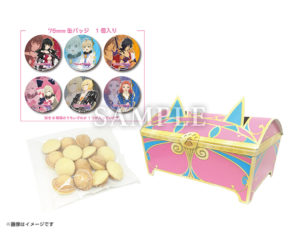 Each box will come with one of the 6 character badges pictured as well as the food item shown. Each box will cost ¥ 1,200.
Tales of the Abyss: Art Chip Collection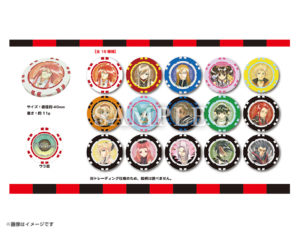 You will have the option to either buy blind packs for ¥500 each, or the full box for ¥ 7,500.
Tales of Series Bromide Collection  2018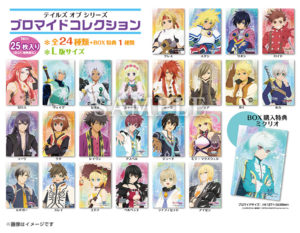 Each blind pack contains 2 of the characters listed above. One pack will cost ¥400 while a whole box costs ¥4,800.
NOTE: Purchasing a box for ¥4,800 will get you Mikleo's bromide.
Slide Pouches: Rollo, Repede, Tales of the Abyss. Tales of Vesperia, and Tales of Zestiria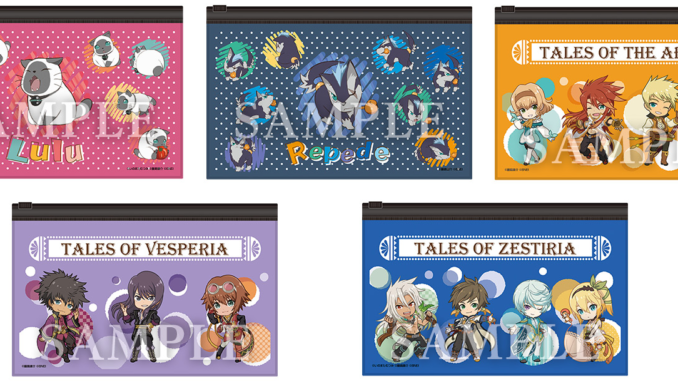 Each slide pouch will cost ¥500. The characters represented on each pouch for ToA, ToV, and ToZ are of the characters whose VAs will be in attendance at the festival.
Goods by SOL International:
Tales of Dress Up Can Badge Collection
There will be the option to buy the whole collection of 8 for ¥ 2,400, or a pack of 4 (blind) for ¥1,200.
Goods by MOVIC:
Yuri themed "Cookie Pouch" and Can Badge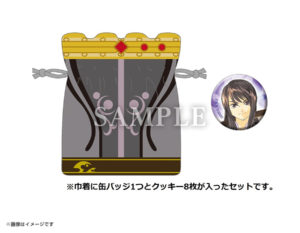 String-tied pouch contains 8 cookies and the Yuri can badge pictured above. Cost of this set will cost a total of ¥1,200.
Once again, all of these items will only be available if you attend Tales of Festival 2018. If you are unable to attend this year, these items will most likely appear second-hand on Yahoo Japan Auctions or other shops like Mandarake and Suruga-ya.