Tales of Graces f's European release has finally been finalized via@TalesofU. The PAL version will be released on August 31, 2012. In addition, all those who will pre-order will receive a special edition bundle of the game. Here's the official word we got from @HollieB:
NAMCO BANDAI GAMES UNVEILS TALES OF GRACES F DAY ONE EDITION CONTENT AND LAUNCH DATE
NAMCO BANDAI Games Europe today announced that acclaimed role-playing game Tales of Graces f is heading to EMEA and Asia Pacific on the 31st of August 2012 for PlayStation 3.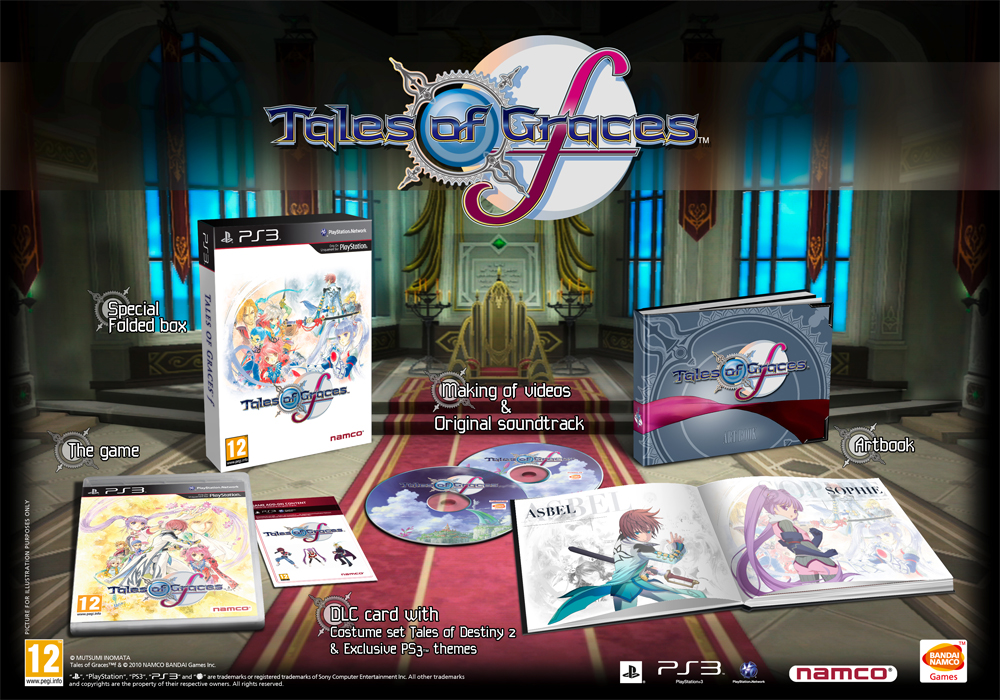 In addition to the game itself, the day one edition of Tales of Graces f - created especially for fans across Europe and Asia Pacific - highlights the artistic talents involved in the game with the Original Soundtrack, Behind the Scenes videos, and a high quality hardback art book, all included in a newly designed folded box. A special DLC is also included with original costumes from Tales of Destiny 2 and a custom PlayStation 3 theme for Tales of fans to rejoice about.
Tales of Graces f is the latest episode in the renowned Tales of series on the current generation of consoles on the Western market, and the first European appearance of the franchise on PlayStation 3. The story is set against the backdrop of three kingdoms Windor, Strata and Fendel all struggling for dominance of the world and follows Asbel Lhant as he sets off on a journey with his comrades, protecting the bonds of friendship and fighting for his ideals.
For the first time in the Tales series, the combat system lets the player freely change attack style depending on the battle situation. The characters distinctive weapons can be swapped for different styles, and the new combat system is easier to control while simultaneously making battles more involving. The title is developed by NAMCO BANDAI Studios Inc. in Japan with the aim of bringing to life the rich depth of the evocative characters designed by Mutsumi Inomata.
For more information on the Tales of series, please visithttp://www.namcobandaigames.eu.
Watch videos and trailers from NAMCO BANDAI Games Europe on YouTube.
So, to summarize, the special bundle, being called the Day One edition, and by that they mean you have to pre-order it to get it, will include the Tales of Graces F game, a soundtrack CD, a DVD with "Making of" videos of the game, a hardbound artbook and a DLC card with the Tales of Destiny 2 costumes for Asbel, Richard and Sophie and the PS3 themes, all wrapped in a special folded box.
We also have some videos and screenshots coming up, as soon as I finish downloading them. It turns out they're the same ones we posted here, so just check them out there.
Where to buy:
I've been getting a lot of requests about where to buy the game overseas, so here are a list of EU game shops I found that have the game listed and ship internationally: