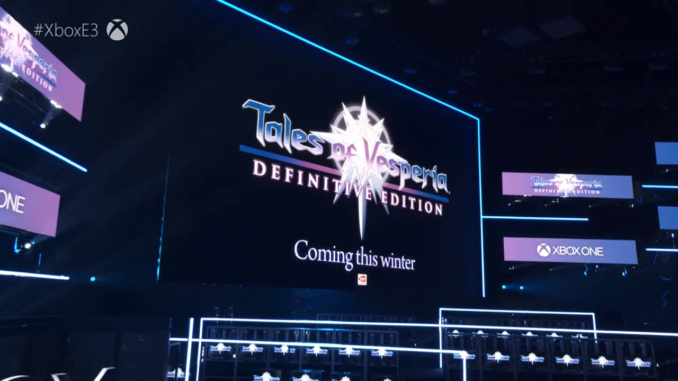 Tales of Vesperia: Definitive Edition was announced during Microsoft's Xbox E3 presentation! Confirmed for PS4, Xbox One, Switch and Steam!
The Definitive Edition will include all added features that was on the PS3 version. We don't know for sure if it'll be exclusive or not to the Xbox One but based on how the games have been revealed, some games have announcements indicating that they're an "Exclusive World Premiere" compared to the "Worldwide Reveal" tag that the Definitive Edition had. For now, we're labeling its appearance on other platforms as unknown until we get absolute confirmation from Bandai Namco.
UPDATE: It's been confirmed by Bandai Namco that Tales of Vesperia: Definitive Edition will also be out on the PS4, Switch & PC! It's also confirmed that the game will have dual audio!
They've also appeared on Amazon with preorder links for the home console games and a release date of December 28th, but that's most likely a placeholder date until we get official word from Bandai Namco. Check out the links here: Nintendo Switch | Playstation 4 | Xbox One
The URL that was discovered by Gematsu last week is now live as well at: http://tov10th.tales-ch.jp/. It has three different logos for the 360, PS3 & Definitive Edition versions (which in Japan, is simply entitled Tales of Vesperia Remaster). Upon clicking on the ToV: Remaster logo, you'll see a link to the JP Trailer which is nearly identical. Also has a Winter 2018 release window.
Here are some screenshots from the XBOX E3 feed. Higher quality screenshots will be uploaded soon.
Rejoice Vesperia fans!
Tales of Vesperia

Tales of Vesperia
is the tenth mothership title of the series initially released for the Xbox 360. The Japanese and North American English localization release dates of the game were within the same month, a first in the entire series. It later got ported to the PlayStation 3 with additional features, but this never got an English release. An updated version known as "Tales of Vesperia: Definitive Edition" will be released for both Japan & the West in Winter 2018. Vesperia tells the story of Yuri, a former Imperial Knight. A movie called
Tales of Vesperia: The First Strike
was later released which tells the story of Yuri prior to the game's events.