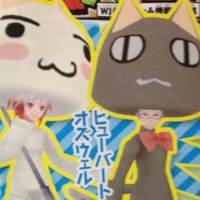 ...and they're in Sony's Toro and Kuro costumes. That's right. The latest issue of Jump reveals that Pascal and Hubert Oswell from Tales of Graces F/Tales of Graces will be making an appearance in Tales of Hearts R as enemies in an arena battle fight. But that's not all - they'll be sporting costumes of Sony's Toro and Kuro cat mascots.
Originally, Tales of Graces F featured
a Toro DLC costume for Pascal
. This time, Hubert gets to partake in Pascal's spotlight with a Kuro costume. Toro is also known as the
Sony Cat
, while Kuro is Toro's neighbor/best friend/rival black cat. Aside from being costumes of Pascal and Hubert, the two cats also make cameos as head attachments for Hearts R.
Aside from that, the scan also reveals swimsuit costumes for Shing and Kohak/Amber, but the scan's too small for me to read the description properly at the moment. We'll update this post with better scans once they're available.
By the way, the Tales of Hearts R Lalabit Market Edition is also now available at Play-Asia.
Tales of Hearts R will be released in Japan on March 7, 2013. Pre-orders are now available at the following places:
Tales of Hearts R Regular Edition (Japan ver) - Play-Asia | CDJapan | Amiami | YesAsia
Tales of Hearts R Regular Edition (Asia ver) - Play-Asia
Tales of Hearts R Link Edition - CDJapan (still available) | Amiami | Play-Asia (all slots currently sold out, check again later)
Tales of Hearts R Lalabit Market Edition - Play-Asia | CDJapan