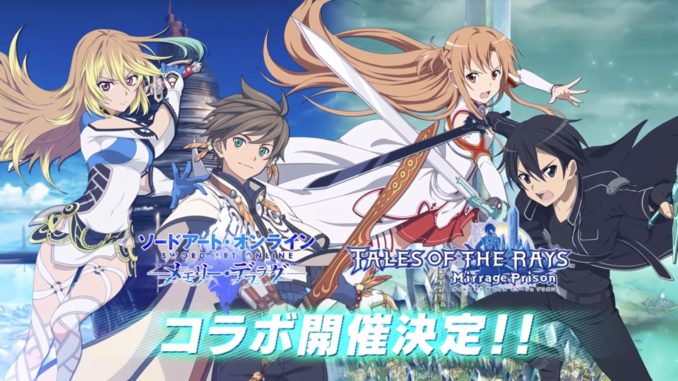 Kirito and Asuna from Sword Art Online to be playable in Tales of the Rays!

A collaboration between Tales of the Rays and Sword Art Online: Memory Defrag was announced on Bandai Namco's Official Youtube Channel.
More information about the event will be revealed in the "SAO's Summer Game Live Broadcast", to be hold on August 12 (20:30 JST) at Nico Nico Douga. Tales of the Rays Twitter stated that Ryohei Kimura (Sorey from Tales of Zestiria) will be there!
Stream link: http://live.nicovideo.jp/gate/lv314766864
Special site for the collab: https://sao-mdxrays.bn-ent.net
Tales of the Rays

Tales of the Rays
is a Tales mobile game for the iOS and Android featuring characters designed by Hidenori Matsuraba and a new ADF-LMBS (Advanced Flick Linear Motion Battle System). The game tells the story of hero Ix Nieves and heroine Mileena Weiss in the world of Tir Na Nog. Characters from the previous Tales titles appear in this game. The game initially had an English version, but was short-lived and now currently runs exclusively in Japan.