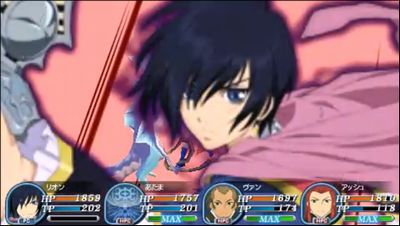 A new batch of character videos from the Tales of the World: Radiant Mythology 3 official site are now up. This week, we have Van Grants (Tales of the Abyss), Richter Abend (Tales of Symphonia: Dawn of the New World), Leon Magnus (Tales of Destiny) and Asch(Tales of the Abyss).
First off is Van with his Imperial Slaughter (?????, Seiou Souhajin), followed by Richter and his Towering Inferno, then Leon with his Infernal Suffering (?????, Majin Rengokusatsu), and finally Asch with his Rending Saber (?????, Kouga Meishouzan). I think this may be the first time we've seen Asch's cut-in.
All videos will be uploaded to AC's YouTube channel later.
Videos are now available on our channel.
Van Grants - Imperial Slaughter

Richter Abend - Towering Inferno

Leon Magnus - Infernal Suffering

Asch - Rending Saber