To celebrate the release of Tales of Xillia in the West next month, our dear friend and staffer PanbanRichard will be holding a Tales of Marathon Stream this July 28th to August 5th, 2013. Check out the info video below: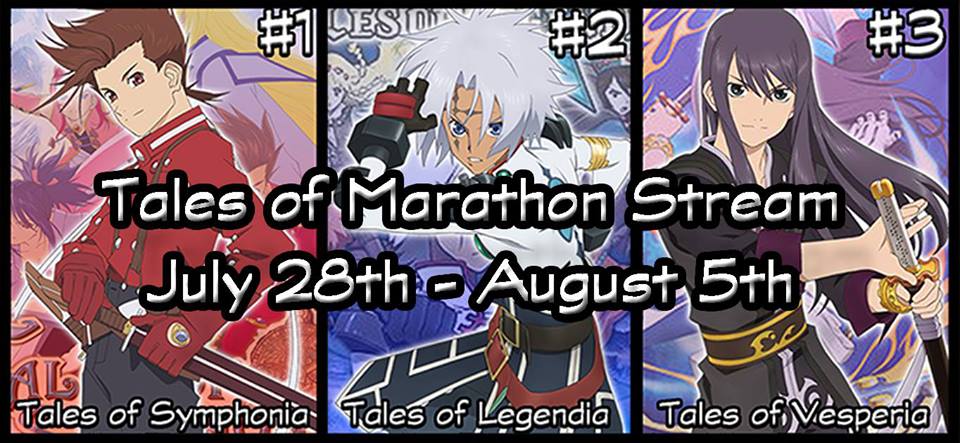 Basically, he'll be completely marathoning three Tales games: Tales of Symphonia, Tales of Legendia and Tales of Vesperia for that week until before Xillia's US release on August 6th. Games were chosen via a vote he held a few weeks ago.
The gameplay will contain commentary by PanbanRichard as well as other guests who'll be dropping by throughout the stream. For the Symphonia stream: ClesStahn, webmaster of ClesStahn.com (formerly known as Tales-Central.com); and Anthony and Billie, committee members of Aselia Con. For the Legendia portion: myself (Abby/a745) from AbyssalChronicles.com; and Vercsase and dagoldenclip2 from YouTube. And for the Vesperia part: Shawn (webmaster of TalesUnion); Pete and Steve from Tales of Charity; and omegaevolution from YouTube.
The stream day schedule will be 10am to 10pm (-6 GMT/CST) for each day, with 11 hours of gameplay each day. There will be two 30 minute breaks during the stream. Here's the link to the stream, though it won't be open until the 28th. There's also a poll to determine who Lloyd will be paring up with in the Symphonia gameplay.
In addition, Richard will also be giving away a Tales of Xillia Collector's Edition during the stream. You can find more details about that in the video below:
Update! The rules can also be viewed here.
Hope to see you all there! And don't forget to check out
the event page here on Facebook
.