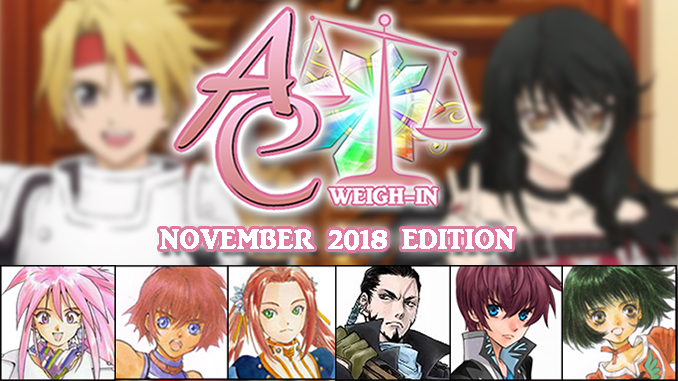 November 2018's edition of AC Weigh-In involves battle themes, dungeons and more!
For this edition of AC Weigh-In, we have:
Which 3D-LMBS throughout the franchise's history is your favorite?
| | |
| --- | --- |
| a745 | My absolute favorite with actually be Tales of the Abyss's FR (Flex Range) LMBS. It gave me a good balance of the "2D-ish" linear battles with just enough freedom with the Free Run feature. It gave me enough freedom to do what I want and at the same time not be too preoccupied in moving all around the map. I also like the Field of Fonons feature, which converts artes into other artes depending on the FOF effect on the field. |
| Flamzeron | It's a tie between Tales of the Abyss and Tales of Xillia. Leaning more towards Abyss though, because I like how easy to understand and simple the battle system was. Xillia, on the other hand, is a much faster pace system so I think it's more fun overall. Tales of Vesperia is a nice semi-upgrade from Abyss, so I suppose that would work as well. |
| Grace | Tales of the Abyss's 3D-LMBS for the sheer fact that I can run around the battlefield without any limitations. It's very helpful for boss fights. |
| Kurani17 | Vesperia, Xillia 2, and Graces. |
| lessiehanamoray | Hmm, I enjoy combat in most Tales of games, but I think Tales of Graces f is the one I have the most fun with. Lots of moving around with that one, and I love quick step. |
| Amy | My favorite is the battle system in Tales of Berseria. The ability to customize all of the arte buttons made it much easier to line up my favorite combos, which made for a very enjoyable experience for me. |
If you had a Top 5 Tales Battle Themes list, what songs would you include?
a745

1.) Fury Sparks (Tales of Vesperia)
2.) Fighting of the Spirit (Tales of Phantasia)
3.) Meaning of Birth (Tales of the Abyss)
4.) Rising Up (Tales of Zestiria)
5.) Battle Artist (Tales of Legendia)

Flamzeron

"Battle Organization" from Tales of Rebirth would be at the top of the list. I love the energy and electronic sounds of the song. I also like "Never Surrender" from Tales of the Abyss. Can't go wrong with "Take Up the Cross" from Tales of Phantasia, either. Same with the version used in Tales of Eternia, "Ability Test." For the more modern games, I'd say my favorite is "Seize Your Sword and Uphold Your Will" from Tales of Zestiria. It pumps me up and makes me feel powerful. Tales of Legendia's "Battle Artist" is epic in its own right as well. Those are my definite top picks.

Grace

1. Meaning of Birth
2. If It's For You
3. All of Zestiria's battle theme songs
4. The Arrow Is Shot and Never Surrender (Love them both)
5. Fighting of the Spirit

Kurani17

Dogfight (ToR)
Sword Dancer Theme (ToV)
Finish the Promise (TotA)
Take up the Cross (ToP)
Like A Glint of Light - Tethe'alla Battle Theme (ToS)

lessiehanamoray

The meaning of birth from Tales of the Abyss is one of my absolute favorites. While I'll avoid counting the trial dungeons from Zestiria, Rising Up is one of my favorite battle themes for one of my favorite fights. From Tales of Graces I really like the battle theme that plays on Fodras, the one with the bagpipe sound. I also love the battle theme when you're wearing school uniforms in that game. And, while it usually makes me sad, For the Sake of Mutual Truth from Tales of Xillia 2.

Amy

Fighting of the Spirit, Rising Up, Meaning of Birth, Final Destination, and What Appeared in Eternity's End.
Which dungeon in the franchise gave you the most trouble?
| | |
| --- | --- |
| a745 | In the name of Atamoni Tales of Destiny's Aethersphere (PS) was a HUGE pain in the butt. It was what made me stop playing Tales of Destiny for practically a couple of months before deciding to pick it up again to finish the thing. That said, I didn't rely on game guides until recently so I guess that's one of the problems it gave me. There's also Tales of Zestiria's Lefay but it was still a bit bearable for me (...with a guide in hand). |
| Flamzeron | My memory is a bit fuzzy, but I recall having trouble with the final dungeon from Tales of Rebirth, due to how complicated it is. In terms of other kinds, one of the later Desian Ranches in Tales of Symphonia was difficult for me, though which one, I can't remember. It was definitely in the Tethe'alla section, though, or at least took place right after. |
| Grace | This might be the most unexpected answer any Tales fan might read or know, but it's actually the Triet Desian Base. Yes, the second or third dungeon in the game gave me the most trouble. I absolutely despise those Raybits to this very day. |
| Kurani17 | The Ymir Forest in Symphonia on my first playthrough as a kid took me about 3 hours. It's easy now, though. |
| lessiehanamoray | Pretty much every dungeon in Tales of Graces f. I got lost all the time and missed stupid little details all the time. I remember the factory being really rough in particular. |
| Amy | I want to say one of the puzzle dungeons in Tales of Symphonia because I got stuck on those a lot when it first played it years ago, but I think the one that was really most troublesome was the bonus dungeon in Berseria. Most of the dungeon floors are randomly generated and we happened to get very few floors with treasure and no floors with Katz souls, just lots and lots of floors full of enemies that took forever to die. It was a challenging, yet incredibly tedious experience. |
Who is your favorite lead protagonist in the series and why?
a745

I have a lot of criteria for "favorite" lead protagonist in terms of... assets.

Looks: Cless from Tales of Phantasia and Sorey from Tales of Zestiria for me have the best faces and... builds, I guess? Hahahahaha. I also like Ruca from Tales of Innocence because he looks adorable.

Battle Style: Reid from Tales of Eternia featured using slash swords, rapiers and axes for battle which made fighting with him a terms of adjustment whichever weapon you had on hand. Reid was a hunter and he could adapt to whatever weapon was available, and you, the player, had to adjust in turn depending on whatever you equipped.

Story and Character Development: Dare I say Luke from Tales of the Abyss? He started off as an annoying prick, but out of all of the characters, he was the one who really brought change to himself after a certain event. And that's saying something.

Just Because: Jude from Tales of Xillia because he's adorable and he's a doctor like me LOL.

Flamzeron

Besides mah boi Reid, I really like Lloyd from Tales of Symphonia. I feel like I relate to him more than most other of the lead protagonists. He and I are both idealists and aren't the best at academics. He's also fun to play as and twin swords are my second go-to when it comes to RPGs when I have a choice. We also both have brown hair and that's pretty cool.

Grace

This is honestly a hard question since there are a lot of protagonists that I like. If I had to pick just one, it would be Senel because he actually left a very good impression on me when I played Legendia. He's unique because he's the first hero to use his fists instead of swords. I also think that he goes through the most noticeable character development from a hot-headed and guarded boy who only thought of protecting Shirley to a caring person who thinks about others.

Kurani17

Lloyd - I like how he learns not to view the world as black and white. He starts the game off wanting to kill all Desians but by the end his tune has changed and he has matured and realized the pointlessness of continuing a cycle of hate.

lessiehanamoray

Well, I do love a lot of them, but after some consideration, I think I have to continue to stick with Asbel Lhant. My love for Luke is tempered by all the time he's really annoying and, while I adore Sorey, he's a pretty straightforward character (admittedly, part of the attraction). Jude is good too, but he just doesn't resonate with me quite the way Asbel does. There's just something about him that makes it feel like I'm seeing an old friend every time I see him in skits or play the game again. I mean, I did name my dog after him.

Amy

Milla Maxwell is my favorite. I love her confident and competent attitude, the flexibility of her playstyle, and her funny dialogue during skits. She feels very different from other Tales protagonists, which makes her stand out to me. All in all, Milla is a character I really enjoy and admire. The story of Tales of Xillia is unfortunately a lot better on Jude's storyline, but I think Milla is better as a protagonist.
Any suggestions for next month, or anything that you want to respond to? Feel free to share them in the comments below~
Image Credits:
Lyrrad - Arche, Reid & Farah skit faces.
CamelieMimika - Eleanor skit faces.
Liaoriao - Ricardo skit faces.
Elysia - Asbel skit faces.