The new spirit Gear event this time gives three memorable Tales villains a chance at Spirit Gear costumes. Check out their divine costumes and artes here!

As a quick refresher for those that haven't seen february's preview, the lucky three characters to get Spirit Gears this time are Barbatos who gets Shadow, Gaius with Efreet and Dhaos with, surprisingly, Gnome. All three of them will get a new costume and Spirit Gear Mirrage Arte, while Gaius and Barbatos will both get Reverse Master Artes as well. As usual, you can check them out at the bottom of the article!
Here's a list of times to keep in mind before the event ends.
| | | |
| --- | --- | --- |
| Boss Trio Spirit Gear Event | Start Time | End Time |
| Event Quests | February 13, 14:00 JST | February 24, 20:59 JST |
| Event Shop | February 13, 14:00 JST | March 3, 20:59 JST |
| Spirit Gear Bag Gacha | February 13, 14:00 JST | March 4, 20:59 JST |
| Spirit Gear Gacha Banners | February 13, 14:00 JST | February 24, 20:59 JST |
| Valentine's Gacha Banner | February 13, 14:00 JST | February 21, 20:59 JST |
The event follows the standard Spirit Gear Event formula: After completing all the quests with all objectives, you'll have enough shards of each Spirit Gear to acquire the Level 1 Spirit Gear for each character, and upgrade it to Level 2. Afterwards, there will be a 40 AP farming quest which you can repeat to farm for  currency for the shop and more importantly, bags for the Bag Gacha. While any character gives their own bonus currency, only the three featured characters and, provided you have their spirit gears, Lloyd, Kohaku and Colette give bonus bags. While the event shop can be accessed through the bottom left button in the quest list (or the shop tab) like usual, you access the bag gacha through the orange button on the top left of the quest list (or the shop tab) as you can see below.

Each "bag" lets you grab something from each "box" in the bag gacha. The contents of each box are set, and if you keep rolling you'll empty the box and start a new one. There's a box for each spirit gear character, and after emptying the first five boxes for one of them you'll get to the largest box which will repeat indefinitely. Each box contains loads of useful materials as well as spirit shards for each character and even regular gacha tickets! They contain more spirit gear shards for the character you picked, but they still have some for the other two, so once you clear the initial set of five boxes it's more efficient to focus on one character you want and then the other two. You need Spirit Gear Shards to level up the Spirit Gear, and you need level 3 to be able to do the Spirit Gear Mirrage Arte!


Due to the amount of Tickets you get with each box, it can actually be more efficient to spend your dia refilling your AP to farm for chances at the bag gacha rather than rolling directly on the gacha, though if you do decide to roll on the dia gacha, be sure to do it before you start farming for an earlier bonus!
Now, here's a refresher on how to acquire and upgrade spirit gears, since it was changed for arc 4 a few months ago! Once you complete every quest in the Spirit Gear Event, head to the character upgrade tab, in the very middle on the bottom of the screen.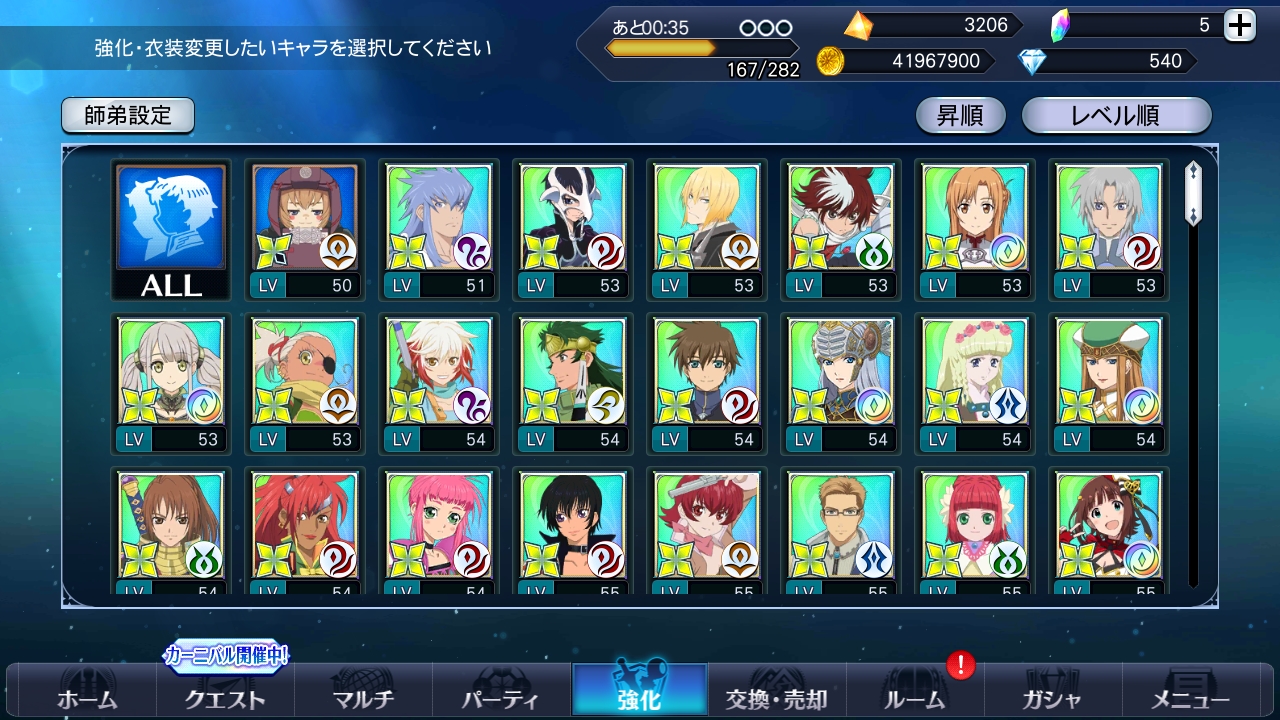 Then touch the "ALL" button on the top left.


From here, there's a list of buttons on the right. The important ones are the two on the bottom right. To buy a new Spirit Gear, click the left button.

This will take you to a list of Level 1 Spirit Gears available to buy. You can only have one of each! After that, return to the ALL screen and hit the button on the very corner on the bottom right.

This will show all the Spirit Gears you have available to upgrade. Tap the one you want and use the slider on the right to expend the amount of shards you need to level it up! You should have enough to buy a Level 1 Spirit Gear and upgrade it to level 2 if you completed all the quests, but you need Level 3 to use the new Spirit Gear Mirrage Arte, so that's your impetus to keep farming! They naturally get even stronger at Level 4 and 5, also giving the character another anima color, making them stronger in general, increasing their critical hit rate, making the character automatically block all attacks of the spirit gear's element and even charging faster. Each level of spirit gear also increases their bonus for the event, so upgrade often!
That's it for the event explanation. Here are the promised Arte and costume previews, as well as a look at the concept art for the new Spirit Gears!
【お知らせ】
こんにちは。運営です。
本日14:00~イベント『精霊装ダオス バルバトス ガイアス』を配信しました。
イベントに登場するダオス、バルバトス、ガイアス3人の精霊装が集合です。
かつて、みなさんを苦しめた強敵達が得た新たな力を手に入れてみてください。#ザレイズ pic.twitter.com/TCwaBHMrh8

— 【公式】テイルズ オブ ザ レイズ (@talesof_therays) February 13, 2021
Here's a group shot of all 3 Spirit Gears. The inspiration, as told in the Producer's letter this month, was "God". So all 3 are made to look particularly divine. Dhaos and Barbatos seem to have inspiration from greco-roman gods, while Gaius is more eastern. Gaius and Barbatos' artes reference buddhism as well! Dhaos' arte references the world tree his story revolves around, but that has appropriate norse-mythology roots and is protected by a goddess even in Tales' lore.
Dhaos
【お知らせ】
こんばんは。運営です。
2/13 14:00~配信のイベント『精霊装ダオス バルバトス ガイアス』に登場するダオスの精霊装を紹介です。
纏う属性は地。魔鏡技はグレイトフル・ハーヴェスト。「大いなる実り」を求め、故郷を救うための揺るがぬ決意に精霊の力が応え奇跡を起こします#ザレイズ pic.twitter.com/T1D2AokHKT

— 【公式】テイルズ オブ ザ レイズ (@talesof_therays) February 12, 2021
Dhaos already hit the quota for new 5*s with his decisive Mirrage Arte: two 5*s and 1 Reverse 5*. So he only gets the Spirit Gear this event, no new 5*. Still, he's already one of the best characters in the game, and a spirit gear makes him even better! The animation for the Spirit Gear Mirrage Arte is based on Dhaos' ties to the World Tree.
Barbatos
【お知らせ】
ぶぅるぁぁああああ!!運営です。
告知です。2/13 14:00~『精霊装ダオス バルバトス ガイアス』を配信します。
イベントで登場するバルバトスの精霊装と秘技を紹介です。纏う属性は闇。
地の底の底まで追撃し続けるその猛撃から聞こえる大絶叫は誰のものなのでしょうか。#ザレイズ pic.twitter.com/ipPF57FEnA

— 【公式】テイルズ オブ ザ レイズ (@talesof_therays) February 11, 2021
Barbatos' Spirit Gear Mirrage Arte is named after the 5th hell in buddhism, and his animation follows suit: he literally drags his target to the 5th layer of hell! For his new Reverse Master Arte, he gets his own twisted version of the classic Tales arte Demon Fang.
Gaius
【お知らせ】
こんばんは。運営です。
近日公開の『精霊装ダオス バルバトス ガイアス』で新たに登場するガイアスの精霊装と秘技を紹介です。
纏う属性は火。不動の心を宿したガイアスによる渾身の一撃。間合いに入った敵には一切の容赦はありません。
秘技は原作技「灼鬼塵」の強化版です。#ザレイズ pic.twitter.com/dt8s4YHgDY

— 【公式】テイルズ オブ ザ レイズ (@talesof_therays) February 10, 2021
Gaius' new Reverse Master arte is quite special: he actually disappears into the sky while charging it, and is actually completely invulnerable for the duration of the charge! It's the only Reverse Master Arte to not leave someone vulnerable. And since he still gets CC regeneration after landing the master arte, it's a really good combo starter for him!
That's it for this event. It may not seem super groundbreaking compared to previous events, but the breather is much needed since there will be more anniversary celebrations this month. Keep an eye out for more news on them as they come!

Tales of the Rays

Tales of the Rays
is a Tales mobile game for the iOS and Android featuring characters designed by Hidenori Matsuraba and a new ADF-LMBS (Advanced Flick Linear Motion Battle System). The game tells the story of hero Ix Nieves and heroine Mileena Weiss in the world of Tir Na Nog. Characters from the previous Tales titles appear in this game. The game initially had an English version, but was short-lived and now currently runs exclusively in Japan.