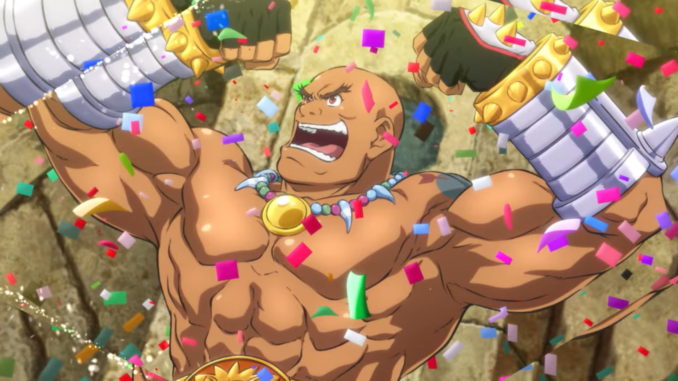 THE CHAMPION presents the new Tales of The Rays Preview for April!

Bandai Namco's Youtube Channel has finally updated with a new preview for April 2020!
The most obvious reveal in this preview is Bruiser Khang from Tales of Destiny- but of course, that was actually already revealed in an updated version of their April fool's video! So let's get to the rest of the preview, in order this time.
First up is Richter Abend from Tales of Symphonia: Dawn of The New World/Knight of Ratatosk! This is a surprise as he's been part of the game since arc 1, but hasn't been playable all this time. He will be joining in the game's next story chapter! In addition, Marta will be getting a new Overray Mirrage Arte.
Next up, joining us alongside Bruiser is Mary Argent from Tales of Destiny! This lines up with the preview tweet they gave us a few days ago. It seems they'll be celebrating Easter, which will give Garr and Phillia new seasonal artes and costumes!
Finally, our new raid character. This time we're getting Shigure Rangetsu, Rokurou's brother and eternal rival from Tales of Berseria! And like usual for a raid, we'll be getting decisive mirrage artes. This time around it'll be a Berseria focused event, with Eleanor, Magilou and of course, Rokurou getting new decisive mirrage artes. We even get to see a bit of the animation for Rokurou's, which seems to be a direct recreation of his confrontation with his brother in the game proper.
Also, as a reminder, from now on characters who already had a 5* arte will be getting both second and third 5*s at the same time. We can expect all returning characters featured in these events to get them as well!
That's it for April's preview. It's not as hectic as the last few months, but the characters revealed were all surprises and are nothing to shake a stick at. Stay tuned for more info, we'll be covering the events as they come and also giving more info on other things such as co-op!
Tales of the Rays

Tales of the Rays
is a Tales mobile game for the iOS and Android featuring characters designed by Hidenori Matsuraba and a new ADF-LMBS (Advanced Flick Linear Motion Battle System). The game tells the story of hero Ix Nieves and heroine Mileena Weiss in the world of Tir Na Nog. Characters from the previous Tales titles appear in this game. The game initially had an English version, but was short-lived and now currently runs exclusively in Japan.