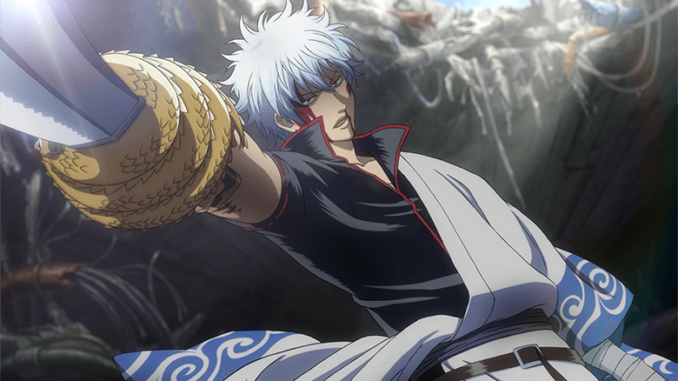 Ready to start Tales-Ofing? Gintoki is here to claw his way into a hit franchise!
The collaboration we've previously reported on is now live: Tales of The Rays x Gintama! To reiterate, this collaboration will come in two parts, and the first part starts now! Gintoki is obviously headlining the new characters coming in, but joining him is of course Kagura. That's not all- The third new character is Shinpachi, however since they couldn't make a 3D model for him he will simply appear as his pair of glasses- worn by Hubert. The other returning characters to get new collaboration themed costumes and artes are Edna, who will get a costume based on and a mirrage arte teaming up with Kagura; and Alvin, who will get Gintoki's iconic outfit and a new Mirrage Arte teaming up with him.
The start and end times for the event and associated banner and exchange shop are listed below.
| | | |
| --- | --- | --- |
| Featured Event: Tales of The Rays x Gintama | Start Time | End Time |
| Event Duration | January 13th, 18:00 JST | January 13th, 18:00 JST |
| Regular Banners | January 13th, 18:00 JST | January 30th, 13:59 JST |
| Ticket Banners | January 13th, 18:00 JST | January 30th, 23:59 JST |
| Step Up Banner | January 13th, 18:00 JST | January 30th, 18:00 JST |
| Exchange Shop | January 13th, 18:00 JST | January 30th, 13:59 JST |
As you can see, the start and end times for each feature of the event are very close together. This is due to the event being a collaboration, so they likely have a small period of time where they're allowed to run each event feature.
As for the banners, there are 2 of them: the first one has Tales characters and their collaboration Mirrage Artes and costumes. The featured characters are of course, Alvin, Edna and Hubert. All 3 of them will have new 5 star weapons relating to the event. The second banner is for the Gintama characters Gintoki and Kagura. The first MRG Single, as well as the first Dia Multi in the banner are free! Even if you're not interested in the event, you may as well collect your free rolls.
There's also a Dia Step-Up Banner for the Gintama characters. Step-Ups are usually MRG only and therefore inaccessible for F2P players. Like usual for collaborations, however, the step-up this time will let you use Dia as well. It's strongly suggested to go through the steps on the Dia Step up before rolling on the regular banners, as the chances for 5 stars and mirrage artes increase with each step until a Mirrage Arte is Guaranteed. You also get a ticket for each step! It takes 665 Dia or 6650 MRG to go through all the steps.
All 3 Banners will share Grade. So if you want to use your Grade to get a specific item, don't worry about your banner choice- everything contributes to it! As well, getting a Mirrage Arte for each character in the event will also net you their collaboration costume.
And of course, here are the Mirrage Arte previews!
Gintoki
This Mirrage Arte is a parody of Luke's Radiant Howl.
Kagura
This one parodies Final Fury, although since that arte is unique to each user it may as well be her own version of the move.
Shinpachi (Hubert)
This is, of course, a parody of Hubert's Expiation.
Edna
This arte seems to reference Tales of Zestiria's opening animation, but done alongside Kagura.
Alvin
This is a team attack done with Gintoki. Since they're both voiced by Tomokazu Sugita it may be hard to figure out who's saying what...
That's all the information we have for now. Check back soon for more information on this and upcoming events!
Tales of the Rays

Tales of the Rays
is a Tales mobile game for the iOS and Android featuring characters designed by Hidenori Matsuraba and a new ADF-LMBS (Advanced Flick Linear Motion Battle System). The game tells the story of hero Ix Nieves and heroine Mileena Weiss in the world of Tir Na Nog. Characters from the previous Tales titles appear in this game. The game initially had an English version, but was short-lived and now currently runs exclusively in Japan.