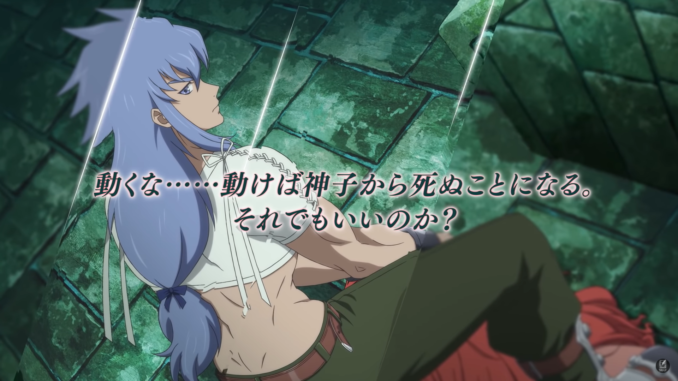 Tales of The Rays starts the new year off with a bang! This month will introduce a LOT of long awaited characters. Check them out here!

Bandai Namco's Youtube Channel updated with the new PV for January! Check it out:

Just like usual, this PV was followed up by Producer's Letter Volume 47. Take a look at the original lettter here if you'd like, but we'll include info from the letter in the article alongside PV info.
The first announcement in the video is a Tales of Symphonia focused event. If you've been following Rays you might have a pretty good guess about which Symphonia character was sorely missing. That's right: Regal Bryant is finally making his debut in Rays! He's been teased in the story since the first year, but it still took a very long time for him to get in. His only playable appearances in a game with the LMBS were Symphonia, Dawn of The New World and Tales of The World: Narikiri Dungeon 3. Coincidentally (or not) today is actually the 16th anniversary of Narikiri Dungeon 3! So today was the perfect day for the announcement. The returning featured characters are Presea, Genis and Raine. This is no seasonal event however: All 3 of them are getting Decisive Mirrages featuring scenes from the Tower of Salvation, which the producer's letter mentions is one of the most famous parts of Symphonia. The producer's letter promises this event has more effort put into it than usual to make up for the long wait.
That is, of course, not the only event this month. The next event will be a Triverse focused event. That's right, one event focusing on the 3 Nintendo DS titles in the series: Tales of Hearts, Tales of Innocence and Tales of The Tempest. The new characters coming in this event are Forest Ledoyen from Tales of The Tempest, Hermana Larmo from Tales of Innocence and Gall Gruner and Chalcedony Ackerman! It seems there are no returning featured characters this month, because this event has 4 new characters. This is the most new characters an event can have! The producer is also excited because this is the first time Kongwai, QQ and Gall will officially interact. Those 3 are characters who were introduced in the Vita remakes Tales of Innocence R and Tales of Hearts R, and anyone who's played those and knows about the Triverse will know exactly why these characters possibly interacting is exciting!
The most exciting new of all this month is the fulfillment of the producer's promise: All playable Party Members from all Original Tales titles will join Rays this month! This is actually Tales history, to have a full LMBS game with every single playable character in the series playable and previously unplayable characters such as villains playable as well! There are currently 192 characters in the game, including non-Tales collab characters. Even outside the scope of Tales, an Action RPG with that many characters all with their own unique movesets is history in and of itself, and with all the promised characters coming in this month that number will reach 197! As the producer's letter notes, it took 3 years and 11 months to get everyone in. The producer promised everyone would be in by the 4th anniversary, which is next month, so they're right on time!
Here's the schedule of events this month:

The first January event will be the Aforementioned Symphonia event and it'll be followed up by the Triverse event. But that's not all for this event, apparently! There will be more information (perhaps even a second PV) we'll have to wait for later? The Producer's Letter doesn't say we're getting 5 characters: we're actually told we're getting 5+a new characters this month. In fact, this month will be the month with the most new characters at once so far, which guarantees that he means we're getting more than 5, because the record for new characters in a single month is 6. It might be possible that we'll match that number and get one more character, but we might also get 7 or even 8 characters. We have no clue who the characters not shown could possibly be, but it most likely isn't Couleur (a character from Narikiri Dungeon X who the producer says he'd like to join the fight eventually). This plus some words at the end of the letter telling us we should be used to this pattern of expecting more news in the same month points us in the particular direction of us getting new characters via a Collaboration this month. It could be a new collab, but it could also be a rerun that gets new characters. Your guess is as good as ours however!
That's it for character news! The Producer's Letter also talks about Version 4.2.0 which is due by the end of February. The Rays chronicle is a still image showing the timeline of events, but they're hoping to make it so each part of the chronicle is clickable and will take you to the corresponding event. There will also be changes to the "Download All" option to make it faster since the game is way bigger now than it used to be. The reason it takes so long now is because it downloads the required packets in series instead of parallel, so it's possible they're changing the behavior so that it downloads in parallel. Finally, they'll make some changes to the game to make it easier for beginners to get into, by making features locked until you progress in certain ways, so that players will understand how to play, what to focus on and how to make their favorite characters stronger. A lot of new players have joined recently due to collabs, so hopefully this change makes it more likely for players to stay!
Finally, we're given some words about production. The development of Rays was impacted due to the ongoing global pandemic, and that'll make 2021 tough too, but they'll do their best to make it enjoyable for us. We share the sentiment as well! Last year was tough for Abyssal Chronicles as well, but we'll do our best to cover news for Rays and the series in general. The fact that they've been able to finish the promise is really exciting! That's about it for actual news from us, but be on the lookout for more news this month, especially since there's only a few days left in the Graces Spirit Gear event. Until then, see you!

Tales of the Rays

Tales of the Rays
is a Tales mobile game for the iOS and Android featuring characters designed by Hidenori Matsuraba and a new ADF-LMBS (Advanced Flick Linear Motion Battle System). The game tells the story of hero Ix Nieves and heroine Mileena Weiss in the world of Tir Na Nog. Characters from the previous Tales titles appear in this game. The game initially had an English version, but was short-lived and now currently runs exclusively in Japan.