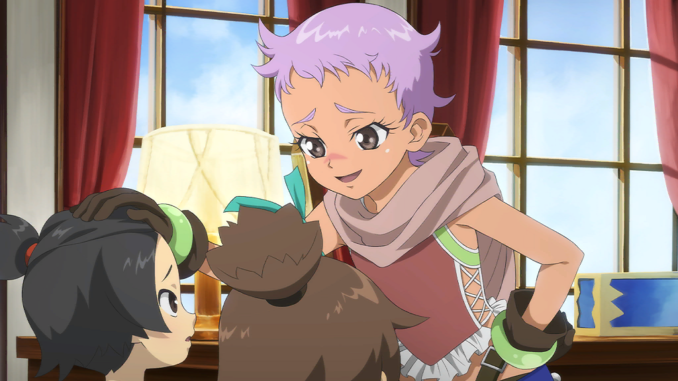 It took 3 years and 11 months, but Tales of The Rays finally introduces the last 4 party members to be missing from the game, completing the cast and turning Rays into the first Tales game with all party members playable at once!

Hot off the heels of Regal's long awaited debut, January brings us another event that introduces 4 characters at once! They are Hermana Larmo from Tales of Innocence, Forest Ledoyen from Tales of The Tempest, Chalcedony Akerman from Tales of Hearts and Gall Gruner from Tales of Hearts R! Astute fans may notice 3 of these characters are from the DS titles. More knowledgeable fans will notice all 4 of them are from the Triverse games, which comprise Tales of Hearts R, Tales of Innocence R and Tales of The Tempest. This event actually focuses on characters and events from the Triverse, with appearances by Kongwai and QQ who finally get to interact with Gall! There are no returning featured characters, only new ones, for the first time since Rays' very first event. Since 4 characters are introduced at once, it's the perfect banner for anyone to roll on and get something new!
This event is very special in a lot of ways. Late last year, one of the Producer's Letters promised us that we'd get all the playable party members from the main series in Rays before the 4th anniversary, but new characters started slowing down after that, so some players were concerned about if the promise could be kept. As it turns out, they didn't want to sacrifice any sort of quality to fulfill that promise: the Regal event earlier this month had a lot of work put into it, and it was followed up by this event which introduces the last 4 characters in one go, with a lot of work put into all of them!

Getting all the characters in is no small feat. There's 195 playable characters in the game now! That number includes crossover characters from other series outside of Namco, some antagonists and even a couple of NPC characters, all made playable. But now Rays boasts all of the party members in the main series as well, making Tales of The Rays the first and so far only Tales game where every party member is playable in a full LMBS. Even the Radiant Mythology games didn't get to all of the party members for their time, so this event is actually important for the series' history! It's also an impressive accomplishment for gaming in general, as there probably aren't too many other Action Games with almost 200 playable characters with full movesets and absolutely no clones. Even characters that were moveset clones originally like Kratos and Zelos were made unique from each other in Rays!

Tales of The Rays is also really good about spreading the representation and love for the series across every game and for every character. Forest, for example, doesn't even have a card in Tales of Asteria despite that game running since 2014. Hermana does have a card, but no alternate costume. But when these characters got revealed for Rays, quite a few fans expressed their appreciation that they were even acknowledged in the replies to the posts on Rays' official twitter, let alone made fully playable in a new LMBS game with alternate costumes to boot. Every character has its fans, and now that every character is here, there's truly something for everyone in Rays. With the limits on how much content each character gets in this game, you can be sure that your favorite, no matter how obscure, will get new content eventually even after being introduced!
Rays is also one of the only crossover titles to use the canon versions of characters. Unlike the usual Tales crossover formula where a new setting is created with alternate versions of existing characters getting new backstories to fit a separate world, each character in Rays is pulled directly from various points in each game's narrative, so fans of each character for reasons related to their canon stories can see Rays as a way to see new sides of them in an official capacity. The main writer for Rays is Takumi Miyajima, who wrote a few of the main series titles herself like Symphonia and Abyss, and many parts of Rays' dev team are people who work directly on the main series from scenario to art to battle system, so Tales of The Rays goes a long way into representing each character and game faithfully!
So where do we go from here, now that we have everyone? You don't need to worry that this is where things end-Rays is still at the beginning of the latest arc, and the game is doing VERY well, enough to give the dev team a bigger budget for the recent events! We may have every playable party member from the main series, but not from spin-offs (the last producer's letter even mentioned Couleur from Tales of Phantasia: Narikiri Dungeon specifically, and one of the first polls even had an option for Tales of Breaker characters!) Raid events are also regularly introducing antagonists from across the series, who we only have a few of so far, and there's plenty of side characters that could be made playable, which is only natural now that we already have the likes of Lymle and even Ion! Now that they've fulfilled their promise of reuniting every party, character choices are bound to get much more interesting from this point on.
There's also the Triverse angle for this event specifically. Gall finally gets to meet Kongwai and QQ (the latter even shows up in his 2nd skit!) so we finally get confirmation of long held suspicions about Gall's connection to the other two remake exclusive characters. Kongwai himself also has his own suspicions, this time about how the world of Tales of The Tempest is connected to his. For those not in the know, Tales of The Tempest introduced the concept of the Triverse, which was expanded on in the DS game remakes, Tales of Innocence R and Tales of Hearts R, particularly through the new party members added in those remakes. They seemed to be building up to Tales of The Tempest R (and/or possibly a new original title in the Triverse), but the other two remakes didn't seem to perform well enough for Bandai Namco to continue remaking them, leaving the idea seemingly shelved.

So the fact that we get to see the concept brought back and even expanded on a little in Rays is really cool, and shows that the Tales writers haven't forgotten the idea! Maybe through Rays we can even show our interest enough for them to bring the idea back? This isn't the first time they've revealed bits of information about the Triverse and remake exclusive characters in Rays, but the fact that we get to see Gall meet Kongwai and QQ is major. And even though this event doesn't conclude the saga by any means, all 3 characters are here to say, so there's plenty of opportunities for them to drop more info about it later!
Before we get into an explanation of playing the event, here's a chart of times to keep in mind for the event. This event is only 10 days, so don't forget to recruit these characters! Arte and costume previews are at the bottom of this article, like usual, and don't forget the Anniversary boss challenge (which you can read up on here) is still running, and will end at the end of this month!
| | | |
| --- | --- | --- |
| Triverse Rescue Event | Start Time | End Time |
| Event Quests | January 21, 14:00 JST | January 30, 10:59 JST |
| Event Shop | January 21, 14:00 JST | February 6, 10:59 JST |
| Event Banner | January 21, 14:00 JST | January 30, 14:00 JST |
| Ticket Banner | January 21, 14:00 JST | February 13, 10:59 JST |
There's also a new set of Carnivals. These are limited time quests that appear at specific times on the weekend. Try to catch them as they give dia for first time clears, and repeating them should give you not only currency for the current ongoing event, but also tickets and a lot of EXP and bond points for characters!
| | |
| --- | --- |
| EXP Carnival Start Time | End Time |
| January 23, 11:00 JST | January 23, 13:59 JST |
| January 23, 21:00 JST | January 23, 23:59 JST |
| January 24, 11:00 JST | January 24, 13:59 JST |
| January 24, 21:00 JST | January 24, 23:59 JST |
| January 30, 11:00 JST | January 30, 13:59 JST |
| January 30, 21:00 JST | January 30, 23:59 JST |
| January 31, 11:00 JST | January 31, 13:59 JST |
| January 31, 21:00 JST | January 31, 23:59 JST |
| February 6, 11:00 JST | February 6, 13:59 JST |
| February 6, 21:00 JST | February 6, 23:59 JST |
| February 7, 11:00 JST | February 7, 13:59 JST |
| February 7, 21:00 JST | February 7, 23:59 JST |
| February 13, 11:00 JST | February 13, 13:59 JST |
| February 13, 21:00 JST | February 13, 23:59 JST |
| February 14, 11:00 JST | February 14, 13:59 JST |
| February 14, 21:00 JST | February 14, 23:59 JST |
| February 20, 11:00 JST | February 20, 13:59 JST |
| February 20, 21:00 JST | February 20, 23:59 JST |
| February 21, 11:00 JST | February 21, 13:59 JST |
| February 21, 21:00 JST | February 21, 23:59 JST |
| February 27, 11:00 JST | February 27, 13:59 JST |
| February 27, 21:00 JST | February 27, 23:59 JST |
| February 28, 11:00 JST | February 28, 13:59 JST |
| February 28, 21:00 JST | February 28, 23:59 JST |
This event follows the standard currency farming format. Play through the event quests to recruit all 4 event characters! After completing the event story, there's a 40 AP farming quest that's intended to be repeated to farm for currency to buy exclusive things from the event shop. This event is also continuing off of the new precedent from last event where there's actually two stages after the 40 AP quest: a 15 AP Challenge Quest where you're intended to bring your strongest characters regardless of if they're featured or not, and an 80 AP farming quest that's longer, hard and gives even more bonus, only available if you completed the Challenge quest. 80 AP is the definite most efficient way to farm, but do keep the difficulty in mind, you may need to make sure your characters have healing artes equipped and/or use Mirrage Artes in a timely manner even on generic enemies.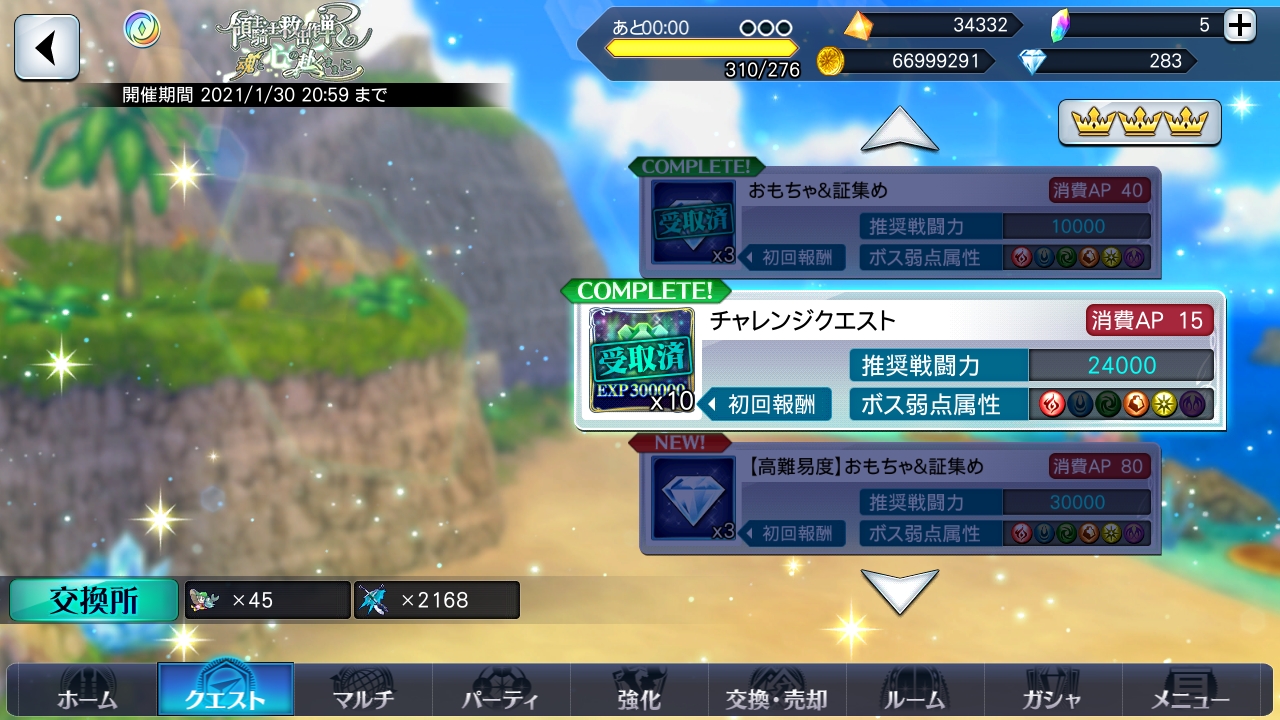 There's two types of event currency to get: less valuable Common Currency and more valuable Rare Currency. If you select one of the event quests and start forming your party, you should be able to see how many and what type of currency they give with little icons. The only characters that give Rare currency are the 4 event characters, all of whom are new this time. For best results, form a team of whoever has the highest bonus, with priority on the featured characters. This does not mean to only pick the event characters, however, as 100 common currency can be converted to 20 rare currency, making the conversion rate of common to rare roughly 5 to 1. If the featured characters don't give you that much, it may be more efficient to use a character that gives you more common currency!

Because there's 4 new characters and no returning characters, this event is extra generous about giving opportunities to gear the characters up, since all players new and old will be starting from scratch on them. In addition to a step-up banner and a regular banner, the first multi on the regular banner is half-off: only 100 dia as opposed to 200. There's also a good amount of tickets that are available just by clearing the quests as well as in the shop and through daily missions for this event that only require you to spend 100 AP and collect Log-In Bonuses. If you ever want to roll on a banner for new things then this event is your best chance, as a banner featuring 4 entirely new characters is rare to come by: whatever you get will definitely give you a boost, especially while this event is running!

Here are the Arte and costume previews, starting with a group shot of everyone's alternate costume!
【お知らせ】
こんにちは。運営です
本日14:00~イノセンスR、ハーツR、テンペスト合同イベント『領主・騎士救出作戦 魂と心の赴くままに』を配信しました。
イベントで参戦するカルセドニー、ガラド、フォレスト、エルマーナにキャラカス衣装で集合してもらいました。みなさんお似合いです#ザレイズ pic.twitter.com/PjewBD3U3d

— 【公式】テイルズ オブ ザ レイズ (@talesof_therays) January 21, 2021
While the event doesn't have any sort of seasonal theme, instead being a plot focused event where characters mount a rescue, the costumes follow a butler/maid theme. Chalcedony and Gall's costumes actually first appeared as DLC for Hearts R! Forest and Hermana's are totally new but follow "suit" with the same theme. If they reveal concept art for these costumes soon, we'll update this article!
Forest Ledoyen
【お知らせ】
こんばんは。運営です。
1/21 14:00~のイベントで参戦するフォレストの魔鏡技と秘技を紹介です。
フォレストは巨体に見合わぬ俊敏な斧さばきで群がる敵を圧倒します。
魔鏡技は獣の咆哮が広範囲の爆炎に包み込みます。
秘技は豪快な打ち付けで範囲の敵を押しつぶします。#ザレイズ pic.twitter.com/COXVDVvfFi

— 【公式】テイルズ オブ ザ レイズ (@talesof_therays) January 19, 2021
His gacha Mirrage Arte animation begins with an image of his leymon form on the moon! While he doesn't use his Leymon form (yet) in Rays, this is still a cool reference to see. His preview tweet also points out that he's surprisingly fast, and we can confirm that!
Hermana Larmo
【お知らせ】
ときめき☆エルパ~ンチ。運営です。
明日14:00~のイベントで参戦するエルマーナの魔鏡技と秘技を紹介です。
エルは間合いが離れていても飛び込んで素早く連撃できます。魔鏡技はぐるぐるアッパーで群がる敵を吹き飛ばし、
秘技は原作「天翔龍神脚」の派生技になります。#ザレイズ pic.twitter.com/l7pYP1YyRS

— 【公式】テイルズ オブ ザ レイズ (@talesof_therays) January 20, 2021
Her gacha Mirrage Arte is a new arte like usual, but the windup before the last uppercut is quite similar to her first Mystic Arte in Innocence R. She also has a unique mechanic where performing a regular attack from far away lets her close the distance with a lunging punch, which is separate from the basic attacks she uses when she's already next to the enemy!
Gall Gruner
【お知らせ】
こんばんは。運営です。
近日公開のイベントで参戦するガラドの魔鏡技と秘技を紹介です。ガラドは剣と斧と術を状況に応じて使い分けます。魔鏡技は剣の追撃により大爆発を起こします。
シング、クンツァイト、嬢ちゃん、兄さん、娘っ子、姐さん、羽の兄さんと再会お楽しみに。#ザレイズ pic.twitter.com/9IL34FsJxi

— 【公式】テイルズ オブ ザ レイズ (@talesof_therays) January 18, 2021
Gall fights with a sword and a throwing axe, like in Hearts R. In this game, some of his attacks change depending on your distance from the enemy, allowing him to effectively fight at multiple ranges!
Chalcedony Akerman
【お知らせ】
こんばんは。運営です
近日公開のイノセンスR、ハーツR、テンペスト合同イベントで参戦するカルセドニーの魔鏡技と秘技を紹介です。
カル様はバルハイトの飛行能力を生かし、複数の空中技で敵を圧倒します。
魔鏡技は天空からの一撃で敵を断罪し、秘技は原作技の邪禍殲葬剣です#ザレイズ pic.twitter.com/OZ2iNmCdcS

— 【公式】テイルズ オブ ザ レイズ (@talesof_therays) January 15, 2021
Chalcedony fights just like he does in Hearts R, primarily with aerial moves, flying around the battlefield at high speed. It's highly suggested you enhance his artes by at least one stage to unlock the ability to use them in the air!
Despite all 4 of these characters coming from different games, there's a few amusing similarities with their Mirrage Artes. Firstly, the art for them all have them putting their hand on someone else's head or shoulder, while the arte animations themselves all involve the characters creating a twister with their attacks. There's most likely no deeper meaning, but I like to think it's a reference to the word "Tempest" (since the spell Tempest also creates a twister, and Tales of The Tempest was first game to hint at the Triverse).
That's it for this event, but not all for January. There's actually one more event coming up, which we're told to wait for more news on. We have no clue what it could be, but all signs in the producer's letter point to it being another collaboration event. Have fun with this event, and we'll see you when we get more news!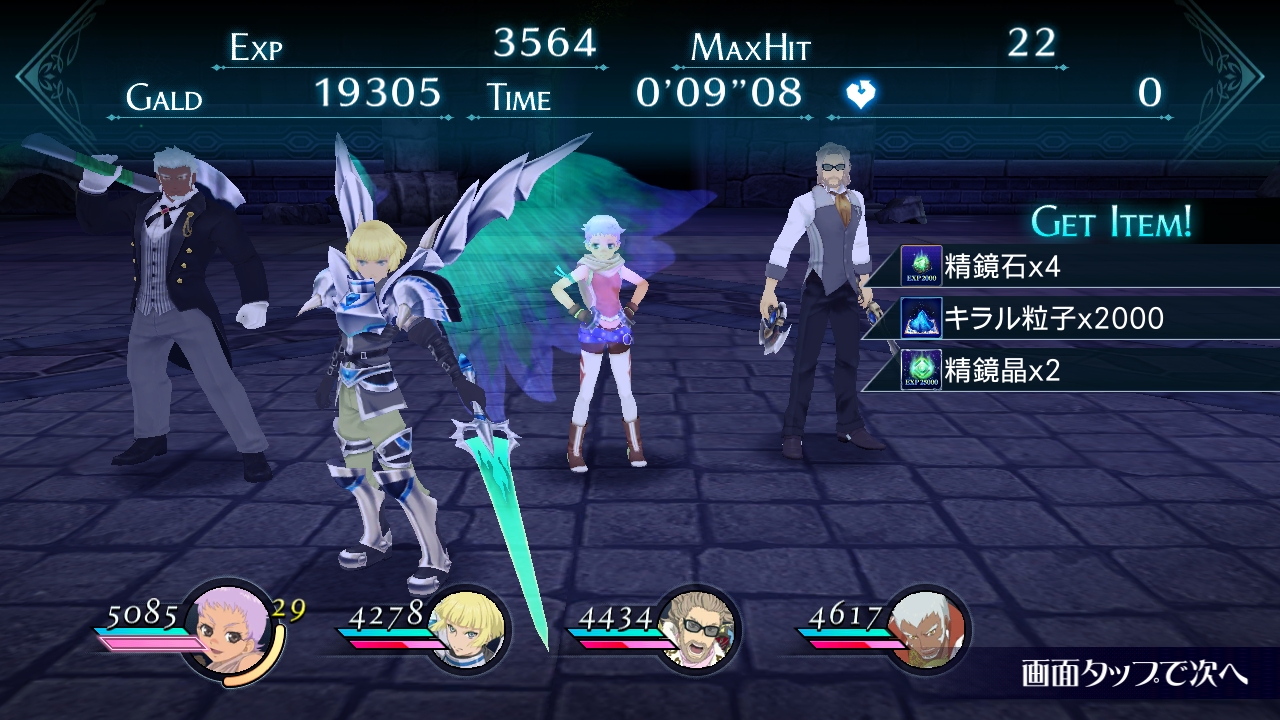 Tales of the Rays

Tales of the Rays
is a Tales mobile game for the iOS and Android featuring characters designed by Hidenori Matsuraba and a new ADF-LMBS (Advanced Flick Linear Motion Battle System). The game tells the story of hero Ix Nieves and heroine Mileena Weiss in the world of Tir Na Nog. Characters from the previous Tales titles appear in this game. The game initially had an English version, but was short-lived and now currently runs exclusively in Japan.