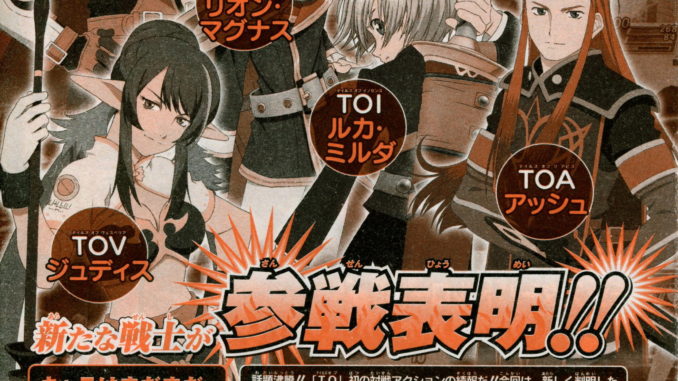 A new Weekly Shonen Jump scan has surfaced (courtesy of BLAX3), officially revealing five more characters for the upcoming Tales of VS.! Click the image above or the thumbnail below to see the actual scan.

~ 
Cless Alvein
 (Tales of Phantasia)
~ 
Leon Magnus
 (Tales of Destiny)
~ 
Ruca Milda
 (Tales of Innocence)
~ 
Asch
 (Tales of the Abyss)
~ 
Judith
 (Tales of Vesperia)
The release date of the game in Japan has also been revealed. It will be coming out on August 6, 2009 with a retail price of 5,200 Yen (approximately $54-55). As usual, those who will preorder the game will receive a bonus Special DVD, although the content of said DVD has not been revealed yet, and the cover is still temporary. Preorders will begin on May 21. Now, from the Dengeki article a while back, they said that there would be 35 characters from 13 of the Tales titles. Previously, we have characters coming from 6 titles (ToV, ToD, ToS, ToS-KoR, ToH, ToA). Now, we can add Tales of Phantasia and Tales of Innocence to the list, so there will be characters coming from 5 more Tales titles. Also, from the alloted 35-characters slot, we have 22 left to be announced.
I also just checked Girl Next Door's official website, and they have the name of Tales of VS. song up. Tales of VS. opening theme will be "Be your wings". The single is stated for a 2009 release.
Also, the 
Tales of Festival 2009 mini-site
 has been updated with news that the planned May 16 re-sale of tickets has been cancelled. 31 days left until the Festival!