In an unprecedented turn of events, Jade Curtiss has topped the latest Viva☆Quick Poll—a first for the character since he was introduced in Tales of the Abyss.
Held from January 10, 2019 to February 8, 2019, it was the third in a series of similar polls held by the official Tales website, Tales Channel Plus. The question asked in the poll is "Who's going to be on the wallpaper?" The wallpaper in question is a monthly giveaway on the website, earned after 20 logins in the target month.
This time around, the 4th poll is exclusive to female characters only. You may vote for your favorite at this link once a day. The poll will run from today (April 22, 2019) until May 7, 2019, 11:59. All dates and times are in JST.
In order to vote, all you need is to register for a Tales Channel Plus account. Registration is free, and for residents of Japan, you can trade in points earned through various activities in the website for real merchandise.
The winner of the poll appears as the featured character for the wallpaper several months later, and is subsequently disqualified from future polls. The structure for the polls is similar to the website's previous popularity polls, with voting running for a month and results announced a few months later.
The 1st placers of the previous polls were Mikleo and Sorey, who topped the first and second polls respectively. Both are characters from Tales of Zestiria.
The results of the polls are as follows:
First Poll (winner announced last October 2018):
Mikleo from Tales of Zestiria
Yuri Lowell from Tales of Vesperia
Jade Curtiss from Tales of the Abyss
Asbel Lhant from Tales of Graces F
Leon Magnus from Tales of Destiny
Luke fon Fabre from Tales of the Abyss
Sorey from Tales of Zestiria
Judas from Tales of Destiny 2
Raven from Tales of Vesperia
Velvet Crowe from Tales of Berseria
Second Poll (winner announced last January 2019):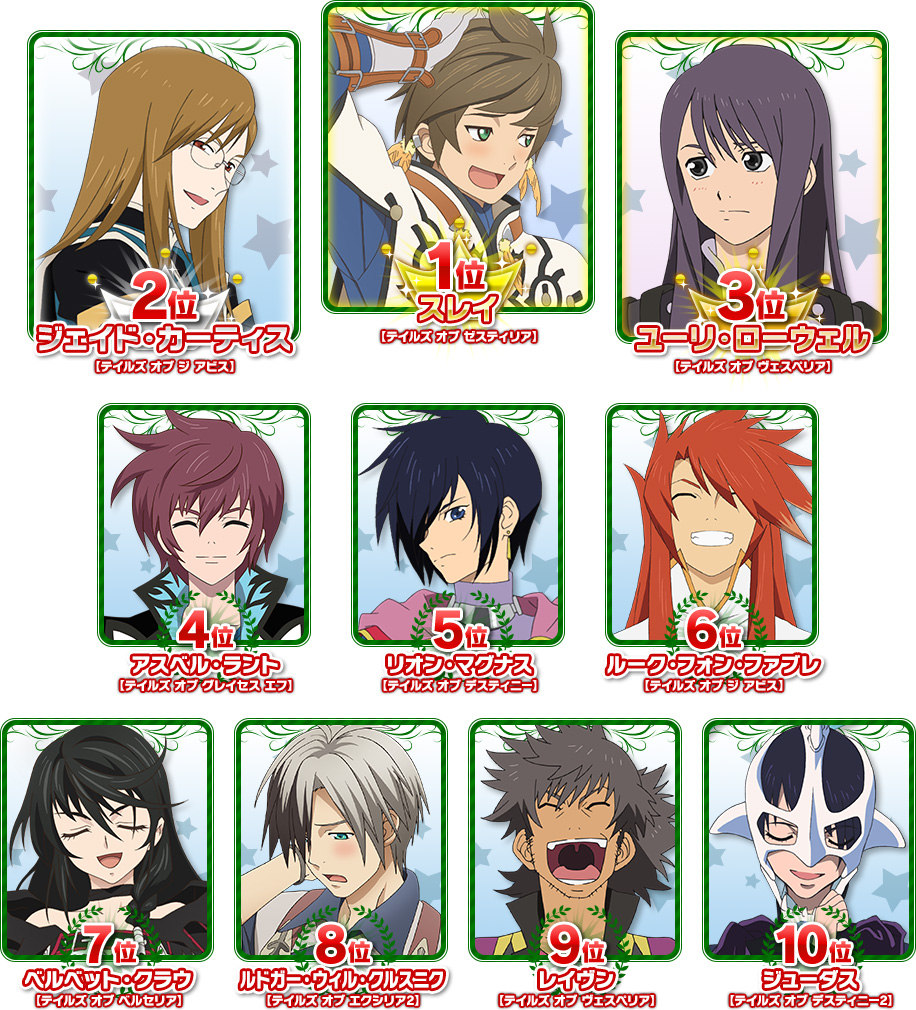 Sorey from Tales of Zestiria
Jade Curtiss from Tales of the Abyss
Yuri Lowell from Tales of Vesperia
Asbel Lhant from Tales of Graces F
Leon Magnus from Tales of Destiny
Luke fon Fabre from Tales of the Abyss
Velvet Crowe from Tales of Berseria
Ludger Will Kresnik from Tales of Xillia 2
Raven from Tales of Vesperia
Judas from Tales of Destiny 2
Third Poll:
Jade Curtiss from Tales of the Abyss
Asbel Lhant from Tales of Graces F
Yuri Lowell from Tales of Vesperia
Leon Magnus from Tales of Destiny
Velvet Crowe from Tales of Berseria
Luke fon Fabre from Tales of the Abyss
Ludger Will Kresnik from Tales of Xillia 2
Judas from Tales of Destiny 2
Raven from Tales of Vesperia
Guy Cecil from Tales of the Abyss