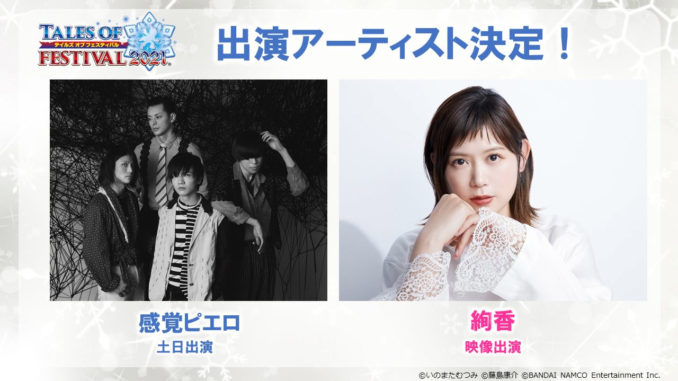 Watch these artists perform during Tales of Festival 2021 at the comfort of your own home!
Tales of Festival 2021 is scheduled to be on November 20 and 21, 2021 at the Tokyo Garden Theater in the Tokyo Bay Area, following the theme of a "Winter Party". The event will also be featuring a Layered Theater gimmick, as shown in a new trailer for the event below:
Artist Performances
It has been announced that Tales of Arise's theme song artists, Kankaku Piero and Ayaka, will be performing during the two-day event.
Kankaku Piero will be there during both days and will perform physically, while Ayaka will be performing via video appearance. Note that performers may change depending on the COVID-19 situation in Japan, and tickets are non-refundable should there be changes in performers.
Kankaku Piero performed Tales of Arise's opening theme, HIBANA. Ayaka performed "Blue Moon", the game's Grand Theme, as well as a cover of "Hello, Again ~Mukashi Kara Aru Basho~", which was used as a song in the game's interlude.
Online Viewing Tickets
Aside from physical tickets, online viewing tickets are also now available for purchase. Online viewing tickets are now available via Asobi Stage, and will also be the platform for delivery during the event. For those who can't watch live, an archive is to be made available the following and will be available for roughly a week. Details are as follows:
Event Start:

Day 1: November 20, 2021, Saturday - 4:30PM JST
Day 2: November 21, 2021, Sunday - 4:30PM JST

Price: 5,000 Yen with Tax per day, or 10,000 Yen with Tax for the 2-Day ticket
Archive Delivery Period: November 22, 2021, 6PM JST until November 28, 2021, 11:59PM JST
Sales Period: October 4, 2021 to November 28, 2021, 12:00PM JST
Exclusive for those who will be purchasing online viewing tickets, you will also be able to enter the lottery for access to a future event called Tales of Festival 2021 ~Online After Meeting~. During the two day event, 40 lucky people for each batch will get a chance to join a ZOOM call with select voice actors from the Festival. Details are as follows:
Tales of Festival 2021 ~Online After Meeting~
Cast: Masaya Onosaka (Zelos), Takuya Satou (Alphen), Sayuri Hara (Rinwell)
When: December 18, 2021, Saturday
Batch 1: 2:30PM - 4:00PM; Batch 2: 5:30PM - 7:00PM
Details on how to apply for the lottery will be announced at a later date.
Please also note the following regarding the Online Viewing:
No refunds.
You will need an Asobi Store account to watch. That said, it doesn't have to be Asobi Store Premium.
The ticket is locked to your specific account and is able to detect double logins, hence you will be unable to share the event/watch link to other people.
Recording the event and sharing it is strictly prohibited, whether for commercial or private use and you may be liable for legal action.
Wifi is recommended.
Upon purchase, you should get an e-mail confirming your purchase. You can also check it via the ASOBI STAGE Purchase History on the website's menu.
During the live event, if you watch from the middle of the event, you will be watching from that point and the video cannot be rewound. For archive, this can be done.
You can check out the full cast list along with their Winter Party clothes and artwork here.