The latest issue of Weekly Famitsu gives us a bit of insight on Tales of Arise's hero and heroine.
The magazine contains a lot of information that we've already covered before, so we won't bother placing them again here. Please do check the Tales of Arise tag to backtrack.
Alphen
Voiced by Takuya Satou. A young man wearing an iron mask who has lost both his memories and his ability to feel pain. Since he cannot feel pain, he doesn't notice it when he receives injuries. He sports a thick, heavy armor in order to avoid carelessly hurting himself or accidentally dying because of this handicap.
Shionne
Voiced by Shino Shimoji. A young woman from Rena who wields a rifle. She holds the curse of "Thorns" that unwillingly causes intense pain to anyone she touches. It seems to be because of this curse that she is being hunted down by those from Rena. She cooperates with Alphen, who because of his inability to feel anything, is unaffected by Shionne's curse, in rebelling against the people of Rena.
Other new tidbits include:
Alphen's age is apparently higher as compared to the usual age of the Tales hero.
The sword of fire is a key part of the game. Continuous use of it burns the wielder's hand, but how that plays into the game design exactly will be revealed later.
Voice actors for the game were decided via auditions.
Animated scenes (by ufotable) will be considerably longer than ever before.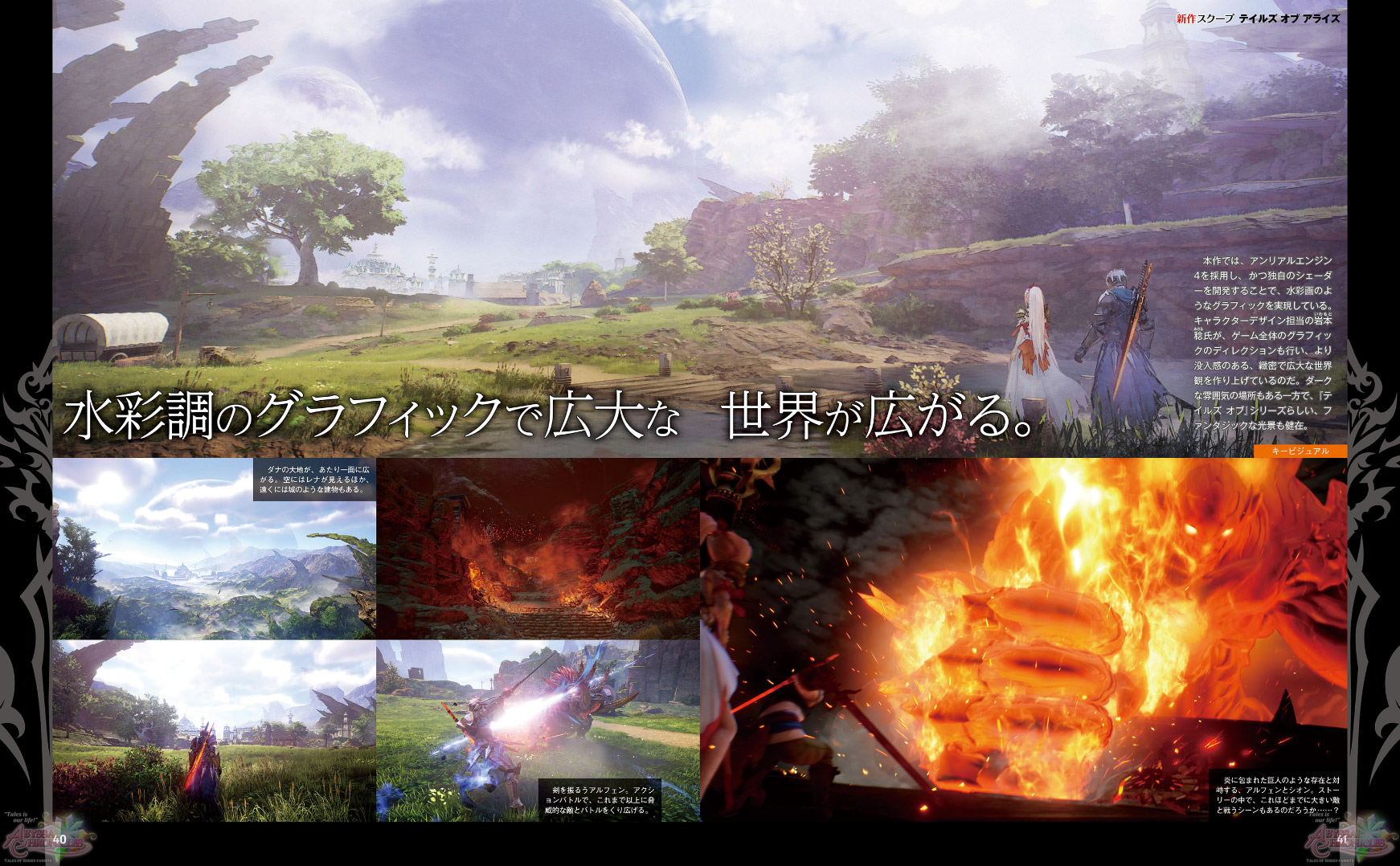 The beautiful graphics of Tales of Arise utilizing Unreal Engine 4.
There is also a 2-page interview with Producer Tomizawa. The content of the interview is pretty much the same as the previous one up on Famitsu's website, which we have a translation of here.
Tomizawa-san's previous developer blog posts also answer a few of our questions about the game.
---
Tales of Arise
is now available at the following shops (
Note: Please keep in mind that we may receive a commission when you click on our links and make a purchase. This, however, has no bearing on our reviews and comparisons.
):

 North America:

 Europe:
Tales of Arise

Tales of Arise
is the latest mothership title (new classification: original title) of the Tales of Series which was first announced during 
Microsoft's Press Conference in E3 2019
. The game was released for the PS5, PS4, Xbox Series X, Xbox One and PC Digital via Steam on September 9, 2021 for Asia and Japan and September 10, 2021 for the rest of the world. The game features use of the Unreal Engine 4 and works on the theme of tradition versus evolution of the series.
Info Page | News | Gallery | Official Website (US) | Official Website (JP)