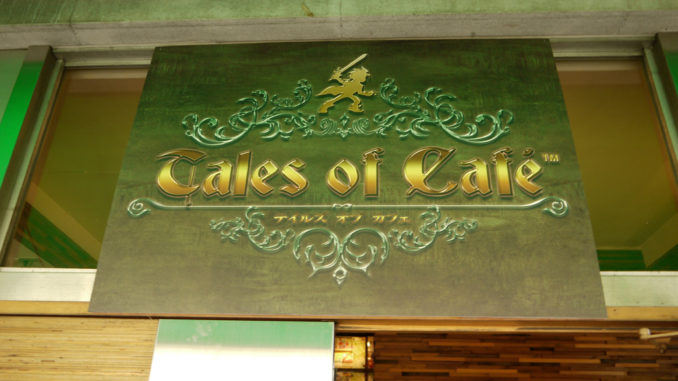 Today marks the opening of the Tales of Cafe, a tales-themed cafe event being run at the ufotable Cafe in Japan. For us who can't be there, we have some pictures of the place courtesy of 4Gamer, Famitsu and Dengeki Online.
First off, a bit of info. The "Tales of Cafe" event will be from today, July 16th, until July 31st. The second Tales Cafe event, which will strictly be a Tales of Xillia Cafe, will be from September 1st to September 18. For the current event, business hours are 11am to 11pm on weekdays and 12 noon to 11pm on weekends, with last orders at 10:30pm.
Here's a generic look at the place. All chairs have a Tales character pillowwhich has the character's line written at the back in kanji. The place mats,glasses, mugs and plates are currently Tales of Xillia-themed. Even thelights are Tales-themed.
Not much in the menu save for some staple Tales food. We have the usualMabo Curry, everyone's favorite Peach Pie and one other dish being calledChicken Tatsuta Roll. There are also Jude and Milla drinks, though I've yet to see pictures of the Milla one. The back of the menu has a list ofmerchandise that can be bought at the cafe.
The store is basically covered with everything Tales, including the restroom. Around the store are mini galleries for each of the Tales mothership titles. From Tales of Phantasia to Tales of Graces, they have it all, including somerare merchandise. Xillia has its own little corner, too.
You can view more pictures here.
Also, Barby doesn't like it if you want to take pictures.