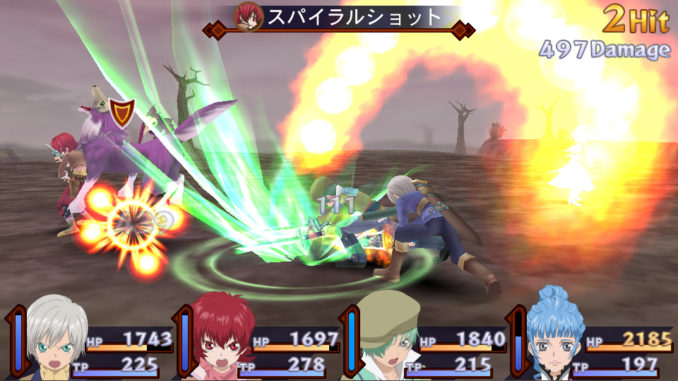 Namco Bandai gave more details on Tales of Innocence R for the PSVita and Tales of the Heroes: Twin Brave for the PSP in their Tales Press Event in this year's Tokyo Game Show. Also included are the first screenshots for the two games and a video of Twin Brave gameplay in TGS 2011.
Tales of Innocence R, the "re-imagining" of the previous Tales of Innocence for the DS, will feature high resolution improved graphics and the game's story re-written from the beginning. The story will now give more light on the Mystery of the Previous Era part of the story. A previously announced change includes the introduction of a new character, QQ Selezneva (romanization official)
The game will be fully voiced now, including all events and skits, and will feature a new opening song by KOKIA, New Day, New Life accompanied by a new opening movie. This does not mean that Follow the Nightingale will no longer be in the game. According to Famitsu, the game will feature a double opening. I believe the old opening will play when you start the game, and after the prologue, the new opening will start playing.
The new battle system for the game is called "Direct Interaction Linear Motion Battle System" (DI-LMBS) where the player can direct commands to the characters by use of the touch screen. As we reported before, there can now be up to four characters in battle.
Tales of the Heroes: Twin Brave is an upcoming action game for the PlayStation Portable, similar to Dynasty Warriors, according to some. The game will feature characters from Tales of Phantasia to Tales of Xillia, specifically from 15 games of the series, and each character will have their own scenario/story. The game has one character as the main and another as a partner for support. To the left is the first released screenshot for the game.
Below is a video from TGS showing the game in action:
Tales of the Heroes: Twin Brave TGS 2011 Gameplay
Both games will be out in 2012 in Japan. You can view more TGS 2011 images in
Famitsu
,
4Gamer
and
Dengeki Online
.