Episode 6 of the series of Tales of Xillia 2 commercials features some dreaded scenes between Milla and Elle.
In the commercial, we have Redau attacking little Elle, with Ludger hanging on a ledge with his sword with him holding on to Milla. Milla yells to Ludger to take care of Elle, but Elle yells back that she shouldn't give up just yet.
In addition, the contents of the Tales of Xillia 2 Famitsu DX Bundle has been updated with the original illustrations by ufotable: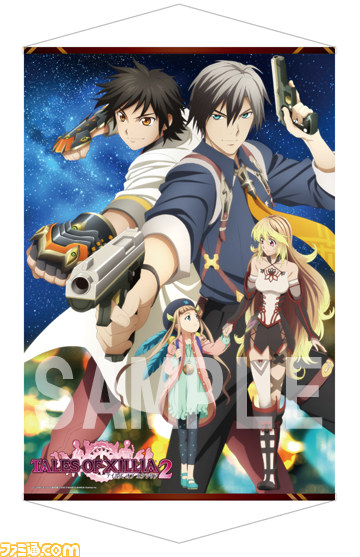 The first image is the illustration for the B2 size tapestry, while the other two are for the character clear files. One of the clear files was also updated to reveal Musee and Gaius in the main illustrations.
Tales of Xillia 2 will be released in Japan on November 1, 2012. Pre-orders are now available at the following places. Be quick, pre-orders run out fast!
Tales of Xillia 2 JP Version - Play-Asia | CDJapan | Amiami | YesAsia
Tales of Xillia 2 Asia Version - Play-Asia
Tales of Xillia 2 Famitsu DX Pack - Play-Asia | CDJapan
Tales of Xillia 2 Lalabit Market Kyun Chara Pack - Play-Asia | CDJapan
Tales of Xillia 2 X Edition (w/ PS3 controller) - Play-Asia (all slots currently sold out, check again later) | YesAsia