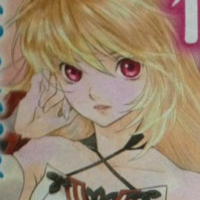 The latest scans for Tales of Xillia 2 reveal the return of none other than Milla Maxwell herself, as well as the game's main visual artwork.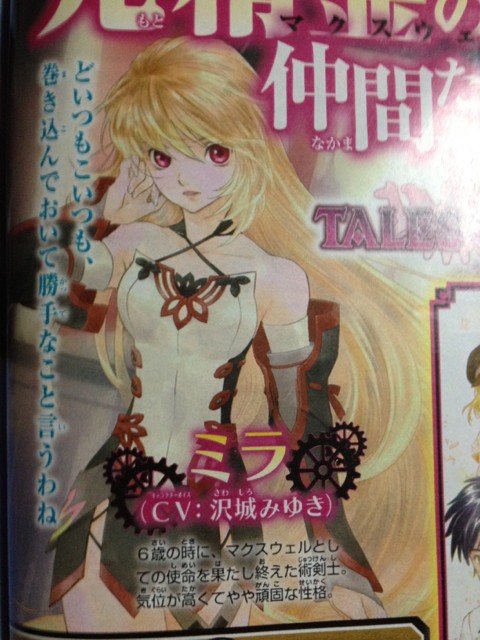 The scan actually depicts her as only
Milla
, without her alleged surname. It should also be noted that, for some reason, the way she speaks in her quote seems quite off from how the Milla we know is (this one is more feminine). The bluish tint on her hair is also missing. Current speculations include this being a Milla from one of the parallel worlds and such, or a Milla that was re-incarnated into a human.
Her description in the scan: A swordswoman who carried out the mission of Maxwell when she was six years old. She is really obstinate and has a lot of pride. (Thanks to Yume for the correction)
As for the main visual (a.k.a. the art the game's box art will have), we have two characters at the upper right which people believe to be
Gaius
and
Musee
,
but we have no confirmations for that yet.
Oh what the heck, that's them.
Also, no scan on this yet, but apparently Jude will be getting a Yuri Lowell costume and Milla an Asbel Lhant costume. Yes, you read that right.
Tales of Xillia 2 will be released in Japan on November 1, 2012. Pre-orders are now available at the following places. Be quick, pre-orders run out fast!
Tales of Xillia 2 JP Version - Play-Asia | CDJapan | Amiami | YesAsia
Tales of Xillia 2 Asia Version - Play-Asia
Tales of Xillia 2 Famitsu DX Pack - Play-Asia | CDJapan
Tales of Xillia 2 Lalabit Market Kyun Chara Pack - Play-Asia | CDJapan
Tales of Xillia 2 X Edition (w/ PS3 controller) - Play-Asia (all slots currently sold out, check again later) | YesAsia