Bandai Namco released a new trailer for Tales of the Rays featuring anime cutscenes, battle footage, and more! Post updated with new screenshots and game info!
Several items featured in this trailer include the multiple characters that appear in this game, some more original characters besides Ickx & Mileena, the Advanced Flick-LMBS, animated cutscenes by WIT Studio, and some in-game cutscenes & dungeon footage.
The opening song is NEW WALL by Alexandros. The single for the song has already been released, and you can listen to it at Alexandros's official YouTube:
Orders for NEW WALL are available below:
New info on the game has also been revealed:
Characters
Ickx Neve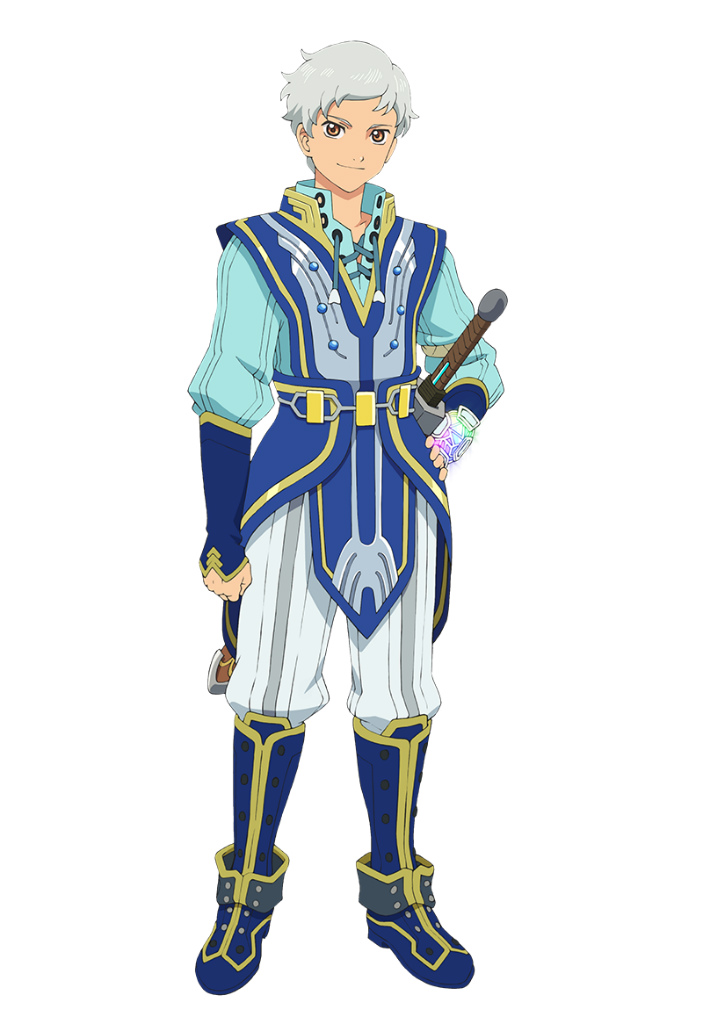 "Suddenly telling me I'm a Mirror Knight... I don't understand! Asking me to save the world? That's something beyond even my wildest imaginations!"
Voiced by: Natsuki Hanae
Gender: Male
Age: 17
Height: 178cm
Weight: 68kg
Class: Mirror Knight
Having lost both his parents when he was just 5 years old, Ickx was raised by and has lived among islanders. Because of this, he has a strong, independent mind that extremely fears burdening others. This gives him the tendency to act tough despite actually needing assistance. Though he comes from a family line of Mirror Knights, having lost both his parents because of their research on Magic Mirrors, he has viewed the power as something too strong to handle that will only bring calamity. Since then, he has lived a life that would have nothing to do with Magic Knights or Magic Mirrors. Somewhat a negative thinker, he has a tendency to imagine the "worst case scenario" whenever something happens.
Mileena Weiss
"Whatever you need to know about being a Mirror Knight, you can ask me! I'm still your senior at this, even by a little bit!"
Voiced by: Haruka Terui
Gender: Female
Age: 18
Height: 162cm
Weight: 42kg
Class: Mirror Knight
Born into a family of Mirror Knights, talented Mileena has been polishing her skills as one ever since she was young. She is Ickx's childhood friend. She has a motherly personality and acts like an older sister to Ickx, doing various favors for him such as cooking. Her feelings are profound and holds a face that easily imbues emotions onto others. While Ickx can be negative, Mileena is as positive as she can possibly be. Though she tries her best to hold dignity as the older one, she has a tendency to become gentle towards Ickx.
Mark Grump
"You and I are enemies. It's always been like that, right?"
Voiced by: Hiroaki Miura
Gender: Male
Age: 23
Height: 180cm
Weight: 69kg
Class: Great Gunblade Swordsman?
A resourceful warrior after Ickx's life. Using a special weapon that is a mix of a gun and a great sword, Mark shows mastery in both long distance and melee fighting, further exhibiting his lengthy experience in the battlefield.
Gefion
"---Now, let us begin. The energy that will heal the Aigis, the Anima, and the incarnation of a new world!"
Voiced by: Yuriko Yamaguchi
Gender: Female
Age: 37
Height: 164cm
Weight: 49kg
The mysterious Prime Minister of Serund that always wears a hood and a mask. To rescue the world of Tir Na Nog from its impending doom, she is trying to quickly repair the Mirror Shield, Aigis. There is, however, opposition against her that believes she is a spy from the enemy nation of Bifrest.
Garows Outsorrow
"I'm Garows, the mechanical engineer taking care of the airship Caduceus."
Voiced by: Eiji Hanawa
Gender: Male
Age: 30
Height: 180cm
Weight: 72kg
Garows is the mechanical engineer in charge of maintaining the Caduceus, the fastest airship in Serund. His skills are certain and he stands second to none in his work. He supports Ickx and Mileena's travels, sometimes giving them advice as an adult.
Karya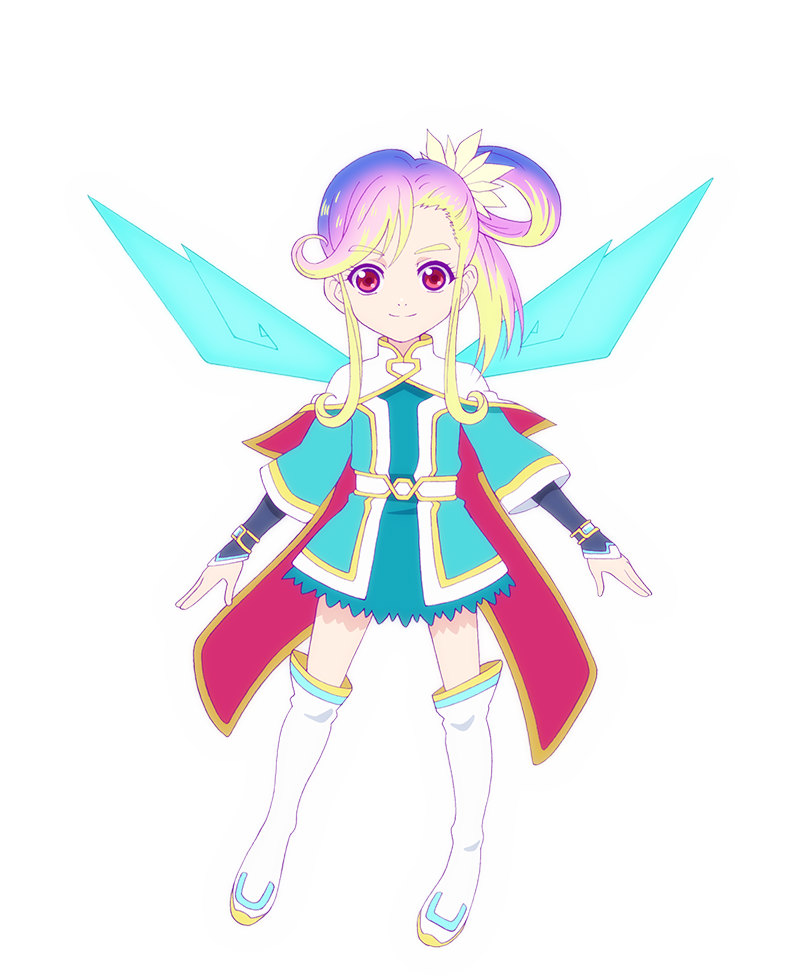 "Nice to meet you, Lord Ickx! I'm Lady Mileena's Mirror spirit, Karya!"
Voiced by: Shino Shimoji
Gender: Female
Age: ?
Height: 28cm
Weight: 4kg (but when flying, changes it to around 680g)
Karya is a Mirror spirit that is the embodiment of Mileena's powers. She provides information and support during Ickx and Mileena's journey. She is able to access other worlds deep within her mind, causing her to sometimes have varying expressions and personalities. She holds loyalty for both Mileena, her master, and Ickx as well.
For now, a few Tales characters have been confirmed in the trailer, as well, namely Tales of Vesperia's Yuri Lowell, Tales of Graces/Graces f's Sophie and Tales of the Abyss's Luke fon Fabre.
Battle System
Advanced Flick Linear Motion Battle System (ADF-LMBS)
Bringing the 3D Tales battles to smartphones, the new system allows regular attacks with the tap of the screen and the use of artes with a flick of it. Using the Chain Capacity (CC) as a base, the battles have evolved letting you combo attacks, artes and special unique Magic Mirror Artes for a free and fulfilling experience.
Magic Mirror Artes are inherent and unique to each character. Voices used for this (I'm assuming lines?) are all unique and entirely new, even those of previous Tales characters.
Magic Illustrations
In special Magic Illustration battles, you can gain special Magic Mirrors that can be equipped. Once equipped, the memories of those who own them will show special illustrations - also drawn by WIT Studio.
There are also scenes and quests to watch, along with a 3D world map, dungeons and treasures to find. In addition, the game will have a bit of original music from Motoi Sakuraba and Go Shiina, as well as some old Tales tracks making comebacks.
Pre-registration for both the iOS and Android apps have begun in Japan. Once signups reach 50,000, pre-registrants will get Tales of Graces f future arc costume for Sophie. Once 100,000 signups are reached, all pre-registrants will get 20 Dia (in-app currency).
Tales of the Rays

Tales of the Rays
is a Tales mobile game for the iOS and Android featuring characters designed by Hidenori Matsuraba and a new ADF-LMBS (Advanced Flick Linear Motion Battle System). The game tells the story of hero Ix Nieves and heroine Mileena Weiss in the world of Tir Na Nog. Characters from the previous Tales titles appear in this game. The game initially had an English version, but was short-lived and now currently runs exclusively in Japan.