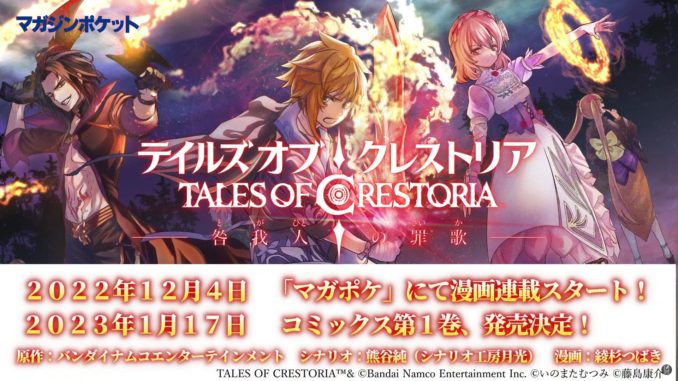 Crestoria fans, we have good news!
The manga adaptation of Tales of Crestoria finally announces its release date!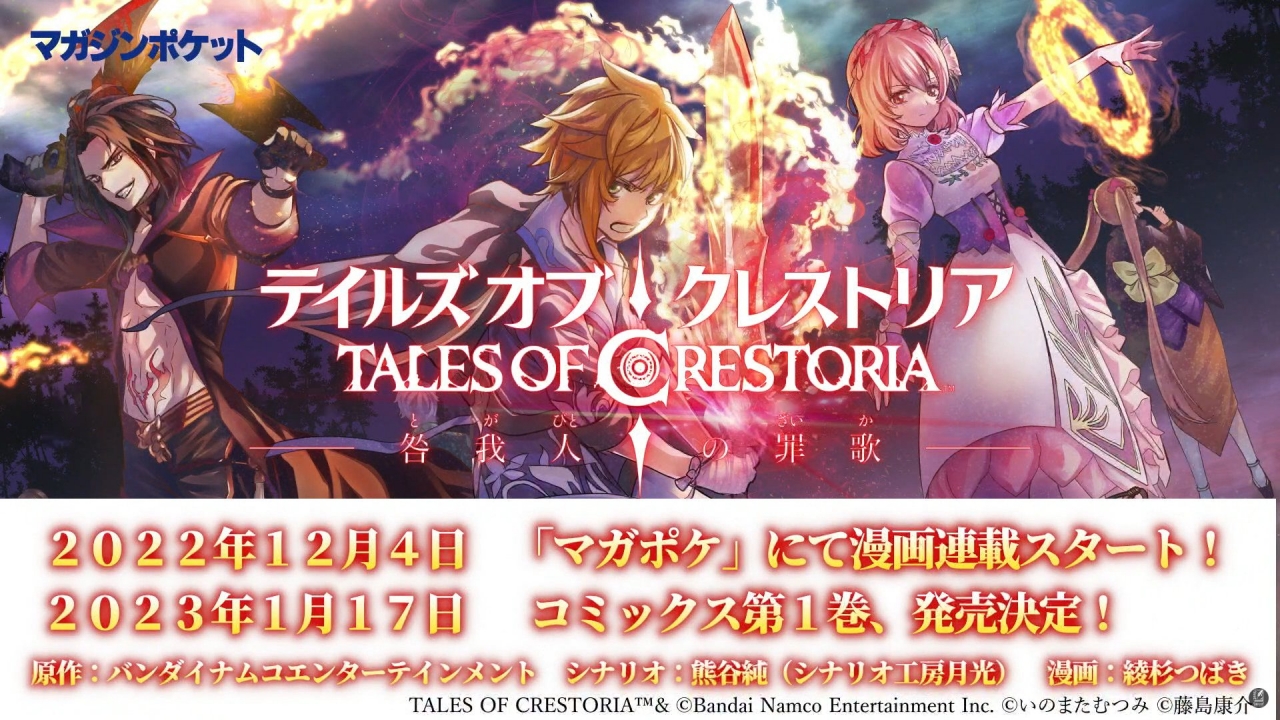 It will be serialized on an online manga app called MagaPoke (short for Magazine Pocket, the manga app run by Kodansha's Weekly Shonen Magazine) starting December 4, 2022. Click this link to go to the site.
The first volume in print will be released on January 17, 2023 (two days after Kanata's birthday). Pre-orders are available on Amazon Japan.
Tales Channel+ has uploaded the manga trailer on their twitter page, showing off the art style and glimpses of some of the panels.
【『テイルズ オブ』シリーズウィンタースペシャル生配信情報②】#クレストリア コミカライズ、PVを初公開
「世界はそれを罪だと言った、それでも……」

12/4 アプリ「マガポケ」にて連載開始
DL:https://t.co/mE7LHvQinz

1/17 単行本1巻 発売決定
予約:https://t.co/LmBEorQpd6#テイルズ pic.twitter.com/qwhawit7qB

— テイルズチャンネル+ (@tales_ch) November 12, 2022
How excited are you for the manga? I just hope they announce an English localization soon!
What do you anticipate the most regarding the Crestoria manga adaptation?
If you're curious about what Crestoria is in general, or want to know what the game was like before its termination, I have reviews of Crestoria chapters 1-6 on this site. Here is a link to the first Chapter.
If you're also wondering if I am going to continue with the Crestoria game chapter reviews, I will continue them. It's just that I am a very preoccupied person and Luminaria reviews have been taking up most of my time. Once I finish Luminaria reviews, I will resume the remaining Crestoria reviews.
I hope that Tales fans can enjoy Crestoria!
Tales of Crestoria

Tales of Crestoria
is an upcoming mobile title dedicated for smartphones that is an entirely new story and doesn't focus on previous Tales of titles. The game features Kanata Hjuger, a young man branded as a Transgressor because of the crimeof "protecting someone important" to him. The game will be released for iOS and Android on 2020.
Info Page | News | Gallery | Official Website (JP) | Official Website (EN)