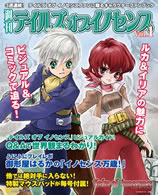 The ToI Staff Voice has just been updated today. Apparently,  SoftBank Creative will be releasing a "Weekly Tales of Innocence" which will consist of three volumes to be released weekly. The release dates for volumes 1, 2, and 3 will be November 30th, December 7th, and December 14th 2007 respectively. Each will cost 630 Yen (tax included). 
The package comes with a booklet containing basic info about the game's characters, storyline, and shops. It will also include interviews with the staff of the game, these fun comics about the characters and the storyline (CLICK HERE FOR A SNEAK PEEK AT IT!), fan works (OMG), gameplay info and anthologies by writers (double OMG O.O). Not only that, but each issue will come with mousepads with the character art on them.
As for media updates, thanks again to kingforte, we now have the RAW episodes 2 and 3 of Tales of Eternia the Animation up on the Tales of Eternia video page. Also, because of another request, the Tales of Symphonia version of Fighting of the Spirit has just been added to theTales of JukeBox. Have fun ;).