There is a 15-hour difference between regions.
It has just been announced that Tales of Luminaria, the upcoming Tales of Series original title for iOS and Android, will be launching next week. Japan will be getting the game on November 3, 2021 (PDT) and the Overseas version will be released on November 4, 2021 (PDT).
According to the Tales of Luminaria Q&A stream held yesterday, there will be a 15-hour release time difference between the Japanese and the Overseas versions. This was done to maximize the time people will be online for those different time zones.
Other tidbits from the Q&A are as follows:
All characters and character stories will be playable for free. The gacha summons will be for equipment and accessories, not characters. Some equipment have artes attached to them.
At launch, seven characters will have be available with one episode each. You will be required to play one specific episode at the start, but after that you can freely switch to one of the seven available.
Each character has eight episodes, with eight crossroad episodes in between. Each episode will be released weekly.
The game will not be in dual audio. The Japanese version will only have Japanese voices, while the Overseas version will only have English voices.
The game will only be available in portrait mode.
Currently, there are no collaborations planned just yet.
The game will be releasing in the following countries: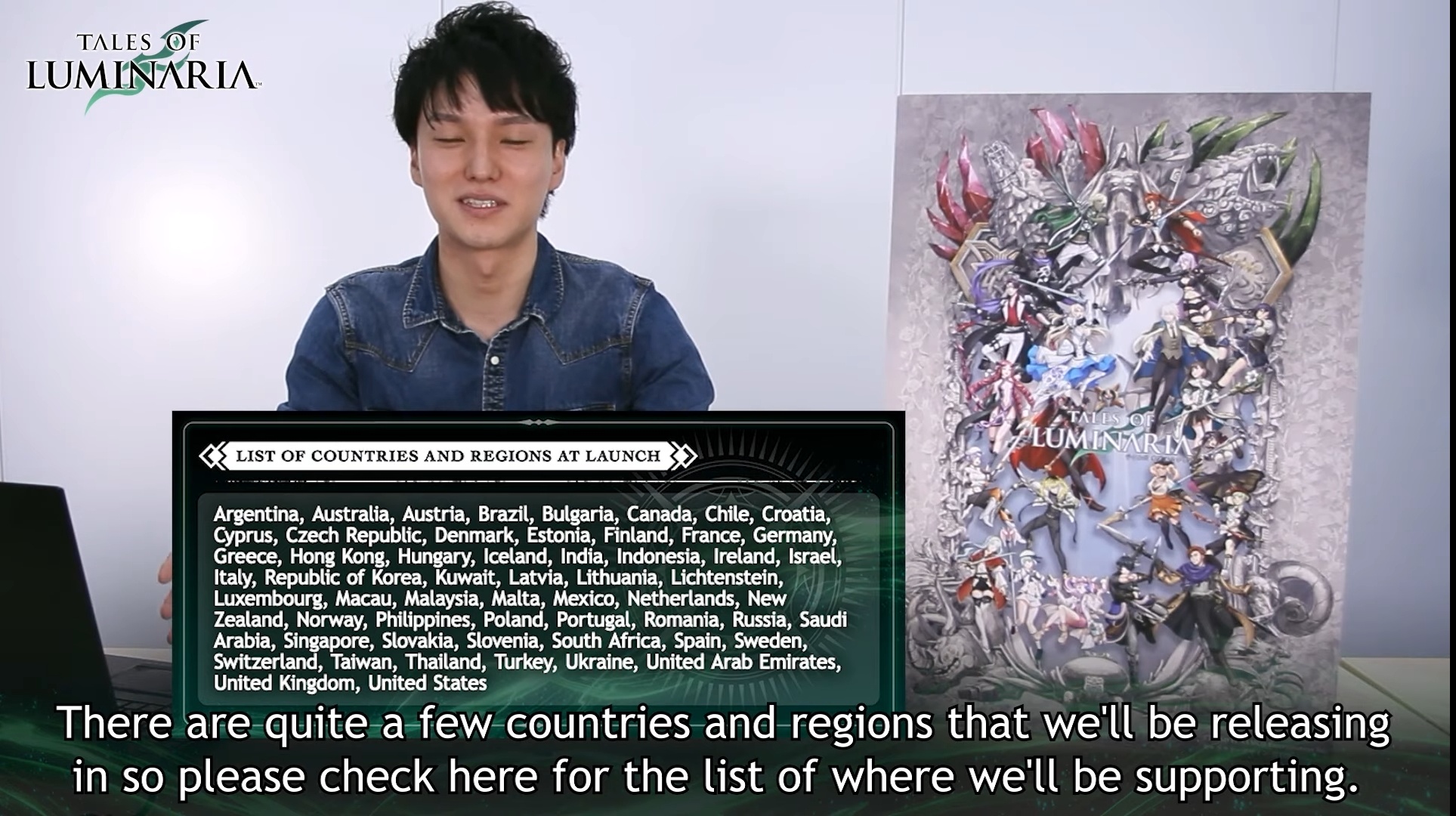 Recommended minimum phone specs:
You can preregister for Tales of Luminaria via the Apple StoreApple Store or Google PlayGoogle Play.
Tales of Luminaria

Tales of Luminaria
is an upcoming Tales of Series original title for iOS and Android released November 2021. The game was first announced during
Gamescom Opening Night Live
. Unlike the recent Tales mobile games, Luminaria has been
reported
to have its own original world with only original characters and no previous Tales characters, as well as an English dub. Unfortunately, the game has announced termination of service worldwide on July 19, 2022.
Info Page | News | Gallery | Official Website (EN) | Official Website (JP)