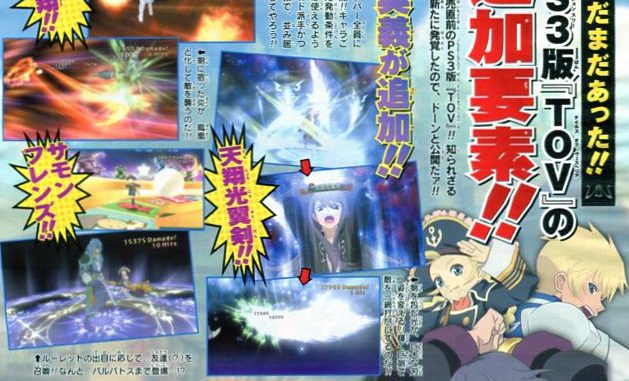 It was mentioned long ago that a few parts in Tales of Vesperia's PS3 version will be modified in order to show connections between the movie Tales of Vesperia ~The First Strike~ and itself. This new scan reveals that the two red-haired twins from the movie will be present in the game.
The twins, Hisuka and Shastere Aiheap (name spellings unofficial for now) fulfill the role of being Yuri and Flynn's superiors in the movie, with Hisuka in charge of Yuri and Shastere in charge of Flynn. The scan at the left shows that the two will be present in the PS3 version of the game, meeting the whole party through a special event.
Tales of Vesperia PS3 will be out in Japan on September 17th, while Tales of Vesperia ~The First Strike~ will be showing in Japanese theaters starting on October 3rd.
EDIT:Scan has been now replaced with a clearer one. (thanks, Kouli)