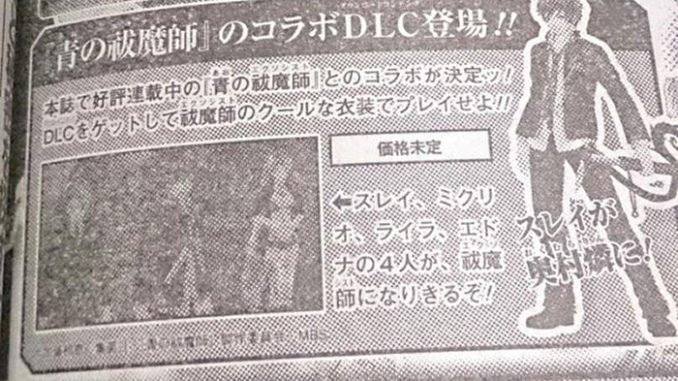 The latest issue of Jump SQ reveals that Tales of Zestiria will be getting Blue Exorcist (Ao no Exorcist) collaboration DLC costumes.
The image is a bit dark and small, but we can definitely make out a Rin Okumura costume for Sorey, a Yukio Okumura costume for Mikleo, a Shura Kirigakure costume for Lailah, and for now, Edna's is too obscure to make out.
In addition, the Tales of Zestiria Original Soundtrack has just been announced and is now available for pre-order at CDJapan. It will be released on February 18, 2015.
Seven weeks left until the release of Tales of Zestiria in Japan!
Tales of Zestiria will be released in Japan on January 22, 2015, and in North America and Europe sometime in the future. Pre-orders are now available at the following shops: